WHK GmbH One-touch magic bullet - Bullet from WHK GmbH

One-touch magic bullet videos
Product Details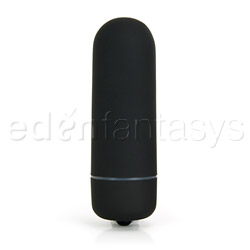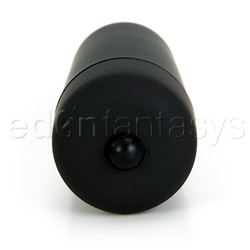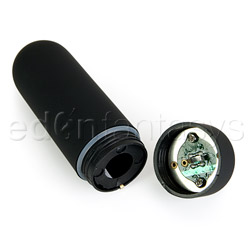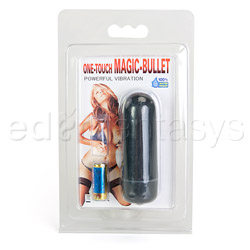 Summary:
The One-touch Magic bullet is a cute addition to any bedroom! It's thicker than other, similar bullets to provide more sensation while the velvety finish adds a wonderful texture. It's even waterproof so that it can join you in the shower, bath, hot tub, pool or wherever else you can think of! Just be advised that it's loud! That's really its only downfall though.
Pros:
Phthalate-free, waterproof, powerful and cute.
Material / Texture:

The One-touch Magic bullet is crafted from plastic but the finish is velvety smooth. This velvety finish adds just enough drag to the material to give you just a bit of resistance when slid across your skin. A little water, oil or silicone based lube will help make things slide more easily if the slight resistance isn't for you.

The smooth, velvety coating is the only texture you'll find on this bullet. There are no extra bumps or ridges; just smooth, virtually ridge free plastic. The only ridge that is present is near the base where the battery cap screws on. It's only a very minor ridge and isn't sharp at all.

There's also no bad smells or tastes present on this little bullet either and that's always a big relief considering where it will be going!

Material:

Plastic

Material safety

Texture:

Velvety

Safety features:

Food-grade material / Hypo-allergenic / Latex free / Phthalates free

Design / Shape / Size:

The size of the One-touch Magic bullet make it a great choice for many users because while the diameter is relatively small, it is thicker than a lot of others on the market. That makes it great for those who want just a little bit more but also makes it easier to grip.

Another good thing about the size of this one is that it's easy to hide. You could toss it in your purse or stash it away from prying eyes easily in a dresser drawer. It would only take up a very small space but just be careful that you don't lose it amongst your other drawer contents!

This one would be great for travel if it just wasn't so darn loud! It's completely discreet by every other aspect but the loudness factor would give you away in a heartbeat. Not only can it be heard through thick blankets but it can also be heard through a closed bedroom door. If you cover it up with thick blankets AND shut the bedroom door, you'll probably be okay! Unfortunately that means that you probably won't be able to get away using this one at the library.

Color:

Black

Length:

3 1/4"

Insertable length:

2 1/2"

Circumference:

3 1/2"

Diameter:

1"

Weight:

0.2 lb

Functions / Performance / Controls:

The One-touch Magic bullet is extremely easy to operate. You simply unscrew the base before inserting the included "N" size battery. Screw the base back on and you're ready to go!

To turn it on, you simply press the button located on the bottom of the battery cap. It's only a single speed so you simply press the button again to turn it off. That's it! It's so simple that I had no problems at all and that's saying something! If I can do it, you can do it!

The vibrations on this one can be felt starting near the middle of the bullet and progressively get stronger up to the tip, where they are the strongest. It's a deep, not so buzzy, vibration too. Perfect for those who don't like a really buzzy vibration and it feels great on your nipples, clitoris or vaginal opening. But why stop there? Use your imagination!

The One-touch Magic bullet is advertised as being waterproof and I'm happy to report that they are right! I totally submerged it in a sink full of water and nothing inside the battery compartment got wet. Just make sure that you have the battery cap screwed on securely and you shouldn't have any problems.

The only real downfall of this toy is that it is loud. So loud in fact that it can be heard through blankets and a bedroom door. If you place it beneath blankets and shut the bedroom door, you're safe but other than that, the buzz will probably give you away.

Functions:

Vibrating

Special Features:

Batteries included
Waterproof

Control type:

Push button

Powered By:

N-1

Care and Maintenance:

Plastic is a non-porous and phthalate-free material with firm, smooth textures. It can easily be cleaned with antibacterial soap and hot water or by wiping it down with isopropyl alcohol. It's also safe to use either water, oil or silicone based lubricants with plastic toys. If you plan on taking this one into the water with you, a silicone based lube might be a better choice because it won't wash away as quickly as water or oil. Either way, it's bound to be a fun adventure!

Packaging:

The packaging for the One-touch Magic bullet is a simple, thin plastic, blister type container that unfolds to open. Inside there is a paper insert that has the name of the toy along with, "Powerful Vibrations" and "100% waterproof". Other than that, it has a "novelty use only" warning on the back.

On the front, there is two bulged out areas for batteries. While one "N" size battery is included, the other bulged out area is left empty. Too bad they didn't include an extra "N" battery but at least they included one.

There is a scantily clad model displayed on the paper insert that is visible from the front of the package. She appears to be undoing the front hook of her bra because she's so excited about this product. I really didn't find it too offensive; just kind of comical really.

Unfortunately the packaging isn't intended to be reused and there are no instructions included. It's a good thing it's so small and easy to conceal as well as easy to operate. There shouldn't be any problems figuring it out. After all, it's not rocket science.

Personal comments:

While this bullet may look like a thick tampon, I honestly like it. It's got the right vibration quality for me to do the trick easily. It's kind of a deeper vibration that differs from many of the other bullets out there that have a really high pitched, buzzy quality. I just really wish this one wasn't so loud though! That's my only problem with this one! Why make it so discreet and portable if you can hear it from a mile away?! Oh well, I guess I'll just have to smile and act like I have no idea what everyone is staring at. On second thought though, that sounds kind of fun!

Experience:

I may have had a lot of fun testing this little bullet out but my partner had just as much fun! He loved it when I would use this on him during a blow job to drive him wild! A little trick that we discovered is that you can hold this under your chin to give your mouth a bit of vibration to provide him with something different. He really enjoyed it that way or simply rubbing it up and down his shaft. Either way is bound to add some variation for an awesome experience!