Orion Velvet purple pill - Egg from Orion

Velvet purple pill videos
Product Details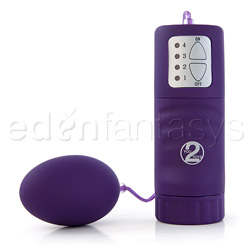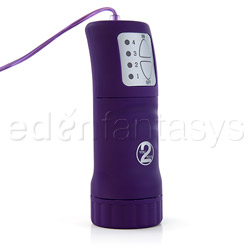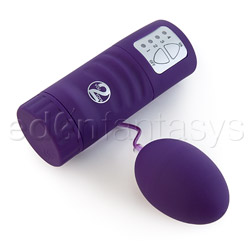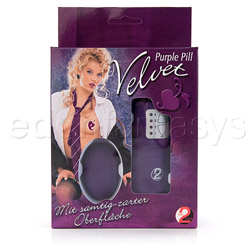 Summary:
The Velvet Purple Pill by Orion is sure to please those looking for deep, diffused vibrations. While this vibe is definitely no wimp, it's great for those new to toys or too sensitive for shrill, pin-point vibrations. A few downfalls make it a less than 5-star toy, but it is still absolutely worth a try.
Pros:
Discreet, velvety soft.
Cons:
No "quick off" button, waterproof-ness may become compromised
Best use:
The Velvet Purple Pill is an egg vibrator designed for clitoral stimulation, but can be used pretty much anywhere on the body that desires vibrations - nipples, labia, penis, testicles, etc. It even does a good job of working out knots in your neck and back. Eggs and bullets are considered insertable, but I usually recommend against this as using the cord as a pull-string could damage the toy. If you wish to insert the Pill, put it inside a condom so you have something else to retrieve it with. Don't insert vibrators anally unless they are designed for anal use and/or have a flared base.

I've found the Pill is great for foreplay; its diffuse vibrations are great for getting you warmed up. It's also a welcome addition to sex, especially in a position where one partner is being entered from behind.
Material / Texture:

The Pill and its controller are made of plastic completely coated in soft, velvety polyurethane (PU). The PU coat is incredibly smooth to the touch, even without any lube, and has no smell to it. It does have a very faint plastic-y taste to it, but I don't see any reason to put this Pill in your mouth.

Material:

PU coated plastic

Material safety

Texture:

Smooth

Safety features:

Phthalates free

Design / Shape / Size:

The design of the Pill is very simple and similar to most egg and bullet vibes. It's an egg about the size of a very small chicken egg on a cord about two feet long attached to a hand-held controller/battery pack. The controller is skinner depth-wise in the top portion (like a flattened oval), which makes it comfortable to hold on to. At the bottom it rounds out into a circle for the battery cap.

The egg shape of the Pill creates diffused vibrations, rather than the pin-point vibrations of a thinner bullet shaped vibe. This makes the Pill very friendly to beginners or those who are more sensitive.

The Pill is fairly small and discreet and can fit into any toy box or bed stand drawer for storage or any suitcase or carry-on bag for travel. Its cord can be wrapped in a twist-tie (included) so it doesn't get tangled.

Color:

Purple

Length:

2"

Circumference:

4 1/2"

Diameter:

1 3/8"

Weight:

0.4 lb

Functions / Performance / Controls:

The Pill runs on two AA batteries, inserted into the bottom of the controller. Look closely on the little ledge inside for the + and - signs.

It has four speeds, controlled by up and down buttons labeled "on" and "off" on the controller. They are straight vibrations, no pulses or roller coasters here - a disappointment because the back of the box boasts "stimulations from tenderly prickling to wildly pulsating". I'll give Orion the benefit of the doubt and attribute the misunderstanding to the translation from German (the first main language in the packaging). The controller is incredible easy to use, but there is no "quick off" button; if you're on 4 and have to turn it off, you must hit "off" four times.

The first three speeds have very subtle differences, making the transitions more "stream lined" than other push button vibes I've used. The fourth speed is about two notches above the third, so it's kind of the "alright, lets get 'er done" speed, if you will. There's no pause in between the speeds, another thing that contributes to a smooth experience. As I mentioned before, the egg shape of the vibe makes the vibrations more diffuse, but it also gives them a deeper quality rather than high pitched and superficial - a snuggly "Mmmmm, yeeaa" rather than a squirmy "AH! AH! OMIGOD!" Make sense?

The Pill has a moderate noise level; there were no surprises. At its highest setting it can be heard through the sheets and comforter, but just sounds like white noise through a closed door.

The Pill is waterproof. The battery compartment has a rubber ring to seal out water, and there are "plugs" at either end of the cord. However, while cleaning it recently, I found that the coating around the wire was separated from the plug at the egg end, leaving a tiny part of the wire exposed. I don't remember receiving it like this, so it must have happened while I was using it. I didn't get a chance to test it out in the water, and I won't now because it would probably ruin the toy for good. If you're going to use the Pill in or near water, inspect it thoroughly before doing so.

Functions:

Vibrating

Special Features:

Control type:

Control pack

Powered By:

Aa-2

Care and Maintenance:

PU coated plastic is compatible with water or silicone based lubes. The package insert recommends against using oil-based lubes.

The Pill can be cleaned with soap and warm water or toy cleaner. If you suspect that the waterproof-ness of yours is compromised, then I recommend using toy cleaner wipes or antibacterial wipes so you don't have to submerge the toy or worry about water splashing on it.

PU cannot be sterilized, so use a condom if sharing the Pill with non fluid-bonded partners.

The package insert recommends keeping your toys separated from each other to avoid chemical reactions. Since the toy itself is plastic, I would say you can safely store the Pill with other plastic toys.

Packaging:

The Pill comes in a purple box with a partially naked blonde on the front. There's also little viewing windows so you can see the egg and controller. On the back and sides of the box are some basic information in several languages. English is in larger print on the back along with German (Orion is a German company). Inside is a plastic slide-out tray holding the Pill and a small package insert with some generic sex toy information, again in several languages.

I like to keep some original packaging for storage, but I will probably not keep this one. It's a bit bulky and not very discreet (see partially naked blonde). If you decide to throw out your packaging, please make note that both pieces are recyclable.