California Exotic Voila - Clitoral vibrator from California Exotic

Product Details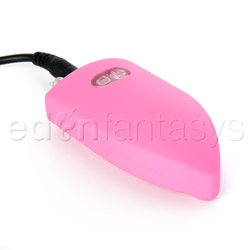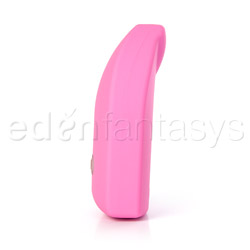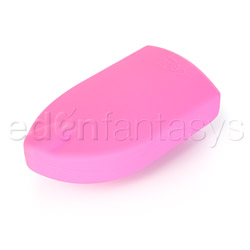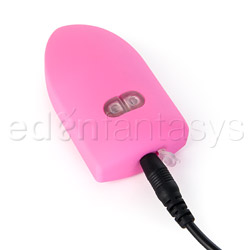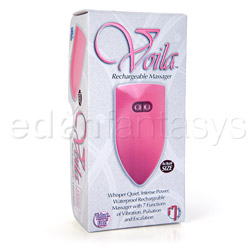 Summary:
This cute rechargeable, waterproof, easy to store vibrator has seven functions and moderately strong vibrations. Its small size lends itself to a variety of uses, both for solo pleasure or to enhance partner play. It lasts for hour upon hour with a single charge.
Pros:
Rechargeable, waterproof, multiple functions, multiple uses, good travel vibe.
Best use:
The Voila's small size and cordlessness gives it more possibilities for use than other vibrators. Use it in the traditional manner for either warm up or for the finale. Try it on your man while you give him a blow job. Use it for an added boost during partner sex. Keep it in your hand as you massage your partner's erogenous zones your own. Or keep in your hand as you give your partner a neck and shoulder massage.

Voila is small and therefore easy to take with you while traveling.

There is a warning sticker on its bottom with incredibly tiny text. Using my pocket microscope, I can see that it says "Warning This device should not be used over swollen or inflamed areas or skin eruptions. Do not use on unexplained calf pain consult physician. Made in China."
Material / Texture:

Voila is made of hard, scent-free plastic but has a wonderful velvety feel as you run your hand over it. Its firmness might make the vibrations stronger - I'm not sure - but I sometimes wish it had a soft covering so I could press it against myself harder.

Material:

Velvet cote™

Material safety

Texture:

Nubbed / Velvety

Safety features:

Non-porous / Phthalates free

Design / Shape / Size:

The Voila is designed to fit easily in your hand. Its only about three inches long and one an a half inches wide and a little more than a half inch thick. The tip curves down slightly. At the tip is a small bump that cries out for contact with your clitoris. Vibrations seem to be centered in the inch closest to the tip.

Its vibrations are only moderately intense. Those with a clit of steel, like myself, may only sometimes be able to climax with it. But even so, I really like this toy.

The charger plugs into a hole at the end farthest from the tip. When not charging, a clear plastic plug fits into the charging hole to keep it waterproof. Voila ships uncharged. Once plugged in, the charger's red light glows. It took two hours and fifteen minutes to fully charge the first time. As it neared completion (in the last fifteen minutes), the light changed gradually to orange, then to green once it was fully charged. The second charging took two hours and twenty minutes.

I don't know whether its possible to overcharge Voila. You might want to be nearby when its due to finish charging.

Voila's charger looks almost exactly like the Lelo Ina charger. The part that inserts into the toy looks identical. I suspect they are interchangeable.

Length:

3"

Width:

1 1/4"

Weight:

6.5 oz

Functions / Performance / Controls:

Voila has seven vibrating functions.

1) low steady vibration
2) higher steady vibration
3) even higher steady vibration
4) slowly increases then slowly decreases, pauses briefly, repeat
5) pulses on and off rapidly
6) pulses in a short short short short long pattern
7) the same as 3). Possibly slightly stronger.

Voila has two buttons. One serves only to turn it off, allowing you to quickly stop it if necessary. The other button moves it through the seven functions. You can't move through the functions in reverse order. To return to a lower function, press the function button again to return to the first function, then up to the desired function.

The buttons are level with the surface. Pressing them takes a bit more effort than I expected.

Its waterproof, so it can be taken into the shower, bath or pool. I tested its waterproofness by allowing it to run under water for a while. The tiny plug doesn't look like it will effectively keep water out, but it does.

Voila is reasonably quiet, but its not quite whisper quiet, as the packaging states. However, when its pressed on you its noise level drops. This is the first vibrator that I feel safe using with someone else in the house. When its under the covers in use, its not audible by someone six feet outside the door although it can be heard by someone in an adjacent room if there is no other background noise.

This vibrator lasted a whopping twelve hours on a single charge! This absolutely amazes me. This is far better performance than you could achieve with a removable battery. And more environmentally correct too.

It doesn't gradually become weaker before it stops. It runs at full speed then stops suddenly.

Functions:

Escalating / Pulsating / Vibrating

Special Features:

Multifunction
Multispeed
Powerful
Travel
Waterproof

Control type:

Built in control pad

Powered By:

Rechargeable

Care and Maintenance:

Its made of nonporous plastic and is waterproof, thus making cleanup a snap. When needed it can be washed with soap and water. Any lube is fine to use with it.

Voila is so small and cute. I keep it between my mattress and bed frame. It lends itself to tucking away in a variety of locations for quick access.

Packaging:

It comes in a simple box with a picture of the product and only the basic information about it. No use instructions are included, but none are needed. Using Voila is quite self explanatory. It arrives uncharged.

Experience:

I've found so many ways to use this cute little toy. Erogenous zone stimulation. Clitoral stimulation. Giving neck and shoulder massages with Voila tucked in my palm. Extra sensation while my partner is inside me. Extra stimulation for my partner while giving him oral sex by either using it on him in various spots or holding it against my cheek. The latter feels good for me too.

I like winding down the day with Voila. I go to bed hours before my vampire husband. I can use the Voila while he's still up reading or watching a movie in another room and no one is the wiser. Not that he would care, but my puritanical upbringing prevents me from being even that open about vibrator use.

Another use for this is stuffing it inside my panties as soon as I arrive home from work. By the time I'm finished reading my email, I'm quite warmed up for whatever comes next.

Holding just the tip of the Voila lightly against the clitoris feels similar to the fluttery ears on a rabbit vibrator. Not enough stimulation to climax, but a wonderful teasing sensation none the less.

I tried using it for G-spot stimulation, since my G-spot isn't far inside. It didn't work well for that purpose.

For who knows what reason, I also tried it on my skiddish feral-born cat's neck and shoulders. He did not fully appreciate the effort to please him, but he also didn't move away - more evidence that its not obnoxiously loud.

I sometimes find that I have the same problem with this toy as I do with bullets or the clitoral nubs of rabbits. I move it to a spot where it feels really good, then within a minute it will have slowly slipped away from that spot. It requires constant readjustment. Using it is an endless cycle of there's-the-spot and oops-lost-it. This does not mean I can't get off with Voila. She just requires more work than something bigger, like the Magic Wand, that covers a larger territory.

Voila has been a key participant in some of the best multi-toy sessions I've ever had. Even if at times she doesn't bring you all the way there, she will give a boost to jump start your sessions.