Digital Playground Pirates Hidden pleasure vibe - Discreet massager from Digital Playground

Pirates Hidden pleasure vibe videos
Product Details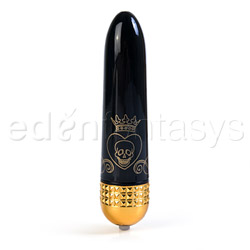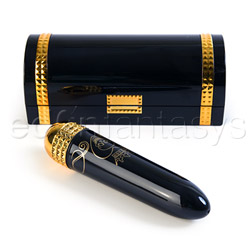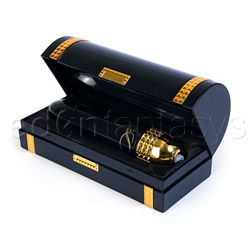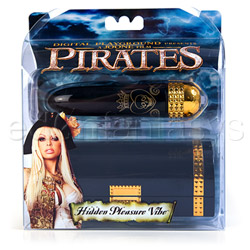 Summary:
This vibe is so pretty, I almost have to take it out of the box and play with it. It is ultra discreet with its smallish size and beautiful storage chest. I love that this is waterproof and seamless. A great beginner's vibe or just something beautiful and functional for your collection!
Pros:
Great design, comes with a chest for storage, easy to use, easy to clean, waterproof, seamless.
Cons:
Could be stronger, could be quieter.
Best use:
This is a great beginner's vibe! This vibe is great for pin point stimulation of the clitoris or for some internal play. It is smooth without any seams so if you are looking for something other than vibrations to stimulate your vaginal walls, this toy is not for you. I was able to hit my g-spot with this toy but I had it at an awkward angle that was a bit uncomfortable. Plus, the somewhat pointed tip was a bit too much for my sensitive g-spot. I would not recommend this for g-spot at all. This toy does not have a flared base so i would not recommend it for anal play either, since it could get accidentally sucked in.

This toy is pretty quiet so it could be used even if you have noisy roommates. Also, this vibe is completely water-proof. It can be taken in the tub, shower, or pool and can withstand being completely submerged. Being battery powered makes it pretty travel friendly. The cute treasure chest case means it can be stored anywhere without worrying about it being accidentally turned on during your travels.
Material / Texture:

This vibe had no smell or taste out of the box. It is made of plastic. Plastic is non-porous and phthalate-free material with a firm, smooth texture. Plastic can easily be cleaned with antibacterial soap and hot water or by wiping down with isopropyl alcohol. This toy is also hypo-allergenic and latex free. This vibe is so smooth it does not have any ridges or seams. Nothing other than smallish girth and vibrations to stimulate vaginal walls. I think the texture is more for beginners, since it doesn't have a lot of bells and whistles for the more experience consumer.

Material:

Plastic

Material safety

Texture:

Smooth

Safety features:

Food-grade material / Hypo-allergenic / Latex free / Phthalates free

Design / Shape / Size:

The shape of this toy was the common phallic shape of most dildo/vibrators. The shape fit easily in my hand. It is pretty discreet and easy to hide in your palm, as long as it is not turned on. I really liked the design on this toy. The black one I saw on the site had only one inlay design with a skull. This pink one has a pretty design all over it. I really liked the look of this vibe. I especially loved the silver spiked looking ring at the battery compartment. This is not your run-of-the-mill vibe, it looks inviting. The pink chest that came with my vibe has the same skull on the front of the chest as the black one has on the vibe.

Length: 5"
Insertable length: 3 3/4"
Circumference: 3 1/4"
Diameter: 1"
Weight: 8 oz





This toy is easy to hide in its case as it looks more like a jewelry box than a vibrator case.

Length:

5"

Insertable length:

3 3/4"

Circumference:

3 1/4"

Diameter:

1"

The set includes:

Weight:

8 oz

Functions / Performance / Controls:

The vibe takes one AA battery. It is not very powerful compared to some. The base unscrews to reveal the battery compartment. This toy has been very efficient with the one battery I fed it over a week ago. It does not seem to me to be a battery guzzler at all. The cap of the battery compartment has a small push-button with a number 3 on it.



It has three levels of vibrations; low, med, and high. One click turns it to low, then med, then high, the forth click will just turn it off. I liked the soft touch button and it did not interfere during play. It was definitely user friendly.

This toy will be heard through covers and maybe even through a closed door, if the house is quiet. This vibe is not overly loud and buzzy. It has a low humm on its highest setting. I am giving it a three out of five on it's noise level.

The vibrations were not too strong either. The three levels were nice for building up but not quite enough to get me off. You will have to excuse my opinion though, I am spoiled by much stronger toys! This vibe would be great for someone who wants moderately strong vibes in a cute package.

This toy is completely waterproof and withstood being submerged for testing. It is safe for shower, pool, or hot tub play!

Functions:

Vibrating

Special Features:

Gifts
Multispeed
Powerful
Splashproof

Control type:

Push button

Powered By:

Aa-1

Care and Maintenance:

This toys is so easy to take care of. Plastic toys can easily be cleaned with antibacterial soap and hot water or by wiping down with isopropyl alcohol. I use a sex toy cleaner or toy wipes myself. I just like the scent that the toy cleaner leaves on this toy. No need to worry about water getting inside your vibe and ruining components so long as the cap is on right. The plastic is compatible with any type of lube (oil, water, or silicone). Plastic will not absorb lubrication so you won't need a lot to keep it slick. Also, plastic plays well with other materials so you can put this next to anything when you store it. I keep this toy stored in its beautiful chest. The chest has a beautiful black satin lining. The chest top completely comes off.



Packaging:

The toy came in a plastic package with the vibe and the chest separated and the Digital Playground pirate girl "Janine" on the front in front of an oceanic scene. It was not discreet since you could clearly see the vibe from the front. The box was full of good information about the vibe being waterproof, phthalate free, ultra quiet (debatable), and super powerful (also debatable). The top of the box clipped together and was very easy to open. At last, an easy to open plastic package!
The toy was inspired by Digital Playground's Pirate movie and its chest suggests that it is a treasure in itself, Janine's hidden pleasure vibe, to be exact. The packaging is recyclable. The back of the box showed some other toys inspired by this movie theme. This toy would make a nice gift for anyone who enjoys pirate themes or would appreciate a great looking vibe for their collection.


Personal comments:

Will they be collector's items? I wanna collect them all that's for sure. This vibes have something for the collector in me. I like the unique designs and the storage case. I think they would make a nice gift for any pirate fan!