Evolved Duo obsessions lavish - G-spot vibrator from Evolved

Duo obsessions lavish videos
Product Details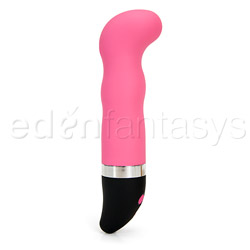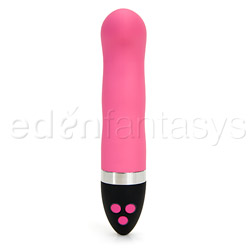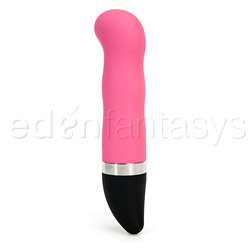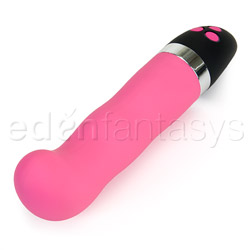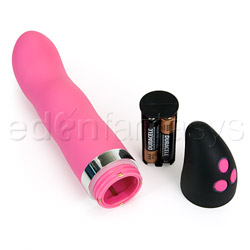 Summary:
This is probably not a beginner vibe due to its shape and girth. The dual motors provide many vibration combinations. The LED light helps one see the buttons but the location of the buttons make it so that it is not easy to see when inserted. This water friendly toy can be a good g-spot vibe but may require working up to. This toy may be painful to use depending on your anatomy. You might need a few tries with it before it grows on you.
Pros:
Body safe, bath friendly, pink, LED lights, dual motors.
Cons:
Runs on 4 AAA, g-spot end is poke-ish, no option for leaving only the shaft or tip vibrating.
Best use:
This vibrator seems to be constructed to be used internally for the g-spot. The curve at the tip of the vibe also permits it to be ergonomic if one wishes to use it on their clit.

The vibe could also be used to stimulate the perineum of both men and women.

Since the toy is rather large women who prefer girth might be more attracted to this one compared to other slimmer g-spot vibes. It can also suit women who tend to stay around the average of 1 inch 1/14 to 1 inch 1/2 width for vibes as long as some warm is planned.

The vibe has a very acute curvature so knowing ones anatomy before trying this vibe would be recommended seeing as depending on the location of your g-spot this one might be painful to use.

It is best to use this vibe if one is planning to have a good masturbation session, or maybe even after intercourse to finish things off. It can also be used for teasing the clit or perineum during preliminaries.
Material / Texture:

This Duo Obsessions lavish is made of high quality, body safe, ABS plastic. It has no particular taste or smell. It initially smelt like what new toys smell like but the smell has faded way with use. It wasn't very strikingly strong either.

The plastic coating is extremely soft. Lube tends to stick pretty well to it. It feels really lovely on your skin but if you are not lubricated enough you might have trouble getting this one in.

The softness of the product can be appreciated by new comers or old timers.

Material:

Plastic

Material safety

Texture:

Velvety

Safety features:

Food-grade material / Hypo-allergenic / Latex free / Phthalates free

Design / Shape / Size:

The design is great for g-spotting however for some the angle might be too sharp.

My g-spot is hidden right behind my pubic bone and it isn't very easy to reach. The vibe has such an acute angle that it must be inserted slowly. I found the best way to insert it is to start with the bullet end and just slip it in slowly following the angle of the vibe.

The size was pretty big for me. It was bigger than what I usually am used to. The size may not be very good for someone new to sex toys. It can be a beginner toy if the beginner is very familiar with their body and is used to accommodating larger than average men. I think that having some previous experience with other g-spot toys was very helpful for me with this one.

This toy is not that easy to hide. You could bring it a long in a purse if you have a pretty big purse but the buttons are pretty easily pressed and may turn on the toy so make sure you remove the batteries. It is suitable for travel and is pretty discreet.

Length:

7 1/2"

Insertable length:

5"

Circumference:

4 3/4"

Diameter:

1 1/2"

Weight:

0.4 lb

Functions / Performance / Controls:

There are dual motors in this vibe. There is a motor at the tip of the vibe and in the shaft. Both have 3 levels of vibration allowing for 15 different speed combinations. Therefore one can put the tip stronger and the shaft weaker in terms of vibration or it can be done the other way around. Whatever you prefer you can do it with this vibe.

The dual motors are a great idea. The not so great thing is that if you prefer vibrations only at the tip or only in the shaft you cannot shut either one off and leave the other running, both always run. There are three buttons that have a blue LED light once the vibe is turned on. One button is the on/off switch while the other buttons are for the vibes in the shaft and the vibes in the tip.

The lavish is not very noisy. It runs on 4 AAA batteries. You insert the batteries in a sort of little box that can be removed and reinserted into the vibe. The batteries are therefore very easy to insert and remove.

The controls are not conveniently placed. When used for penetration I always accidentally press the buttons and then change the strength of vibration. Since the vibrations different levels of vibrations are not very noticeably different I have to remove the vibe and check with my fingers for the strength and then reinsert it.

The vibrations are not strong but they are very stimulating. The vibrations are slow and they run deep. So its like a deep tissue massage.

Since the vibes are deep and mellow when the vibe was inserted, when I started to get the hang of it I really felt like their was a helicopter in my pussy. It's weird but if you would try it you would understand exactly what I mean. The vibrations sort of came in waves and the vibe was sort of nestled up against my pubic bone and it sort of made a sound similar to that of a helicopter.

Functions:

Vibrating

Special Features:

Control type:

Built in control pad

Powered By:

Aaa-4

Care and Maintenance:

This toy is pretty easy to clean since it is perfectly smooth. You can use toy cleaner or a mild soap and rinse. It is not possible to bleach this product since it is plastic and the coating is likely to become damaged in the process.

So far it has been stored in the tin box it was sent in. Evolved have a lot of vibes sent in their own individual packages which is pretty awesome. I have removed the little plastic shell inside the box so if I want I can fit in other vibes I like.

This vibe is compatible with all kinds of lube. I wouldn't suggest oil based lube since it can stay in the vagina for a long time and bacteria can grow there and cause infections.

Personal comments:

The lavish is supposed to be shower and bath friendly. So far I have submerged it once in water to test it and had no issues. I don't think this will be my shower vibe though since I have to take my time to appreciate it and I tend to go with a vibe that can deliver the goods quickly.

Experience:

I had such a hard time with this toy. My g-spot is right behind my pubic bone as mentioned earlier and it hurt me so much to use this toy the first time. It took a bit of practice to find what works best for me. A few people (according to forum posts) who try new g-spot toys tend to have to find the best way to use their toy according to the way their body is made, so I guess I am no exception.

The vibrations of this toy are pretty average for me. They are strong enough to get me aroused, but not strong enough to bring me over the edge. I have been primarily using this to stimulate my g-spot. I usually use it with another vibe on my clit. I use it to probe at my g-spot without the vibes. If I want it to vibrate it sort of makes it harder for me to feel my g-spot so I just put it on and clench (it has to be well positioned for this) and let the vibrations of the lavish and the vibes on my clit slowly bring me over the edge.

I have found that I need warm up with another dildo or with an orgasm. I need a bit of lube even if I am aroused to get it comfortably in also.

I don't know if it is because of the size of the vibe or the strength of my kegels but I have to relax my kegels completely or else my vaginal muscles clench really hard on the vibe and it hurts really badly. If I clench, the vibe will poke painfully at my pubic bone or poke at sensitive places inside my vagina. The vibe has to be perfectly placed so that when I orgasm and have those orgasmic clenches it does not feel painful.

I have found that the more I use it the better it gets. I seem to know how to angle it better inside me so that I have a more pleasurable experience.

This is a vibe that I had to warm up to. Although it has a few things working against it (placement of the buttons, etc) it works really well for the g-spot once you get the hang of it. So I do recommend this product but all in all it is probably more suited for people who have experience with sex toys.