Summary:
I can absolutely recommend this gorgeous luxury-looking toy, with its classy modern feel. It's ideal for both beginners and toy enthusiasts alike; it's ideal for those new to enjoying G-spot stimulation and squirting. Once inserted, this toy is like a G-spot homing device: a little angling and some gentle thrusting, combined with the 7 vibrations and patterns, will help most people enjoy G-spot play.
Best use: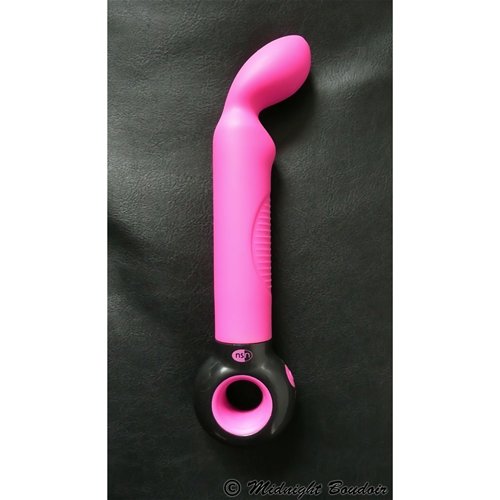 The Envie, which actually means desire and lust, is a luxurious, feminine and excellent quality G-spot vibrator from NS Novelties. It's ideal for women who love G-spot stimulation to be able to squirt, and perfect for those new to discovering the joys of the G-Spot.
The head forms a thick firm angle, which should be able to hit most g-spots when used internally, and of course it's perfect for pinpoint stimulation on the clit too. But, I would say this Envie is the ideal G-spot homing device.
Material / Texture:

The Envie has a thick, pink, body safe silicone sleeve which is hypo-allergenic, latex and phthalates-free, and fits snugly over an ABS shell. It had a very light, unnoticeable odour which soon faded to nothing.

It is a fairly solid silicone vibrator, which has a luxurious silky smooth texture with a flexible neck to allow some give if thrusting.



In the middle of the shaft is a 5.3cm length of small ridges, which can be used in a variety of ways to help stimulate the upper inside part of the vagina, or stimulate the clit while at the same time the head bends into the entrance of the vagina.

I personally couldn't feel the shaft ridges while inserted, but it felt amazing on my clit.

Material:

Plastic

/

Silicone

Material safety

Texture:

Ribbed / Velvety

Safety features:

Food-grade material / Hypo-allergenic / Latex free / Non-porous / Phthalates free

Design / Shape / Size:



The Envie comes in 2 different modern colours: Black with black base and an accent of green LEDs, and cerise pink with black base with pink LEDs. I loved this unique innovative design, as the head forms a thick angle which should be able to hit most g-spots if used internally, and provide pinpoint stimulation on the clit, too.

Measurements|bold
Total Length: 21.5cm long
Width: 3cm
Insertable length: 16.5cm long
Head: 5.2cm long and 2.8cm wide

It's a feminine, unintimidating ideal girth and size to fit most women.

Length:

8 1/2"

Insertable length:

6 1/2"

Circumference:

4 1/2"

Diameter:

1 1/4"

Weight:

0.5 lb

Functions / Performance / Controls:



The base forms into a nice "O" shape to slip your fingers or thumb through for comfort in holding this vibe, and it also fits into the palm of your hand perfectly. Its circular shape gives you great control for thrusting or angling, and the button is in the perfect place to scroll through the vibrations to find the one you want. It then gives easy access to the matching pink silicone on/off button.

From here you can scroll through the 7 vibrations and patterns:
1) Low vibration
2) Medium vibration
3) High vibration
4) Pulse every second
5) 2 short 1 second pulses and 1 long pulse. bz bz bzzz, bz bz bzzz
6) Escalation or revving from 0 to full every 3 seconds, bzzzZZZ bzzzZZZ bzzzZZZ
7) 6 very fast pulses and 1 long

To turn off, you simply hold down the button anytime for approximately 3 seconds, and it will turn off. Once turned off, the vibrations will always start from the beginning again. The motor felt of excellent quality, and the vibrations are fairly strong and are more buzzy to slightly rumbly. All vibrations are fairly quiet and discreet, and cannot be heard through a wall or door, but they would be heard through the duvet, of course.

Functions:

Escalating / Pulsating / Rollercoaster / Surging / Vibrating

Special Features:

Light indicators
Multifunction
Multispeed
Powerful
Quiet
Waterproof

Control type:

Built in control pad

Powered By:

Aaa-2

Care and Maintenance:

It's 100% silicone, so you always need to use a waterbased lube (NOT silicone), and you need to store this toy either in its own box or in a toy bag or make-up bag away from other silicone toys, as they will degrade each other.



The black shiny ABS base unscrews to replace the 2 AAA batteries (not supplied) which slip in end to end. Always make sure when changing batteries to twist the base securely to form a waterproof seal. it doesn't have a silicone ring seal like most waterproof toys, so the company is utilising the actual silicone shaft. You need to make sure you tightly close the base.
Wash under warm soapy water or in the bath or shower and then spray with an antibacterial sex toy cleaner, paying particular attention to the ridges on the shaft.

Care and cleaning:

Soap and water

Packaging:



The Envie arrives in a modern luxury box sleeve, with a matching inner box with a shaped window cut out to show the Envie. You can really appreciate the luxury feel of this vibe before you even have it out of its foam insert.



It didn't come with any instructions, but it's fairly self explanatory, with embossed directions on the battery compartment on which way round to insert the batteries. Plus, only having 1 on/off function button, you can't go wrong.

This makes a beautiful gift for any woman and is ideal to store you new Envie in, despite being quite big.

Personal comments:



The Envie has a lovely modern touch, in the fact it has extremely bright red LEDs which accent around the whole outer half of the handle; these light up and flash in time with the vibrations - a really nice touch only seen in more luxury vibes. I'm a sucker for flashy lights and colours, and it was a real bonus for my OH when using it on me; men like things lit up. It looked amazing under the sheets and in the bath, especially when pulsing.

Experience:

I really loved this unique G-spot design vibe, and the smooth and velvety textured silicone feels so luxurious to touch. It's also quite firm, which is a definite plus for me as I prefer my toys more solid as opposed to soft and squidgy.

I was able to insert it comfortably with hardly any waterbased lube at all, as it's not as grippy as other silicone toys and doesn't attract dust and fluff like some.



Once inserted, the head fitted snugly against my G-spot. The vibrations for me are not the strongest, but these certainly had a deeper vibration which I was able to enjoy. The vibrations felt strongest in the middle of the shaft to the neck of the head, but I was still able to thoroughly enjoy the vibrations against my G-spot. The motor itself feels excellent quality, and is one of the quietest toys I own...and I own a lot.

The Envie I found best to be used in a variety of ways; one was for stimulating my G-spot directly with a little thrusting, and it was brilliant for direct clitoral pinpoint stimulation with the great design and angle of the head, without contorting my arm to reach myself.