Green with Envie
Envie is a silky smooth g-spot dream. It offers fairly strong vibrations and a flexible head that is effective and comfortable. Envie does the job and is kind to the pubic bone. The finger hold makes this a fantastic solo g-spotter!
Published:
Pros:
Super silky silicone, thumb or finger hold, flexible head, quiet.
Cons:
Battery operated.
Okay, as far as the title goes, I just had to. Envie is a silicone and ABS plastic g-spot vibe. Envie's design is reminiscent of Lelo's Ella, however there are a few key differences that I find a vast improvement. It has length, it's easy to hold and it vibrates.
Envie arrives in nice black packaging with a viewing window. Inside you'll find the toy cradled in foam. Upon opening the package I was pleased to feel the silkiness of the silicone. I immediately inserted the two AAA batteries after screwing off the circular base. The base is very nice for solo use and has a whole straight through the middle of it. It's lined with silicone and is perfect for a finger or a thumb. There is also a nifty led light around the bottom exterior. The black version glows green, hence my title and the pink version glows pink. As an added perk Envie is waterproof, it will also glow in the tub.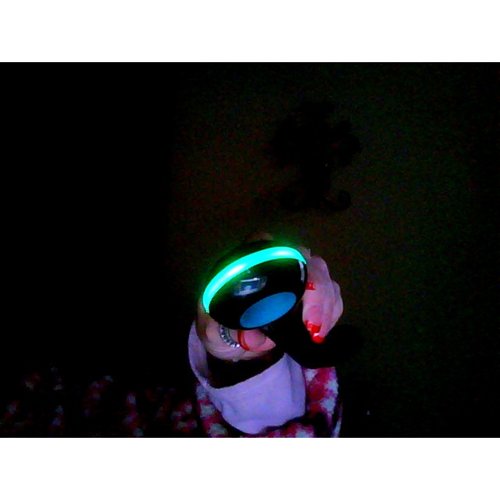 Envie is a total of eight and a half inches long, seven inches total from the top to edge of the silicone. An inch from the bottom edge of the silicone you'll find a two inch area of ribbing on the top surface of the vibe. I really couldn't feel this area while Envie was inserted. But it feels pretty good if rubbed on the clit while using this externally. There is also a small bump before the g-spot head. Envie is a very firm toy with the exception of the g-spot head. The silicone connecting the head to the body flexes so much that the head can be pressed up against the shaft of the toy. One might think this would effect the toy's ability to apply ample pressure to the g-spot. I found Envie very effective at providing fairly firm pressure to the g-spot. I also had no trouble with Envie catching on the pubic bone. Envie has a slim one and a quarter inch diameter and can be enjoyed by most users from beginners to advanced.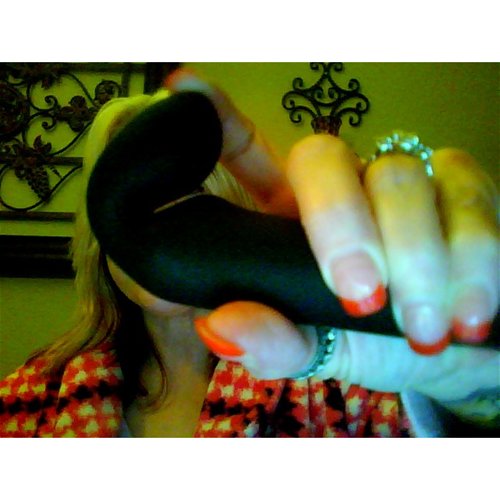 Envie offers seven vibration modes:
1) Low constant vibration.
2) Medium constant vibration.
3) High constant vibration.
4) Steady pulsing.
5) A three pulse pattern.
6) Escalation.
7) Five rapid pulses, repeat.
I found that Envies silicone exterior turns quite easily around it's core, so I was able to position the on/off switch in the back of the vibe or the front.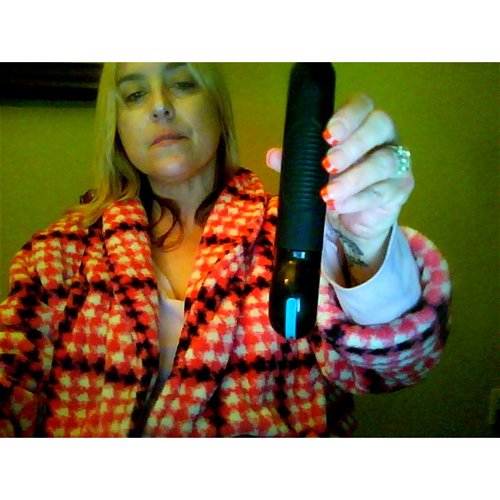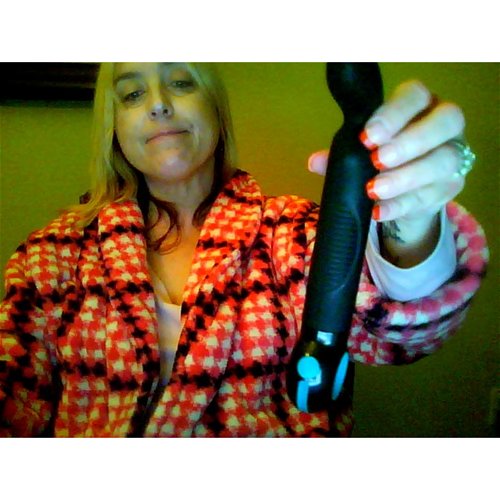 This of course allows the user to keep the power button on the bottom/back of the toy, avoiding accidental change of mode. Envie has one button to turn it on and cycle through it's seven modes of vibration. If you so desire to turn it off or start over without having to cycle through all it's modes, you simply hold down the power button for two seconds and it will shut off. Envie is fairly quiet and is barely audible at an arms length.
Envie is easy to care for. Don't store it with batteries in it, don't use silicone lube. Wash with soap and water or use toy wipes to clean. To sanitize Envie it can be cleaned with a ten percent bleach to water solution. Envie does collect some lint and debris so I recommend storing it in a zip lock between uses.
Experience
My g-spot is pretty deeply set and I found Envie very effective at finding and stimulating it. The vibrations are moderately strong. I thoroughly enjoy this toy for g-spotting! For clit stimulation, it feels good but is far to weak to induce orgasm. I found The vibrations are fairly well dispersed throughout the toy as well.
This product was provided free of charge to the reviewer. This review is in compliance with the FTC guidelines.

Thank you for viewing
Envie Vibe g-spot massager
– g-spot vibrator review page!