Dorcel Too much - G-spot vibrator from Dorcel

Product Details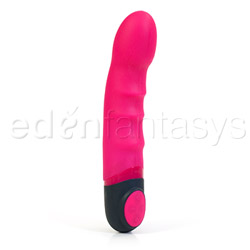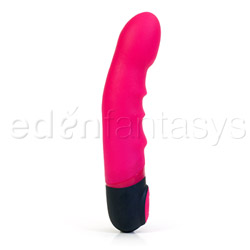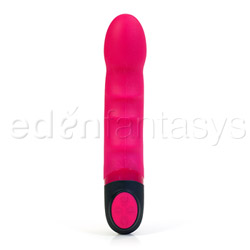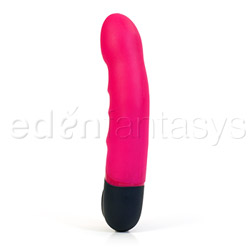 Summary:
This is a GREAT toy! 100% silicone, easy maintenance, great shape, lots of variety and its sooooo filling! Might be a bit big for some but it has brought me to many "O"s! The dual vibrating shaft will have screaming out for more like the Too Much.
Pros:
100% silicone, powerful, lots of variation, curved
Cons:
control pad not marked well, may be too girthy for some
Best use:
The Too Much by Dorcel is a dual vibrating silicone dildo. It is a single shaft with 2 internal, separately vibrating motors inside! Wow, is it different and amazing! Is powerful to be used on the clit (even for our power queens) or it can be used vaginally or anally. It is curved to hit the G-spot and even has ridges that can be used to drag across G-spot that will make your toes curl. This may not be good for some as it is a rather girthy piece, but if you're like me that will be one of your favorite things about it! This toy is great for thrusting as well as for massaging the G-spot.
Material / Texture:

This toy is 100% silicone; except for internal workings, of course, which are food-grade, hypoallergenic, latex free, non-porous and phthalates free. And it's such a pretty pink color!! (OK, so they call it fuchsia) It had a very light smell, but only when you held it like right up to your nose the first time... it lost this smell quickly. I love the feel of this toy; it's a nice soft, pliant-feeling material. It has 2 vibes in it so it's not completely flexible but it is somewhat. Has a nice bulbous head and 3 ridges down the front for a little texture which drags across the G-spot very nicely.

Material:

Silicone

Material safety

Texture:

Ribbed

Safety features:

Food-grade material / Hypo-allergenic / Latex free / Non-porous / Phthalates free

Design / Shape / Size:

This toy is very smooth for the most part, but rather large. Has a nice large bulbous head with a few nicely spaced ridges down the front. It does have a seam that runs from the base on the back, up and over the head and down the front. This seam can be felt with your fingers, however, I did not notice it at all during use though. The Too Much is approximately 8 1/4" in length, about 6" of which is insertable. As stated he is a rather girthy fella at a circumference of 5" and diameter if 1 1/2", have to work him in slow but he's ohhhh so nice.
length compared to Bic lighter
nice fat head hehe

The battery compartment only comes on and off one way; twist counterclockwise just a little ways and pop, off it comes! Inside you have a removable battery pack that holds 4 AAA batteries, and it also only slides in one way; luckily it has a handy arrow on the side to help with getting it in right!



Color:

Fuchsia

Length:

8 1/4"

Insertable length:

6"

Circumference:

5"

Diameter:

1 1/2"

Weight:

0.4 lb

Functions / Performance / Controls:

Ok so, it has 10 functions and 5 speeds with 2 separately vibrating units within the single shaft. That being said, it is next to impossible to describe how each one feels; just know that they all with make you purr and moan in delight! I will say that they are very unique patterns and a refreshing change. The vibrations are quite strong, even on the lowest setting, which is perfectly fine by me! They can be felt from the base all the way to the tip, making it great for clitoral stimulation and for deep vibrating penetration! It is surprisingly quiet considering it has 2 motors!

The base of the toy contains the control pad and twists off to reveal the battery compartment. The control pad has a "+" and "-" which cycles through the 5 strength of the vibrations. The pad also has buttons with looks like raindrops which control the 10 functions; you can cycle through them or go back to one you passed with ease! The only thing I can say bad about this control pal is that the buttons are not raised at all so controlling it without looking at it is tricky; it's kind of a guessing game. To turn it on press the "+" button; and to turn off press and hold the "-" button for approximately 2 seconds.

Functions:

Pulsating / Vibrating

Special Features:

Multifunction
Powerful
Premium
Two motors

Control type:

Built in control pad

Powered By:

Aaa-4

Care and Maintenance:

The Too Much is 100% silicone making it super easy to clean. Simply cleaning before and after with antibacterial soap and warm water. This toy is NOT water tight, however, so do not submerge the toy to ensure water doesn't get into the battery compartment and ruin it. That would be a sad day. Toy wipes are also a suitable method for cleaning it; just be sure that what your using is not alcohol, acetone or petroleum based cleaning products on it, as those may damage the integrity of the material. Also, I advise using water-based lube with this as using silicone or petroleum based lubes are not advised for silicone products.

The box this comes in is great for storing this toy! It's not terribly large so it's easy to stash in a drawer and will keep the toy off of other silicone toys you may have in your collection. If you choose not to use the box just try to avoid having it in contact with other silicone toys, this apparently over time will cause damage to the toy.

Care and cleaning:

Soap and water

Packaging:

The packaging was fairly very nice though not terribly discrete. It has picture of the toy on the front flap; under the flap was a nice window to see the toy inside. The sides of the box have a half-naked woman on the side but not a vulgar picture, it's very tasteful. And the back of the box is full of information in 6 different languages as well as a diagram showing the placement of the dual vibes. Inside is a bubble form that holds the vibe in place and prevents damage. Also included was an instruction sheet, but as this is not an American made toy you will have to search for the English translations in the instructions.






Experience:

Ok, I have to say I LOVE this toy! I was totally unprepared for the battery thing though as most toys use AA batteries, not this one. It uses AAA's so I didn't get to use it the first night; I did but I didn't get to enjoy the dual vibrators. It was amazing even then! I love the shape and feel of this one… and then the next night when I had the batteries to use the vibrators.... WOW!! The dual vibrators are a great idea, and the variety of patterns is wonderful! I particularly like the deep rumbly one; it makes me PURRRRRRRRR!!!! Only real complaint I had with that this toy is that when it's in and you want to change speed or pattern you have to play a kind of guessing game to find the right button. The designs are not raised enough to be able to find them just by touch. Otherwise, this is a GREAT toy and another new favorite!