Media Craft Inc Fairy wand massager - Wand massager from Media Craft Inc

Fairy wand massager videos
Product Details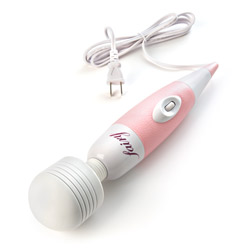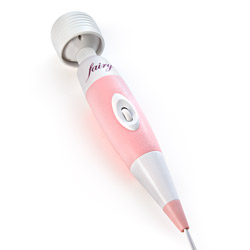 Summary:
The Fairy Wand Massager will create an earthquake all throughout your body and make you scream! Seriously, this bad boy means business. It works on electricity, is controlled by a dial, and has the most powerful and strong multi-speed vibrations that a sex toy can offer. It is simply the most exciting and orgasmic sex toy you can own; it will leave you breathless!
Pros:
Works on electricity, Powerful and Strong vibrations, lovely looking.
Best use:
The Fairy wand massager is large and in charge! It is like the fairy wand mini, but on steroids! It offers pleasure on practically every part of your body, from your back, to your bottom, legs, thighs, breasts, pussy, and even your feet and armpits (as long as you aren't ticklish). If you have tried the Fairy Wand mini, or planning to, you would find that this big guy has ten times more power, weight, and oomph than its mini version. It weighs about a pound, and the magnitude of the vibrations themselves are quite intense, which is perfect for those who want a mightier sex tool in their toy box.
Material / Texture:

When holding the Fairy Wand Massager, it is going to feel as if you are grasping onto a heavy microphone or a pretty dangerous knock-your-teeth-out weapon. The pink and white color scheme is very pretty and soft, giving it this girly-girl kind of edge to it. The feel of the toy from top to bottom is smooth; the head of the Massager has ridges that are also smooth to the touch as well.

Material:

Plastic

Material safety

Texture:

Smooth

Safety features:

Food-grade material / Hypo-allergenic / Latex free / Phthalates free

Design / Shape / Size:

The design of the Fairy Wand is basically similar to the oh-so-popular Hitachi Magic Wand Massager. As mentioned, it looks like a heavy-duty microphone, and could very well be disguised as an ordinary back massager, so it is easy to hide, looks pretty non-intimidating, and makes a perfect travel companion (as long as you have an electrical outlet to plug it in). The charm of owning a toy such as this is that you can just plug it in and have a ball with it. During play, it is easy to move this guy on any part of your body without any discomfort or frustration. You can play with it by yourself and also have fun using it with your partner (or using it on your partner, even). I find that it is a toy that's one of the most perfect and versatile unisex playmates, and can be used by beginners and also more advanced users.

Color:

Pink / White

Length:

13"

Circumference:

7 1/2"

Diameter:

2 3/8"

Weight:

19.7 oz

Functions / Performance / Controls:

The Fairy Wand is controlled by electricity, so therefore if the plug is jammed or bent, you are screwed (no pun intended). The vibe functions are controlled by a rolling dial. It is pretty self-explanatory once you have it. When directing the ball-end of the toy towards you, you turn the dial upward. The higher you turn the dial the more powerful the vibrations are. In my opinion, the Fairy Wand has the most well-varied and powerful vibrations that I have ever experienced from a vibrator.

With each vibe setting it will feel like an earthquake is shaking all throughout your body, no matter what part of your body that you are pressing the Wand's head against. The speed of the vibrations are so strong that your body will go through some type of after-orgasm withdrawal; a powerful tingly sensation will linger, and want you yearning for more. It is fantastic! Perhaps the only downside to the Fairy Wand is the noise. Boy, it is one NOISY toy, and gets even noisier and louder when you push the dial up to the highest vibration (it's practically as loud as a vacuum cleaner or a power tool, no joke). Sadly, this toy is NOT waterproof, for obvious reasons.

Functions:

Vibrating

Special Features:

Control type:

Built in control pad

Powered By:

Electric

Care and Maintenance:

Taking care of this toy is so easy. The cord is over 5 feet long; be sure to wrap the cord around the massager tightly so that the plug won't be bent or damaged. Store it someplace dry; if it gets wet or moist, it might do damage to the plug. You can use this massager with massaging oils or lubricant, if necessary.

Care and cleaning:

Toy cleaner

Experience:

My partner and I had a blast with this toy! What makes this toy fun is that you can incorporate it into your sex games or for BDSM/bondage/torture play.