Toyfriend Bossy toyfriend - Rabbit vibrator from Toyfriend

Product Details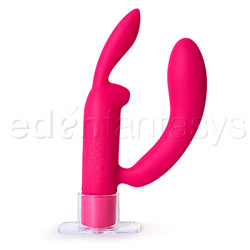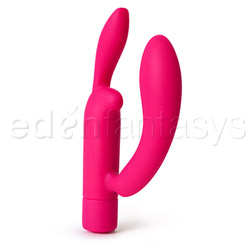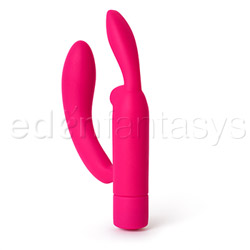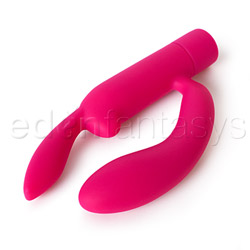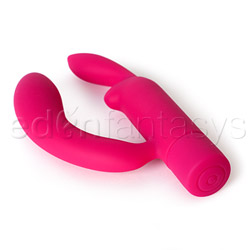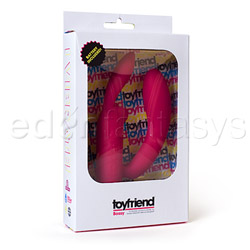 Summary:
Rabbit toys are a bit hit or miss with most people given the variety in anatomy. I know I was not the only one to hear how wonderful they can be only to be disappointed over and over again. The Bossy by Toyfriend is one of those unique toys that is definitely worth the price. Simply put, it is the most versatile rabbit vibe I have had the pleasure of trying out and I recommend it to anyone who asks.
Pros:
Very high quality materials, interesting design and function, unusual stand.
Cons:
Quite high price, should be used with water based lube only.
Best use:
The Bossy by Toyfriend is an unusual take on a rabbit vibe. Instead of the usual straight insertable shaft with a rabbit attachment, the Bossy switches up the equation and offers a rabbit shaped shaft with a vibrating ear shape and an insertable shaft as the attachment. In short it is a very unusual looking vibrator that might just be what hard to please ladies are looking for. This guy has something to offer just about all anatomies from the higher clitoris that might not get the stimulation it deserves and craves to the lower clitoris that just wants a nudge and something to rub against.

It is safe for anal stimulation and insertion as you are unlikely to have this toy pull a disappearing act on you. If you prefer you can even use the Bossy as a DP (either anal/vaginal or vaginal/vaginal) toy!

This is a wonderful toy for couples play as well as solo. It would definitely raise some eyebrows at a play party.

The Bossy is extremely user friendly and would make an amazing first introduction to rabbit type vibes as well as toy play in general. It isn't threatening or overly sexual; it also isn't overly childish or animal shaped.

Smooth, waterproof and quiet this toy seems to have it all making the higher than average price tag easier to accept.
Material / Texture:

The Bossy is made of food-grade silicone and is, hypo-allergenic, latex free, non-porous, and phthalates free. The silicone is smooth and matte finished but doesn't have a whole lot of drag to it. With just a touch of water based lube you lose all sensation of drag, perfect for those who appreciate a smooth ride. The entire toy has the same smooth feel that just makes me want to stroke and caress it.

There is no appreciable smell or taste to the toy which is what you would expect from a high quality silicone toy.

This is a perfect toy for a beginner, despite the hefty price tag, because of its smooth texture and intuitive design. The curves of the toy allow the insertable portion to stroke the walls of the vagina nicely but won't cause bruising. One drawback is you can't easily place pressure on the G spot with the larger insertable portion. The "ears" can provide a bit more pressure but it is pinpoint and only really useful if your G spot is easily accessible.
Since the silicone is very high grade and the texture is smooth the toy lends itself well to anal play.

Material:

Silicone

Material safety

Texture:

Smooth

Safety features:

Food-grade material / Hypo-allergenic / Latex free / Non-porous / Phthalates free

Design / Shape / Size:

The design is one of the most unusual I have seen but I quite like it. The shaft of the toy resembles a rabbit in profile, with a giant dildo jutting out where the "penis" would be. The toy is designed to be used in a multitude of ways meaning it will have something to offer just about every user.

The toy measures 8 inches from base to ear tips and is 3 inches around the 'nose' of the rabbit. The dildo portion measures 6 and 3/4th inches in length and about 3 and 1/2 inches around its widest portion. This means it is a good sized dildo and about the size of an average penis. It is made from firm silicone with little to no give so it's going to feel a bit bigger than the average penis when inserted. The shaft of the toy can also be inserted for a totally different feeling. Be aware that the "ears" are one solid piece of silicone and only 'give' at the base of the ears. The end of the ears is blunt enough to lessen the impact against the cervix and back walls of the vagina but small enough that it could still be uncomfortable for some users.
The toy's design does allow for quite a bit of anal play, though the toy might be a bit large for novice players. Both the 'penis' dildo and the rabbit shaft can be inserted fairly easily and offer an unusual sensation depending on which you choose. The toy is not able to be completely straightened out so it is unlikely the user will be able to "lose" the toy.

The Bossy weighs in at a solid 9 ounces meaning you will know you have it in your hand, or where ever else you stick it, but it won't cause horrible hand/wrist fatigue.

One unique and interesting feature of this toy is the clear plastic base included with it. The base of the toy fits into the toy stand allowing you to store your toy on a shelf, in a closet or beside the bathroom sink while it dries fully. Although one side of the shaft of the toy has the word "Tickler" punched into it if you turn it around it looks like an unusual piece of modern art...if you don't have kids or squeamish parents this could be fun to leave out as a conversation piece/decoration!

Color:

Magenta

Length:

8"

Insertable length:

6 3/4"

Circumference:

4 1/4"

Diameter:

1 1/4"

Clitoral attachment shape:

Rabbit

Weight:

9 oz

Functions / Performance / Controls:

The Bossy has a push button type control on the base of the screw on base. The entire toy is covered in silicone including the screw off cap meaning that clean up is simple and the vibrations travel through the toy easily.

The vibrations are most strongly felt in the center of the shaft where the 'rabbit's nose' is located. They travel strongly through the 'ears' of the rabbit but weaken to almost nothing in the dildo. This was a bit of a disappointment to me as I had hoped it would adequately stimulate my G spot. While I felt the vibrations and variations it wasn't enough to completely wow me.

The Bossy has an odd set up from other vibes in terms of vibration speeds and variations. Instead of the traditional three speeds of straight vibration the Bossy has two:

The first speed is medium speed and medium power, it is surface and fairly buzzy but travels well from the nose through the ears and can be felt easily at the top of the dildo.

The second speed is actually less powerful than the first but deeper and more throbbing. The vibrations carry about as well as the first speed but are just a tad less intense and seem to come from deeper inside the shaft.

The variations begin after the third press of the button:

The third press brings a short duration pulse that travels well throughout the toy but won't cause your hand to go numb. It has a medium speed and intensity. It is partly throbby and partly surface depending on where you touch. This is my favorite speed and variation.

The fourth press brings on a shorter duration, faster pulsing that is most strongly felt around the nose of the rabbit. It travels well throughout the toy but loses intensity at the top of the ears and dildo. It is easily felt in the base of the toy and could cause sensitive users to have tingly palms after play.

The fifth press brings on a very short duration pulsing that causes the ears to actually twitch. It is the most vigorous vibration the toy possesses and travels very well throughout the ears and dildo. I found this vibrations speed/pattern to be best for clitoral stimulation as well as anal rim and nipple stimulation. It feels great during a blow job if you rest the ears at the base of the penis or under the scrotum. An interesting discovery was if you clamp down on the ears either with your hand or vaginal muscles it deepens the vibration and makes the vibrations of the nose portion much more powerful and deep. Great for clitoral stimulation if you don't mind your hand going slightly numb.

Any more pressing of the button just cycles through the speeds/variations. To turn the toy off simply hold the button for 2-3 seconds. This is a great feature if you get interrupted.


The controls are easy to use but won't get bumped to another speed/variation easily during play. The noise level is modest even at its most powerful and the toy cannot be heard through a closed door. It can be heard while in use so this isn't one you could sneak into bed and not alert your partner/room mate to toy action going on!


The Bossy is 100% waterproof and has never shown any signs of leakage whether it was used in the shower, the bath or washed in a sink. In the bathroom the vibrations don't reverberate loudly and seem a bit more muted than in the bedroom though this could be a facet of how our bathroom is shaped.

This toy takes two AAA batteries and the first set are included. I have used the toy frequently for 15-20 minutes at a time for over a month and I am still using the same batteries making this toy pretty economical!

Functions:

Pulsating / Vibrating

Special Features:

Batteries included
Multifunction
Multispeed
Powerful
Quiet
Waterproof

Control type:

Push button

Powered By:

Aaa-2

Care and Maintenance:

The Bossy is 100% silicone so it can be washed with soap and water, cleaned with a commercial toy cleaner or wiped down with bleach and water. It cannot be boiled because it has a motor but, I suppose, you could dip it in boiling water if you chose. it cannot be tossed into the dishwasher, but the ultra smooth texture should make cleaning a breeze rather than a chore.

I used a soft clean toothbrush to gently clean the area where the word "Tickler" is embossed and around the seam where the base meets the shaft. A soft damp cloth can be used on the base of the toy after the cap has been removed to be 100% certain the toy is clean.

This is silicone so the usual advice is to be ultra safe use only water based lubes. If you have a silicone lube that you just plain adore you could spot test an inconspicuous area before you risk the lovely finish of the toy. I would caution against storing this toy where it could butt up against softer silicone or jelly toys especially if the room is warmer than usual.

Store the Bossy out of direct sunlight for maximum care, though I haven't noticed any damage or change to my guy after spending the day on my window sill in full sunlight.

I would recommend storing this toy either in it's original packaging or a Eden Toy Pouch. Your new friend deserves the very best, no?

Packaging:

The Bossy is packaged securely in a plastic form fitted into a cardboard box which allows the toy to be clearly seen. The box is cheerful and colorful rather than being sleezy. Printed in tiny letters under the Toyfriend logo is: "I'm the Boss, yet yours to dictate, my double nature will make you feel great!" Cute.

The back of the box tells about the toy and is surprisingly informative. You will learn that the toy vibrates, is easy to clean, should be used with water based lube and comes with two AAA batteries. It also will inform you about how to get started playing with the toy and more importantly, how to turn the toy off. Care and maintenance instructions are also printed on the box making this a very user toy!

Personal comments:

Of all the rabbit vibes I have tried for EdenFantasys this has been my favorite. Though it doesn't grant that elusive G spot orgasm it does provide great solo or partnered fun. It has some issues fitting my anatomy but they are easily overcome and should be so for most users.

I definitely recommend trying this toy if you are new to rabbit type vibes or vibrators despite the quite hefty price.

Other