Vibratex Budding bliss - Rabbit vibrator from Vibratex

Product Details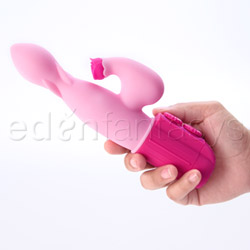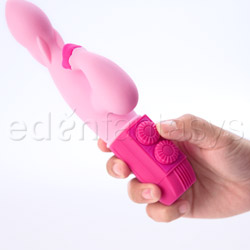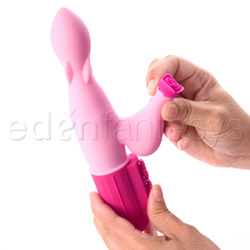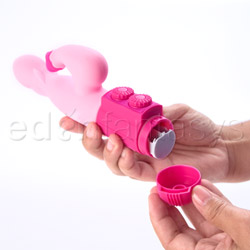 Summary:
The Budding Bliss is an entirely unique dual stimulating vibrator from Vibratex. In silky smooth silicone with a strong rotating shaft the Budding Bliss aims to please. The clitoral stimulator is designed as a small emerging rosebud and while it has a powerful vibrating motor and a beautiful design it might not fit everyone's anatomy.
Pros:
Powerful rotations, simple to use, lovely silicone.
Cons:
Rosebud stimulator might be uncomfortable for some users.
Best use:
The Budding Bliss is a silicone dual stimulating vibrator from Vibratex. It is designed for women to use vaginally with the rosebud clitoral stimulator nestled against their clitoris. Since the shaft is straight it is also comfortable to turn the toy around and enjoy the rotating shaft while getting some external anal stimulation from the rosebud.

The shaft is long enough to hit the g-spot on most individuals, though of course with all toys of this sort it will depend upon the anatomy of the user. If it does hit well the rotations are powerful enough to give some good g-spot stimulation.

The clitoral stimulator being a good fit will be entirely up to the user's anatomy. The rosebud curves in and there is not a lot of give, so if it does not fit well it will not flex to allow much repositioning. If it does fit it will provide excellent pinpointed stimulation. Some women may find the curved in flower to put a bit too much pressure on the clitoris. This can be resolved by either holding the clitoral stimulator out to avoid a lot of pressure or using it with the shaft turned around towards the perineum.
Material / Texture:

The Budding Bliss is made from silicone which is a body safe material that is latex and phthalates free, non porous and can be sterilized. The silicone material that the Budding Bliss is made from is remarkable in the way that unlike most silicon material, this one does not attract lint much at all. It is a silky smooth finish and the only texture on this toy comes from the middle of the shaft where it has a corkscrew like texture and then the rosebud which is of course extremely textured.

The silicone is rather firm, there is not much give to it at all, which makes for easy insertion. Like most silicone toys there is no smell or taste to the Budding Bliss.

Please make sure that you're only using water based lubricants with the Budding Bliss. Silicone lubricants could react poorly with the silicon material.

Material:

Silicone

Material safety

Texture:

Bulged / Smooth

Safety features:

Food-grade material / Hypo-allergenic / Latex free / Non-porous / Phthalates free

Design / Shape / Size:

It is very uniquely designed both in it's cork screw like mid-shaft and the pinpointing clitoral stimulator that looks like a rosebud beginning to bloom. This dual stimulator does not look like your typical "rabbit" vibrator. The uniqueness of this dual stimulator does not stop with the appearances, the way that the shaft rotates is also unique and allows for a much stronger rotation. Since the silicone is opaque you can't see the full mechanics of the rotating motor but from what I can feel it rotates with an actual pivoting motion rather than a spinning motion like other rabbit vibrators. This allows the rotations to stand up to pressure a lot better than other types of rabbit vibrators.

The size is pretty average. With a shaft that is 4.5 inches insertable and a diameter of 1.5 inches at it's widest part it is not something that would be overwhelming to beginners but still offers a filling feeling. Size queens might find the shaft a bit small, but most will notice that the rotations make up for the smaller size. The rotations are felt easier on a smaller shaft as there is more space for them to move.

The clitoral stimulator is the only part of this toy that might prove to be problematic for some. The curved in design of the rosebud does allow for direct stimulation but it also limits the range of anatomies that will fit this toy well. It's all going to depend how close your clitoris is to your vaginal opening and if you like a lot of pressure.

Length:

8 1/2"

Insertable length:

4 1/2"

Circumference:

4 3/4"

Diameter:

1 1/2"

Width:

1 3/4"

Clitoral attachment shape:

Flower

Weight:

0.5 lb

Functions / Performance / Controls:

Each of the two functions of the Budding Bliss are controlled by dials on the base of the toy. You can control the intensity of the vibrations and the speed of the rotation individually, which is nice for customizing the experience.

The rosebud clitoral stimulator is powerful, but is not the strongest vibrations out there. They are intensified by the shape and size of the rosebud being pinpointed and for most people hugging the clitoris. The vibrations are slightly buzzy and on the most intense setting they might be a little irritating for some. Since this is dial controlled there are no patterns or pulsations, it's all strictly steady vibrations. So, while the Budding Bliss offers power it does not offer much in the way of variety.

The rotations are strong and can be felt internally. You can actually tell how the shaft is rotating while using it as you can feel as it brushes up against the g-spot. Those with exceptionally powerful PC muscles might be able to slow it when contracting, but for most it should work out fine. With this kind of motor a rocking motion can cause almost a "popping" feeling of the shaft because it causes pressure to the internal mechanism. It's best to try to keep it at a thrusting motion and not rocking against it much of an angle. Of course this might be easier said than done when you're enjoying your new toy. The motions of the toy are pretty amazing and they're incredibly unique.

Both settings are pretty quiet, I would not say they are near silent but I don't think you'd have any trouble with anyone hearing you through closed doors. If they did hear you they might think you're baking a cake since the rotating motion sounds kind of like a mixer on low.

The Budding Bliss is powered on four AAA batteries which are inserted into their own holder and then the holder is placed into the base of the vibrator. The battery cap screws on tightly but the budding bliss is simply splash proof, not waterproof. This makes it easy to clean but the Budding Bliss cannot join you for any fun in the tub.

Functions:

Rotating / Vibrating

Special Features:

Multispeed
Rabbit
Splashproof

Control type:

Built in control pad

Powered By:

Aaa-4

Care and Maintenance:

The Budding Bliss can be easily washed with a mild soap and water or a toy cleaner. Take special care around the rosebud as it is heavily textured and fluids and bacteria could easily hide there. You can also wipe down the vibrator with a 10% bleach solution if you'd like to sterilize it since the silicone is non-porous.

The flat base of the vibrator allows you to let the Budding Bliss stand up right to air dry once you are done washing it.

The Budding Bliss can be stored with other pure silicone toys or in a box such as the one that it comes in. It doesn't pick up lint much so you might find that its own box is not necessary.

Packaging:

The packaging of the Budding Bliss is rather minimal, just a clear plastic box. It's easy to store it and highlights the product well, though it's not very discreet. It'd only make a good gift giving package if the recipient doesn't mind everyone around knowing just what it is and what it's used for.

Personal comments:

Personally I have mixed feelings on the Budding Bliss. I'm in love with the rotating shaft and it was so refreshing to try out a dual stimulating vibrator that I actually could feel the rotations on. Where the Budding Bliss fell flat for me was the rosebud stimulator. It's on too much of an angle and it has a tendency to want to clamp down on my clitoris. I can hold it back so that it doesn't put too much pressure but it's kind of annoying to have to do so and it takes away from the fun of it all. I also found that trying to situate the clitoral stimulator for me caused the shaft to feel as if it was bending too much. In the end my favorite way to use the Budding Bliss was turned around with the rosebud stimulating my perineum and then using a different bullet for my clitoris. This allows the best of both worlds and it allows me to enjoy the rotations without my clitoris feeling like it's in a vice grip.

I don't think all users will have this same issue though. My clitoris is very sensitive and I do not like direct clitoral pressure or vibrations. I prefer stimulation of the clitoral hood to radiate in towards the clitoris and the Budding Bliss gets directly on my clitoris. Those who LIKE that kind of stimulation will be totally pleased with the Budding Bliss.