California Exotic Couture collection Melody - Rabbit vibrator from California Exotic

Couture collection Melody videos
Product Details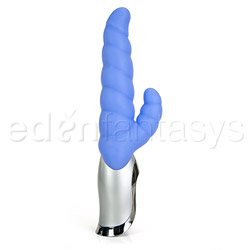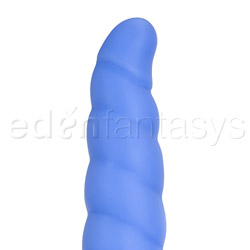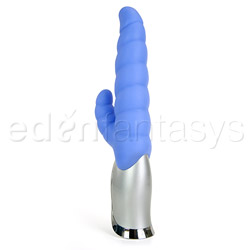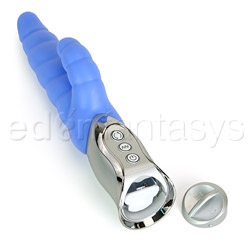 Summary:
The multi-function, waterproof, silicone Melody is a dual stimulation vibrator with a grown up feel. Thick, weighty, with seven vibration settings and three levels of rotation on a beautifully textured shaft this toy is ideal for those who like girth. Light up, push button, dedicated controls, fairly quiet operation and a secure, waterproof battery compartment make the Melody a joy to use nearly anywhere.
Pros:
Silicone, easy to use light up control panel, no silly animal shapes, waterproof.
Cons:
A bit large for some, most rechargeable batteries don't work, doesn't hold up to hard clenching.
Best use:
The Melody, part of the Couture Collection from California Exotic, is a dual stimulation/rabbit style vibrator. Designed to stimulate internally and externally, the Melody has a one directional, three speed rotating shaft and a seven speed/function vibrating clitoral stimulator.

The Melody, unlike many dual stim vibrators, has no animal shapes; no bunny ears or dolphin noses or butterfly wings to make it "cute". It also has no spinning beads, just the rotating shaft. It's a simple, almost elegant looking toy that will likely appeal to those who like a more abstract, less cute vibrator.
Material / Texture:

The Melody is a step up for California Exotics as it's made of pure, medical grade Japanese silicone. The finish is matte, smooth and velvety with speedbump like bulges along both shaft and clitoral stimulator that increase in diameter as you travel from tip to base.

Matte silicone has a lot of drag to it and generally requires a good bit of water-based lube to keep things moving smoothly. It's also more realistic than smooth, shiny silicone as the flesh of an actual penis also has that velvety feel and drag to it.

The shaft and clitoral stimulator of the Melody are both thick, solid and meaty while still being slightly flexible and squishy. The silicone is dense and yet transmits vibrations superbly.

Silicone generally has no smell or taste and this toy is no exception.

Material:

Silicone

Material safety

Texture:

Swirled / Velvety

Safety features:

Food-grade material / Hypo-allergenic / Latex free / Non-porous / Phthalates free

Design / Shape / Size:

The soft, graduated bulges of the Melody make it absolutely amazing during penetration though they are less noticeable on the clitoral stimulator. They remind me, in looks, of a twisted, soft serve ice cream cone and, in feel, of a row of speed bumps.

The shaft of this toy does have a slight g-spot curve to it and the clitoral stimulator is also curved with no rabbit ears or dolphin noses to distract you. It's like a vibrating stump that provides a low, deep vibration.

Because the Melody grows thicker as you insert more of it, you always have a full feeling at the entrance of your vagina; which is going to thrill those who love girth but may be intimidating to the newer user. The Melody is big and thick and voluptuous. This vibrator is 10.5 inches long but a lot of that is the control area/battery compartment. The insertable length is 5 inches with a 1 5/8 inch diameter. It weighs in at a pound and feels quite hefty even without batteries inserted.

Rabbit style/dual stimulation vibrators are a difficult beast as every woman's anatomy is different. What penetrates well and nestles the clitoris properly for one woman may not work for another. On the Melody, the shaft is quite long and the clitoral attachment is low on the shaft -- something to be aware of if you're considering the Melody so you can make sure it's design matches your anatomy.

Color:

Blue

Length:

10 1/2"

Insertable length:

5"

Circumference:

5 1/4"

Diameter:

1 5/8"

Clitoral attachment shape:

Non-animal

Weight:

1 lb

Functions / Performance / Controls:

The Melody has a three speed rotating shaft as well as a vibrating clitoral stimulator. The clit stimulator has three speeds - low, medium and high - as well as four escalating/pattern type vibration settings. All of these are easily controlled via the light up, push button control panel.

The controls are simple to use. A dedicated on/off switch allows you to shut it off quickly if you need to. Vibrations are controlled with repeated pushes to their dedicated button which is marked with a wavy symbol to indicate vibrations. You simply press until you find the level or pattern you like, and scroll through to change. Shaft rotation is the same; a dedicated button marked with a rounded arrow to indicate rotation that is pressed to scroll through the three levels of rotation.

Because the battery compartment/control panel is large it's very easy to use. I had no issues with pressing buttons as I thrusted and the light up feature made it easy to see where the buttons were, even in the dark and under the covers.

Rotation on the Melody is mostly in the tip and goes from a slow motion that is reminiscent of a person crooking their finger to say "come here" to a fast whirligig. The way the shaft rotates, curves and flexes slightly makes it fantastic for g-spot stimulation though it does not hold up particularly well to clenching.

Vibrations are strong and deep but not pin point. They are much stronger when the rotation is turned off but still have enough oomph to get the job done in conjunction with some wiggling, thrusting and rubbing when the rotation is on.

Amazingly enough this vibrator is fairly quiet. It can be heard under covers but not thru a closed door or through ambient noise like a t.v. or fan.

The Melody runs on 3AA batteries that are easily inserted and removed via the twist off battery compartment cover. They sit in a housing that is removable.

Functions:

Escalating / Pulsating / Rotating / Vibrating

Special Features:

Light indicators
Multifunction
Multispeed
Waterproof

Control type:

Built in control pad

Powered By:

Aa-3

Care and Maintenance:

The Melody is silicone which means it is sterilizable by cleaning with a 10% bleach solution and can be shared. It can also be cleaned with soap and water, toy cleaner or wipes if you don't feel the need to sterilize.

Silicone has a tendency to pick up dust and lint quite easily so I'd suggest storing it where it's less likely to do so (in a drawstring bag or pouch, if you have one, or at least in a box, bag or drawer away from pet hair and major dust) and cleaning it both before and after use. A quick wipe-down should remove any gunk stuck to the vibe before use.

Because the Melody is waterproof, you can also clean it quite thoroughly under running water without worrying that you'll ruin your toy.

Be sure to use only water based lubes with this one, as silicone lubes on a silicone toy can make for a bad reaction and a useless toy.

Packaging:

Packaging on the Melody is fairly discreet; a white box with a picture of the vibrator on it but no half naked porn starlettes. The box is quite large, probably a bit larger than it needs to be even though the toy itself is big. Because it's cardboard, it is recyclable though; so a bit of extra packaging is more forgivable than if it were non-recyclable plastic.

Personal comments:

I'm not normally a fan of rabbit style vibrators. They're very iffy and anatomy dependent, most are made of crappy materials and look ridiculous. They're hard to thrust and keep the rabbit part aligned properly.

The Melody?

Is amazing.

I absolutely love the girth and the way the texture feels with thrusting. The rotation is not extreme but is amazingly stimulating to my g-spot. The clitoral vibrations are deep and low pitched rather than high and pinpoint. The lack of rabbit ears and noses and pokey, whippy things make it simple to nudge, bump and rub your clitoris with this toy while thrusting.

The shaft is a bit long for my personal anatomy. It takes a bit of finagling to get myself in a position where I can get the shaft and clit stimulator aligned just so. But once I do, this thing is amazing. I can feel the rotation distinctly along my g-spot, I can nudge or rub my clit in circles, I can slightly bend the whole thing for better positioning, I can use my other hand to press down a bit on the clit stimulator for more pressure.

The only issues I had were the toy not holding up well to clenching and the fact that most of my rechargeable batteries would not work in this. I have no idea why but all of them are fully charged and only one set would turn the toy on. It turns on and works just fine with disposable batteries (which lasted about an hour in this toy)