California Exotic Extreme pure gold - Rabbit vibrator from California Exotic

Product Details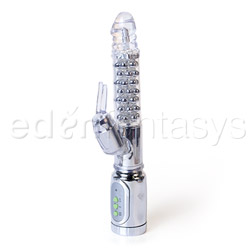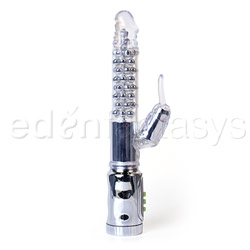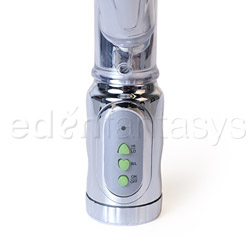 Summary:
A little expensive, a little loud, but totally worth it! This product is great for a well established woman with her own place and need for some serious stimulation.
Pros:
Very strong and highly stimulating, even for a pro!
Best use:
This is one of the most dangerous toys in our toy box. Not because it is hazardous to your health, but because if not carefully handle has the potential to be a home wrecker! It is so powerful and so stimulating, any guy is going to have to be a sexual genius to be able to out perform this thing. Seriously, along the length of its shaft it has over 3.5 inches of rotating beads that grinds and massages every surface of your interior. Along with that rotation, the shaft actually wobbles too and fro, as if it is trying to burrow deeper into you. There isn't a hip gyration or thrusting motion on earth that can replicate that kind of stimulation. Not only that, but the clitoral stimulator is its own wonder the way it harmonizes its intense vibrations and its gentle touch. Because this toy is a little too good at what it does, I would not recommend using it for foreplay. If you and your girl are about to mess around and she sticks this thing inside of herself, it is going to make your job very difficult. That is why I am recommending that thing toy be used sparingly by a solo artist. With that being said I have a few last words of warning. Girls: Be aware when you buy this toy, it may have an effect on your job performance and your social life. You will not want to leave your house when your feel what this thing can do. Guys: Do not buy this for your wife, it will put you out of work. This toy is a menace to society and should be handled with great care.
Material / Texture:

The material for this toy was an excellent choice by the manufacturer. For the sheath that cover the beads and clitoral stimulator they used a thermoplastic elastomer that has great life span and textural qualities. It is also a semi-sanitary and cost effective choice. (Silicone is safer but it is also much more expensive to manufacture in this context.) The specific compound Cal Exotics chose is very squishy and comfortable, yet not so much that it is going to show a lot of wear. I give them 4.5 stars for the material choice for this pleasure machine. There are only a very short list of draw backs to this material. Because it is a TPE it is going to smell like rubber but only right out of the package and if you hold it to your nose. After a few rinses the smell dissipates and it is very mild. Also, this is a porous material so it is not exactly fool-proof when it comes to care. Please pay attention to the hygiene and maintenance portion of this review. Other than those two details, I would say they were bang on.

Material:

TPE

Material safety

Texture:

Ribbed / Smooth

Safety features:

Food-grade material / Hypo-allergenic / Latex free / Phthalates free

Design / Shape / Size:

This is where this vibrator breaks away from the herd of rabbit style show offs and wannabe's. This thing has 48 rotating beads along its shaft and a clit flicker that could clean an industrial pizza oven. The rubber used is very smooth once it is lubricated and the stimulation produced is like none other we have experienced. The head comes to a nice blunt point for easy insertion and the shaft circumference is a perfectly comfortable 4.5 inches. The insertable length is a little embellished on the product page; is only 6.5 inches of shaft before you are bumping into the bullet. One of the complaints of the length is in order to be past the clit fingers and up against the bullet, you pretty much have to have all 6.5 inches inside you. Which is a "pain" if you are a shallow gal, or like playing 'just the tip' but still need a little bean action. At the tip of the shaft there are low lying bumps that are great for g-spot stimulation (as if the beads, wiggling, and vibrations aren't enough). They only draw back to the vibrator is its total length. It is almost a foot long! This presents to problems, the first being storage. It isn't easy to hide a foot long chrome vibrator, especially if your live with roommates or kids. Secondly, it is kind of cumbersome when you are trying to insert it. You have to be a foot away from your own vagina and aim over a pound of machinery (including batteries) at your cooch and brace for entry. That sounds like a chore but even so, its worth it. Because of the girth, intensity, shear size, and price, I would not recommend this toy to someone who is starting a toy collection or lives with roommates.

Length:

12 1/2"

Insertable length:

7"

Circumference:

4 1/2"

Diameter:

1 1/2"

Width:

1 1/2"

Clitoral attachment shape:

Non-animal

Weight:

0.5 lb

Functions / Performance / Controls:

The controls are one of the things on this toy where you are either going to love them or hate them. The thing I most enjoy about the buttons is they are not easy to push (wait, hear me out). How many times have you been using a vibrator and everything is feeling really good and you are getting closer. Then, you try to change grip and accidentally change your setting or turn it off and bam! your orgasm is delayed like a bad airline! On this toy, you have to push the buttons firmly which removes the possibility of an accidental game change. There are 6 options on the base controller: on and off, left rotation and right rotation, and high and low. Seeing as how there is virtually now difference in high and low and when it comes down to it no real change in stimulation between left rotation and right rotation, they may have wasted their time. Again another difficulty is the distance you have to travel to change the settings. We have used this vibrator on maybe three or four extended occasions and have had no sign of battery wear. However, with everything that is going on, it would not surprise me if it was close to draining all four AA batteries. I have been vastly in favor of this toy so far but there is one major detail I have yet to mention. This toy is loud! Almost comedically loud! When we turned it on the first time it scared us because of how intimidating all the motion and noise it was making. If you live in an apartment with thin walls of have neighbors with sensitive hearing, this toy might be a bad idea. If you do live by yourself and are not afraid of a little adventure, brace yourself. All the noise and motion this thing makes is transformed into shear pleasure. It was described to me by my wife as a tiny rodeo bull.

Functions:

Rotating / Vibrating

Special Features:

Light indicators
Multifunction
Multispeed
Powerful
Waterproof

Control type:

Built in control pad

Powered By:

Aa-4

Care and Maintenance:

This toy is made of Thermoplastic elastomer so it a porous and can harbor bacteria if it is not cleaned before and after every use. If you are sharing this toy or using it for anal stimulation please, please put a jacket on it! Do not risk getting a sick genny, it isn't worth it. With an expensive toy like this it wouldn't kill you to go ahead and purchase a small bottle of toy cleaner that is safe for use with TPE and TPR. (You should be getting free shipping anyway!) The toy is advertised as waterproof but nothing is ever 100% water proof. Just be careful when you are running it under hot water that you are not pouring water into the controls or battery compartment. If you have any other concerns or questions about TPR, TPE, or this product don't hesitate to message me. I am happy to answer any questions anyone might have about anything!!!

Care and cleaning:

Soap and water

Packaging:

The packaging isn't too big (2"x4"x13") but it is clear and is obviously a vibrator from the outside.