Orion Waver butterfly - Rabbit vibrator from Orion

Product Details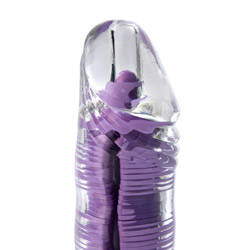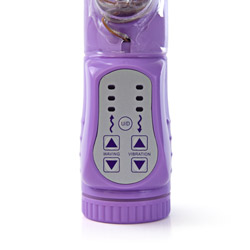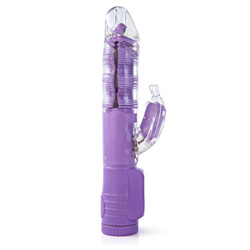 Summary:
The Waver Butterfly is definitely worth having if you haven't owned a rabbit vibrator before, or for those who just can't have enough of them. It is simple in its design and functions, has a convenient control pad, is nice and thick, and the butterfly tickler is definitely a pleasure.
Pros:
Slick and smooth, thick, convenient control pad, awesome butterfly tickler, waterproof.
Cons:
Made of TPR, the waving and vibration functions aren't that powerful or varying.
Best use:
The Waver Butterfly is one AMAZING vibrator that will quench your pussy into orgasmic oblivion, and make your clit go wild with pleasure. The thickness of the shaft and the tip is perfect; it will stretch you out, but not so much that it is overwhelming or painful. The butterfly literally caresses and strokes the clitoris as it vibrates, while the rest of the vibrator releases a stream of vibrations and waving motions from the shaft to the tip of the glands.

This toy is perfect for self-pleasure, exploring with a partner, for a quickie masturbation session, or taking along with you on vacation. It is also a good choice if this is your first rabbit vibrator, or if you want to introduce a friend or a couple of friends to the joys of owning one of these bad boys. This one in particular is quite adorable and simple. It only requires 3 AA batteries and has three different types of waving motions and vibe motions, which can be controlled by simply pressing the arrow button up or down on the control pad.
Material / Texture:

TPR at times can be a tricky material; it feels like slick rubber, but has a fruity scent that is appealing. The slickness of TPR from the base and tip of the vibrator feels amazingly smooth while pumping the Waver Butterfly in and out of you. What made the butterfly feel even more orgasmic was the feeling of the smooth and slick antennas stroking the clitoris. The texture overall can be used by both the beginner and advanced users.

Material:

TPR

Material safety

Texture:

Smooth

Safety features:

Hypo-allergenic / Latex free / Phthalates free

Design / Shape / Size:

One can't help but love the simplicity of the design of this vibrator. The glands of the vibe is designed to look and feel as realistic as a real cock, which adds an instant zap of pleasure at first penetration. The shaft is wonderfully smooth; when you explore the waving settings, the wheels inside creates a flapping-like sound and sends a wave-like current throughout the shaft, which does an amazing job at massaging and juicing the pussy.

The size of the toy also adds the intensity; it is 10 1/4" long, 1 ¾" thick. This may seem overwhelming to some, but if one is used to this size and length, you will feel right at home! Naturally a toy this big is not easy to hide, nor is it a toy that you can carry around with you in a purse. It is best to carry around in a suitcase or tote bag (if you plan on traveling with it), and stored in a cool place in a drawer, under the bed or pillow, or in your toy box.

Color:

Lavender

Length:

10 1/4"

Insertable length:

5 1/4"

Circumference:

5 1/2"

Diameter:

1 3/4"

Clitoral attachment shape:

Butterfly

Weight:

1 lb

Functions / Performance / Controls:

The functions of the vibe can be controlled by the control-pad, which has arrow buttons to control the "waving" and "vibration" functions, and a "U/D" button which puts the direction of the waving motion in reverse, back and/or forth. While using the toy, one can easily maneuver and change the functions without any discomfort or difficulty. Though both the waving and vibration functions are pleasurable, I didn't notice much range in the functions.

With each function, the vibrator grew louder, but the vibrations didn't necessarily become more powerful, nor did the waving motions become more noticeable internally (and even externally). To my surprise though, the motor wasn't as loud as I thought it would be (but it doesn't hurt to put the TV or radio on blast if you want to drown out the sound of the vibrator during play, just in case). This toy even gets better because it is waterproof! It makes for a luxurious bubble bath playmate and an exciting shower buddy.

Functions:

Stroking / Vibrating

Special Features:

Multifunction
Multispeed
Thrusting
Two motors
Waterproof

Control type:

Built in control pad

Powered By:

Aa-4

Care and Maintenance:

One has to be careful with TPR material; though it is easy to clean, be sure to always wash it with soap and water before and after usage, and if you are planning to share it with partners, use it with a condom. Another important note: only use WATER-BASED lubricant; oil based lubricant will only corrode the material. TPR also tends to collect dust, which is another reason to frequently rinse it and make sure it is squeaky clean.

Personal comments:

After just coming back from traveling all over Europe, I was gagging for a new sex toy, especially one that I can use to fuck myself horny and hornier. This was exactly what I wanted: a giant rabbit vibrator that will do the trick. As I usually do during my solo-play time, I love to hold a mirror up to my pussy as I pump the toy in and out of me. I could see that the toy definitely stretched my tight little cunt and made my clitoris throb. When I pulled the toy out, not only did it leave my pussy gaping, but my juices heavily flowed out of it (and boy did it make me cum… a lot!). Knowing that a toy can make me that juicy so fast and so quick definitely makes me want to give it an A+. I couldn't get enough of it; I played with it a couple of times more in the shower, in the tub, in my bed, and planning on many other places where I can explore it, be it by myself or with my partner.