Doc Johnson Black magic ribbed vibe - Traditional vibrator from Doc Johnson

Black magic ribbed vibe videos
Product Details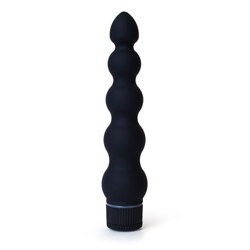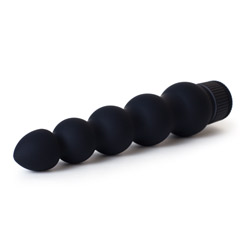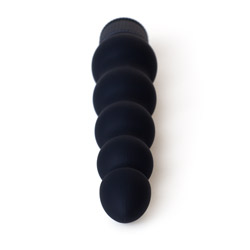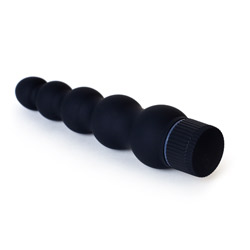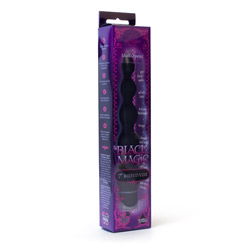 Summary:
This vibrator is great for both g-spot stimulation and for anal play! Because of its ribbed texture, it's great for people who may be nervous about the size of some other vibrators. It only takes one AA battery, but you'll probably use it so much you'll have an entire package of them next to the bed! This is great for solo time or if you want to add a little something to your bedroom fun!
Pros:
Ribbed texture, Easy to use, Multiple vibration settings, Easy to clean
Cons:
You have to turn it off in order to switch from a low to a high.
Best use:
Definitely a fun little vibrator. It can be used to massage your g-spot and can also be used as an anal toy. It would be great just as a dildo, but it has the added vibration for extra stimulation. It makes it that much better.

You can use it solo or have a partner help you out. It's great either way.

Since it's plastic, you can use either water, silicone, or oil lube with it. It's also waterproof, so you can use it in the shower or even somewhere more adventurous like a pool, or hot tub.

Anywhere you use it, you're bound to have a great time!
Material / Texture:

It's made out of plastic. This makes it easy to clean and you can use several kinds of lube with it. It's non-porous and phthalate-free.

The texture makes it fun. It's extremely smooth and firm. It doesn't bend at all. If you like a lot of bend or elasticity to your toys, you're probably not going to be a fan of this one. If you like a nice firm toy that's not going to bend, then you should definitely look into this one.

You are able to see the seams slightly along the sides, but you can't really feel them, so they don't get in the way of enjoying it.

It has a nice ribbed texture, which is great for anal or g-spot stimulation.

It doesn't have any odor. If it does, it's extremely light.



Material:

Plastic

Material safety

Safety features:

Food-grade material / Hypo-allergenic / Latex free / Phthalates free

Design / Shape / Size:

It kind of has a pyramid-like, ribbed design. There are dome shapes that go all the way up, decreasing in size as they go. This makes it a lot easier for insertion. You can decide how far you want it in and how wide you want the diameter to be before you stop.

This could be better if the size of some vibrators is intimidating to you. This lets you get used to it one level at a time.

It has about 6 inches of insertable length, with another inch for the controls and battery slot.

The widest circle has a circumference of five inches. The smallest has a circumference of probably about an inch or two.

It's probably not really a discreet looking toy in my opinion. You could probably leave it out without anyone asking questions, but it'd probably be easier just to hide it. It's not hard to hide. Just keep it in a dresser drawer or under your pillow, perhaps.

I wouldn't say that this is good for either beginners or advanced, because it really depends on what you like. Some people may be advanced toy users, and hate the design, while some beginners may not like the ribbed texture either.

Color:

Black

Length:

7 1/4"

Insertable length:

6 1/4"

Circumference:

5"

Diameter:

2"

Weight:

0.3 lb

Functions / Performance / Controls:

It only takes one AA battery. If you take the battery out after every use, it lasts a lot longer.

I think it performed very well, for only taking one battery. I do wish it had a different way of turning on the vibrations though.

You turn it on by a knob on the bottom. If you turn it one way, you get lighter, slower vibrations. In order to get to the faster, more intense vibrations, you have to turn it the other way. This means that if you have it on a low vibration and want to turn it up, you have to turn it off first. This could be a bit frustrating.

The low vibration isn't too weak, and the stronger vibration is pretty strong. It's not the strongest vibrations I've experienced, but they're not horribly weak either. I'd give it about a three out of five.

It's very easy to use and understand. The controls are easy to turn. It's not loud at all. It's actually surprisingly quiet. You could probably get away with using it while other people are in the next room.

It's waterproof, which I think is a great function for any vibrator. It performs well in the water and there haven't been any problems with it so far.

Functions:

Vibrating

Special Features:

Control type:

Dial-base

Powered By:

Aa-1

Care and Maintenance:

It's extremely easy to care for. It's plastic, which means it's non-porous. It can be cleaned off with soap and hot water. You can also wipe it down with isopropyl alcohol. If you have any toy wipes, they would also work to clean it off.

You can use it with water, silicone, or oil-based lubes.

To store it, you can either keep it in its box or just take it out of the box and store it in a toy case of a drawer.

Care and cleaning:

Soap and water

Packaging:

It comes in a rectangular box.

The box is actually really pretty. It's purple with a pink ornate design around the window that shows the vibrator.

It's not very discreet, because it does have a window, and has the words "7" Vibe" on the front of it.

The back has a little bit about the vibrator and states that it takes a AA Battery, which is not included.

Personal comments:

I really enjoyed using this toy. I usually hate insertable vibrators, but I have to say that this one was a lot of fun.

It may have opened me up to trying more g-spot vibrators in the future.