NS Novelties Envie smooth massager - Traditional vibrator from NS Novelties

Envie smooth massager videos
Product Details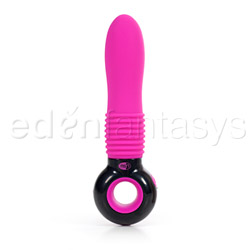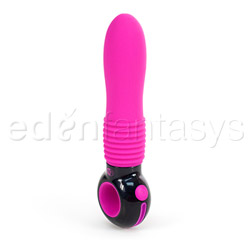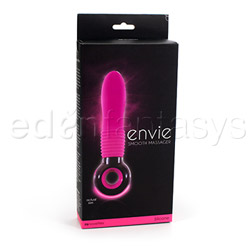 Summary:
Enjoy this classy looking vibrator from NS Novelties. It provides moderate, yet pinpoint stimulation. It's great for vaginal, clitoral, or anal stimulation as well as overall body massage. Multiple settings and a cool light show are bound to make this a favorite.
Pros:
Classy, versatile, pinpoint stimulation.
Cons:
May not be strong enough for some, silicone around keyhole handle pulls apart.
Best use:
Envie Smooth Massager is a midsized vibrator. It has a simple design that is both beautiful and classic. It's a versatile vibrator. It can be used internally for a deep vaginal massage. It can be used externally on the clitoris. Use it on other erogenous zones such as nipples, nape of the neck, and butt for a treat. Men may like it on their shaft, balls, or perineum. It could be used during oral sex for either gender. It's happy when used alone or together with a partner.

Its wonderful pinpoint stimulation makes it a great body massager. Soothe minor achy muscles or give an erotic massage.

Because the handle creates a flared base, this is acceptable for anal play.

Although the box claims it is waterproof, it does not have an O-ring sealing the battery compartment. Use in water at your own risk. Do make sure the handle is screwed on tightly before taking it in water. After any water use, it would be wise to remove the batteries and let the battery compartment air out.
Material / Texture:

Envie is comprised of two materials. The insertable portion is bodysafe silicone. Silicone is among the safest of materials for sex toys rating a 10/10 on Eden's safety scale. It is nonporous and phthalate free. It cleans easily and can be sanitized. Once sanitized, silicone toys are fine for sharing. The handle is made of plastic which rates an 8/10 on the safety scale. It is also nonporous, phthalate free, and cleans up easily.

The silicone is soft and smooth. Silicone always feels great on skin. It glides fairly easily on the skin. Water based lube could be used if desired. The toy is fairly rigid. The silicone feels slightly soft, but it is not flexible. It retains its shape as a straight vibrator.

Material:

Plastic

/

Silicone

Material safety

Texture:

Ribbed / Smooth

Safety features:

Food-grade material / Hypo-allergenic / Latex free / Non-porous / Phthalates free

Design / Shape / Size:

The shaft of this classy toy is a pinkish purple color I will call fuchsia. The black handle provides striking contrast to the shaft, but has some fuchsia accents. It is also available in black with green accents. Both of them are elegant.

The entire toy is 7 inches long with 5 inches of that insertable. The widest circumference is about 4 inches. This larger girth is found near the top and at the ridges. The middle section is a bit smaller. Envie does not have a curve for G-spotting. However, it is an easy toy to manipulate, and many women may be able to get that stimulation. It's a midsize toy suitable for new and veteran toy users.

The top of the vibrator is smooth, but eight ridges line the bottom of the vibrator. They provide some texture, although it is subtle. Some women may not notice it at all. The head is tapered nicely, making insertion easy and comfortable. If using lube, be sure and use water-based. Silicone lube will react with the silicone vibe and damage it.

The handle is circular with a keyhole in the middle. The keyhole makes it easy to grasp and use. It's a convenient place for fingers. It won't slip easily out of hands. The keyhole is lined with a layer of the fuchsia silicone. This silicone lining is attached all around the handle at the center, but not at the edges. Since it is not secure all the way to edges, the silicone can be pulled back easily with a fingernail. It does snap back into place easily. Take care to not rip it out.

Length:

7 1/2"

Insertable length:

5"

Circumference:

4"

Diameter:

1 1/4"

Width:

2 1/2"

Weight:

11 oz

Functions / Performance / Controls:

Envie Smooth Massager features 7 settings:

1. Low intensity
2. Medium intensity
3. High intensity
4. Medium pulses
5. Two fast followed by one long pulse
6. Escalating low to high
7. Machine gun pulses followed by one long pulse

The vibrations are deep and have an intensity level of 3/5. They are felt throughout the entire shaft, but are strongest at the tip. The tapered head provides pinpoint stimulation.

The vibrator is powered by 2 AAA batteries. A single button on the side of the handle controls the functions. Push it down to turn it on and scroll through the settings. Hold it down for 3 seconds to turn it off. It's an easy and intuitive system. Because it is conveniently located on the side, it is easy to change settings during use.

A cool feature is the light show at the bottom. A strip runs along the bottom of the handle shining a bright red light during use. The light pulses in perfect synchronization with the pulsating settings. The light brightens up a dark room. It's a fun feature.


Functions:

Escalating / Pulsating / Rollercoaster / Surging / Vibrating

Special Features:

Light indicators
Multifunction
Multispeed
Powerful
Quiet
Waterproof

Control type:

Built in control pad

Powered By:

Aaa-2

Care and Maintenance:

Envie can be cleaned with antibacterial soap and water, a toy cleaner, or a 10% bleach solution. It should never be boiled or put in the dishwasher due to its motor. Pay special attention to the ridges at the bottom of the the vibrator, as bacteria could easily become trapped here. A toothbrush might help to really clean the grooves.

It could be stored in its original packaging if desired. Alternately it can be placed in a drawer. Silicone does not like other silicone, so do not leave it touching other silicone toys. Placing each in a plastic bag will protect the toys.

Care and cleaning:

Soap and water

Packaging:

Envie Smooth Massager's cardboard packaging had both an inner and outer box. The outer box was primarily black with a picture of the toy. The inner box had a transparent plastic cutout that displayed the toy. Inside, the toy was nestled within a foam lining. This box would be suitable for storing the toy at least for a while. The box won't last forever, but would be fine for short term storing.



Personal comments:

This is one of my classiest looking vibrators. I love the design and contrasting colors. The light show is always fun. We use this mostly as a back massager and a warm up toy during foreplay.