Envie?, Not so much
This is not one of my toys that I would grab for, she will be going to the bottom of the pile in the closet. Very poor on the vibrations, no real girth, and no textures. She just doesn't do it for me. I wouldn't even suggest her to beginners because I wouldn't want to turn them off of the cool toys that are available.
Published:
Pros:
Cool Light Show
Silicone
Key ring handle
Water proof
Cons:
Poor on vibrations
No textures
Envie Smooth from NS Novelities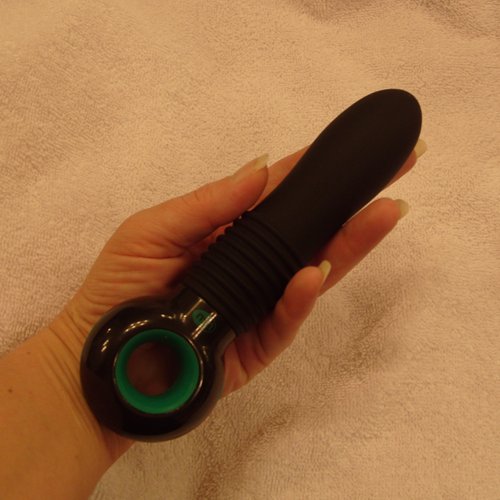 The Envie smooth is a very basic vibrator. It is smooth to it's base where is has a few ripples before you reach it's rounded key hole style handle. She has a really neat light feature on the handle.
Use
The Envie is a Vibrator, it can be used by males or females. Either vaginally or anally. This one works good for anal since it has the rounded handle on it. It can also be used as a clitoral stimulator and an all over body massager. She is waterproof so you can take it to the showers with you. Be sure to clean it after she goes anally before using vaginally so you don't mix the icky from one area to another.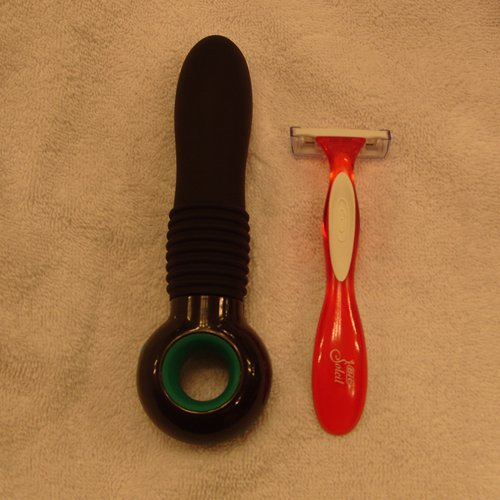 Material/Texture
Envie is a smooth silicone. She does have some drag so water based lube is appropriate. Don't use silicone type lubes as they can hurt the finish on the silicone. Envie does have 8 ridges at her base before she meets up with the rounded handle area. These really cannot be felt with use. They do collect fluids and you have to pay special attention to that area when cleaning her.
Envie is silicone and plastic, silicone has an Eden safety scale rating of 10 and plastic rates at an 8. She is hypoallergenic, phthalates and latex free, non porous. She doesn't have a smell and I didn't taste her. She is very firm and doesn't have any give to her. She is a straight vibrator with no curves to her. She comes in black/pink and black/green.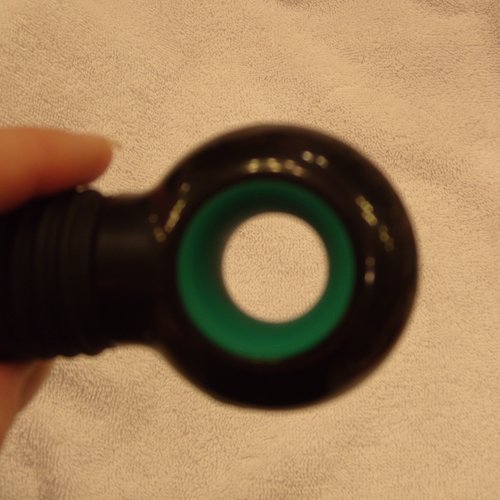 Design/Shape/Size
Envie has a total length of 7 ½ inches long with 5 inches of her insertable. He has a diameter of 1 ¼ inches. She has a neat round key hole type handle that contains her power button and a light up strip that lights up when she is on. Her handle has a diameter of 1 inch. The inside of the handle is lined with silicone so it doesn't hurt our fingers with use.
Functions/Performance/Controls
Envie has 7 different settings. Her vibrations are felt strongest at her tip and even on her highest setting she doesn't perform very well.
7 settings
1. Low vibrations
2. Medium vibrations
3. High vibrations
4. Medium pulsations
5. 2 fast pulsations and one long pulsation
6. Escalating vibrations
7. Fast strong pulsations and one long pulsation
Her on and off button is located on he keyhole ring. One push to turn her on and each push cycles her through her vibrations and patterns. To turn her off you simply push the button down for approximately 3 seconds and she turns off no matter what her current setting is. She runs on 2 AAA batteries. Her battery compartment is accessed by screwing off the keyhole ring. Her water proof O ring is located around the threads for the battery compartment. She isn't very loud, can't be heard over the covers.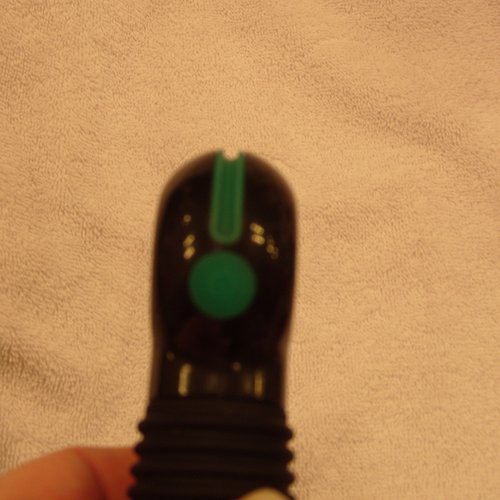 Her neatest feature is a light up function on the keyhole ring. The light corresponds to what ever setting she is on and it with pulsated with the patterns.
Care/Maintenance
Envie washes up easily with antibacterial soap and water, toy sprays, Eden wipes. Her ridges are a pain as they collect fluids easily. Because of her motor you cannot place her in the dishwasher or boil her. Be sure to use only water based lubes so her finish doesn't get ruined and store her away from other silicone toys!
Packaging
She comes in a great looking package, her box has an outer sleeve that looks the same as the box that has a clear opening so you can see her and she is padded in a heavy foam. The box looks like one you would get our higher end electronics in.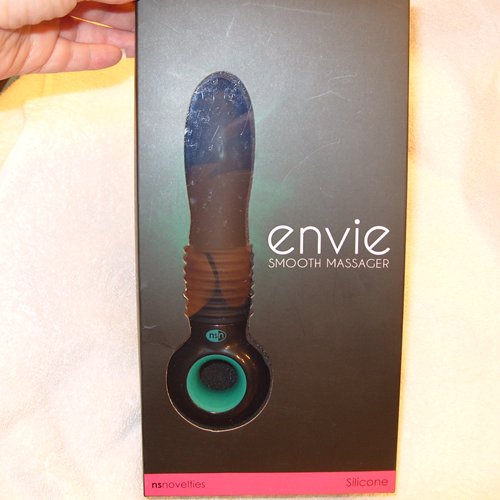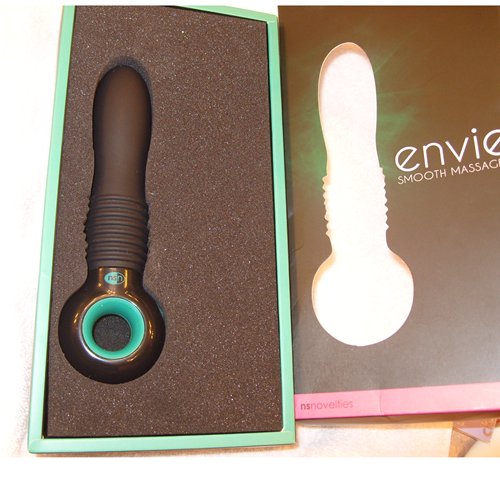 Envie is somewhat discrete I believe that most people would believe that she is a personal massager and not a right out vibrator. She would be an easy travel companion to put in your bag!
Experience
Envie only gets the 2 stars because of her neat feature of the light show and the keyhole handle. I wouldn't suggest this vibe to any of my friends, there are just many better options.
Follow-up commentary
2 months after original review
Still nothing special, Doesn't even compare to my favorites. It is great for beginners. Especially if you prefer no textures.
This content is the opinion of the submitting contributor and is not endorsed by EdenFantasys.com

Thank you for viewing
Envie smooth massager
– traditional vibrator review page!