Shaki Toys Groovies slimline - Traditional vibrator from Shaki Toys

Product Details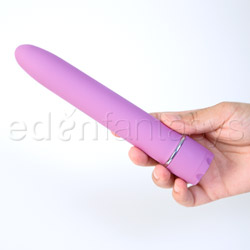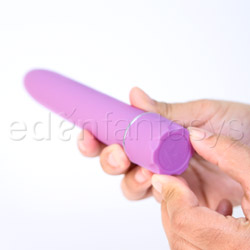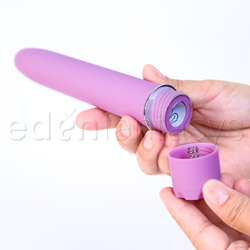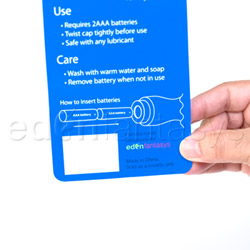 Summary:
They don't call it the Satisfied vibe for nothing. With just enough girth and a velvety coating over it allowing for some drag to the toy, this vibrator offers more than just vibrations. Thrusting is a wonderful option because of the thickness, yet it isn't so thick that someone who has never had a toy wouldn't want it.
Pros:
A little bit of girth, easy controls, quiet.
Cons:
May not be strong enough for some.
Best use:
The Satisfied vibe is wonderful for clitoral stimulation as well as vaginal stimulation. Use over any erogenous zone will increase your levels of sexual pleasure. This can be used as a vibrating dildo allowing for thrusting, or just a basic clitoral vibe. Anal stimulation can be done (although insertion is not encouraged due to the lack of a base) as long as proper cleaning is practiced.

The Satisfied vibe can be used alone or with another clitoral toy for the double vibration, you can also use it with a dildo or even a partner. This vibe can be used to massage anywhere your hear desires, and isn't so strong it will leave you numb. Whether you're new to sex toys or have a whole closet full, this really can satisfy your wants; especially since you can adjust the speed to any speed you would like.

This toy is wonderful for foreplay. Tease your favorite parts to get all warmed up and keep it on the side for use with you and your partner. This may not work for some women for g-spot stimulation, unfortunately.
Material / Texture:

The Satisfied vibe is made totally of plastic which is non-porous and phthalate free. This is a smooth vibrator with no bumps or ridges. There is a velvety feel to the vibrator that allows for some extra drag during use (if you are not a fan of the extra drag adding more lubrication can lower it some). Because this is plastic there is no discernible smell or taste to it.

The Satisfied vibe is hard. The plastic makes it very firm with no give what-so-ever. Keep this in mind if you are looking for a toy with a little bit of give. The wonderful thing about it being so firm is the intensity of an orgasm around the toy.

Material:

Plastic

Material safety

Texture:

Smooth

Safety features:

Food-grade material / Hypo-allergenic / Latex free / Phthalates free

Design / Shape / Size:

This is a traditional style vibrator, meaning it it long and straight and the end tapers a little into a rounded (slightly thick) tip. It is 7.5 inches long, 6 of those being insertable. The diameter of the toy is 1 1/8 inches. While this is not a thick toy, there is a little bit of girth for those who don't like extremely thin vibrators. Compared to some traditional vibrators and vibes for those newer to toys this vibrator is rather large looking. Don't be deceived, it is not so large that someone looking for a first vibrator would be put off.

The amount of girth the Satisfied vibe offers is great for those new to sex toys and veteran users alike. It is thick enough to add just enough of a filled up feeling for those who like it, for those who prefer a more slender vibrator the Satisfied vibe is still thin enough to please them.

Since this is a traditional vibrator, it is isn't very discreet. It looks like a vibrator, and anyone who sees it will know what it is right away. On the other hand because it is simple, it can be hidden very easily. You can just slip it right into the back of a drawer under some clothing and no one will be the wiser.

Length:

7 1/2"

Insertable length:

6"

Circumference:

3 3/4"

Diameter:

1 1/8"

Weight:

0.3 lb

Functions / Performance / Controls:

This is a multi-speed vibrator, although the speeds are not distinct from one another. It operates on a turn style base which makes changing speeds simple while you are using the toy. The lowest setting is extremely low and quiet. As the speed is increased, the noise level increases as well. The vibrations are not earth shattering or even overly strong at the highest setting. The buzzing of the vibrator cannot be heard if it is used under sheets with the door closed.

The vibrations are located a little below the tip of the toy making for great clitoral and pinpoint vibrations. A higher level of vibration would be nice for a toy this size, but it isn't totally necessary. The Satisfied vibe is waterproof and has a hard "O" ring to lock out the water. Some did leak into mine, but am assuming that is because the o-ring was bent some.

Functions:

Vibrating

Special Features:

Control type:

Dial-base

Powered By:

Aa-2

Care and Maintenance:

The vibrator is extremely easy to clean, you can use a toy cleaner and some warm water, or you can wipe it down with alcohol. Since it is waterproof cleaning is quite easy.

All lubricants are compatible with this toy. This toy can be kept with other toys and pretty much anywhere you keep your other toys. Removing the batteries (2 AA) while not in use is recommended.

Personal comments:

While I do like this vibrator, it is just that... just another vibrator. There is nothing that sets it apart from every other vibrator on the market today. It is well crafted, and has a nice drag to it.