Doc Johnson Petite flowers swirl hibiscus - Traditional vibrator from Doc Johnson

Product Details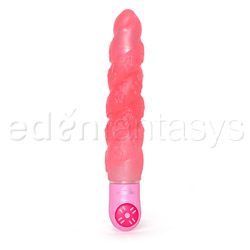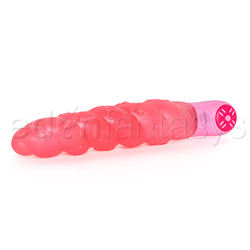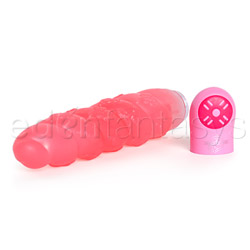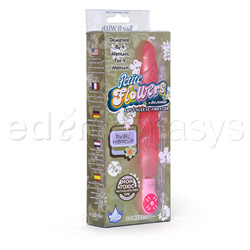 Summary:
This will be a great warmup toy for most, and a good toy for those seeking textured toys. The vibrations aren't really strong, but that doesn't make it a bad toy--just a bad toy for me.
Pros:
Very textured, bendy.
Cons:
Too textured for me, and the vibrations weren't satisfying.
Best use:
This vibrator is meant to be a more traditional vibrator that is best used for vaginal penetration. It can also be used for external stimulation (such as clitoral stimulation or stimulation of the nipples) with success. Although this toy is geared towards women (Its tag line is, 'Designed by a woman for a woman'), men will be able to use this toy externally to stimulate their testicles or their perineum, or with a female partner. This toy is thin enough to be used by relative beginners to penetration, but those who are averse to extreme textures may not find this pleasurable. It has multiple vibrational speeds, all of them gentle, which are perfect for those who want a warm-up toy or who do not need strong vibrations to climax.
Material / Texture:

This shaft of the toy is almost completely odorless--there is a faint, almost plastic smell to it when you place it directly to your nose--and entirely tasteless. Made of TPE (a polymer blend), the Petite Flowers is very flexible; you can bend it completely in half without difficulty. The shaft is swirled from bottom to top, and interspersed are small hibiscus flowers that are raised almost a millimeter from the actual shaft. I found that the swirls were very noticeable during use, and the flowers less so--but if I clenched, I was able to feel the raised flowers.

The base, where the turn dial sits, is made of a hard immobile plastic that is also tasteless and odorless.

Material:

TPE

Material safety

Texture:

Nubbed / Swirled

Safety features:

Hypo-allergenic / Latex free / Phthalates free

Design / Shape / Size:

Measuring in at 7.75", with an insertable length of 5.75", this toy is on the smaller side--but I found that the material and texture made it feel larger than it is. It certainly felt more girthy than its 4.25" circumference led me to believe it would be! Because it's rather small, it's easily stored in a toy pouch, drawer, or even under a pillow.

The tip of the toy and the bottom of the insertable portion each have a core inside them which makes them stiffer, but the center is completely flexible and mobile.

Color:

Pink

Length:

7 3/4"

Insertable length:

5 3/4"

Circumference:

4 1/4"

Diameter:

1 1/4"

Weight:

0.5 lb

Functions / Performance / Controls:

The Petite Flowers vibrations are located in the tip of the toy, where there is what appears to be a bullet encased in the TPE. The vibrations themselves are controlled by a turn dial on the base of the toy--right for on, left for off. The turn dial has eight raised lines, which make turning it with one finger easier than a smooth dial would be. The vibrations are what can best be described as gentle: I was unable to climax from them clitorally or during penetration, even on the highest setting (which, to be honest, didn't feel a great bit different than the gentlest setting). Even so, some people will find them to be enough, and this toy is still adequate for warming up. The Petite Flowers is also waterproof and safe for the tub or shower and there was no leakage.

I understand that this toy was made by a woman for a woman, but my guess is that woman didn't ever want to change speeds mid-use. I found it hugely difficult to change speeds mid-use because of the way you had to turn it and the position of my hand when holding it. However, with a bit of trial and error it got easier.

The toy itself is very quiet and discreet, perfect for those who need privacy; it's impossible to hear when inserted and is EASILY muffled with music.

Functions:

Vibrating

Special Features:

Bendable
Multispeed
Waterproof

Control type:

Built in control pad

Powered By:

Aaa-2

Care and Maintenance:

TPE can be cleaned with plain old antibacterial soap and water after use. However, I must caution you to be very thorough while cleaning this one; because of the swirls bodily fluids and lubricants can get stuck in the crevices there, as well as in the flowers. If you're worried about taking the time to scrub it thoroughly, just stick a condom on top and save yourself some time.

This toy is compatible with both silicone and water-based lubricants but is not compatible with other TPE/silicone products, so you should store it away from them or alone.