California Exotic Precious Metal gems - Traditional vibrator from California Exotic

Product Details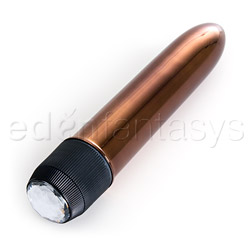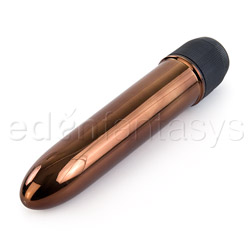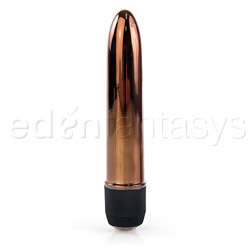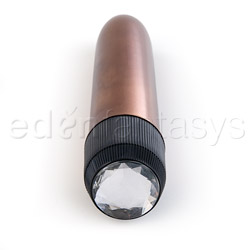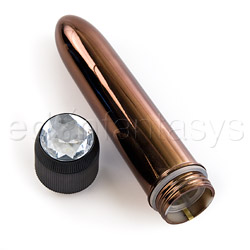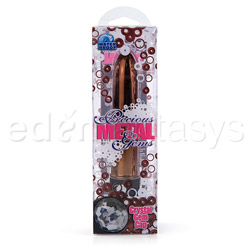 Summary:
The Precious Metal Gems is pretty enough to be in used in the film industry (porn that is) but not as pricey as some of the toys pictured on the big screen. Small in size and perfect for both clit and vaginal stimulation, this toy has some real zip. Incredibly strong and waterproof.
Pros:
Pretty, strong vibrations, good girth.
Best use:
What a perfect little gem the Precious Metal Gem is. At just 4 1/2 inches, it packs a delightful punch. Perfect for clit or vaginal use. I tried it on both. Most vibrators- either fit the clit or the vagina, but this fits both. What this means is a romping good time during solo or couples play. I switched it up between vaginal and clit play for an intense experience.

This toy is perfect for beginners and seasoned toy users alike. The functions are easy to figure out, easy to use, and the toy is easy to hold. Nothing complicated here.

The best part about this little toy, the gem at the base. With it's sparkling shine I felt like a porn star. OK, that might be going a bit far, but if you've ever noticed, most porn stars have very shiny vibrators, and this fits the bill.

Note: This is a toy which was sent free of charge by Eden Fantasy as part of their review program.
Material / Texture:

The Precious Metal Gem is made out of pure smooth plastic. That means there is very little fuss. The shaft is smooth and oh so slippery when wet, which is important if you don't like a lot of friction. The toy is also odorless and tasteless! Not intimidating at all, so if you're new to the world of vibrators this would be an excellent choice.

Material:

Plastic

Material safety

Texture:

Smooth

Safety features:

Food-grade material / Hypo-allergenic / Latex free / Phthalates free

Design / Shape / Size:

Like most vibrators, the precious gem is just a smooth tapered shaft. What I like about it though is the base. The base is slightly flared (slightly) and rounded, making for easy, slip proof gripping. Insertable length is 4 1/2 inches, enough for me, but perhaps too small for some women. Diameter is one inch, so don't think for a minute that this toy is skinny. Unlike a lot of the smaller toys on the market, this toy has some real girth which gave me a fuller feeling. I really enjoyed this aspect of the toy because I am not a woman who can fit a lot of inches inside of her but I do appreciate girth. Since this toy is on the smaller side but does have a bit of girth I recommend it for women who like smaller, thicker toys. This includes women who are new to vibrator use.

This toy is small, so it's easy enough to hide. Just put it in a sock and hide it away. Although, I would make sure that it is secure before traveling. Since this is a hard plastic vibrator it could crack if packed next to heavy objects. Just something to think about.

Length:

5 3/4"

Insertable length:

4 1/2"

Circumference:

3 1/4"

Diameter:

1"

Weight:

0.2 lb

Functions / Performance / Controls:

The precious gem has a multi-speed function controlled by a turn dial. Vibrations go from very low to quite high. High enough that I was extremely stimulated but not too much so. There really is a difference between happy stimulated and just plain old over stimulated. The perfect part of this toy, and perhaps what contributes to the high intensity vibrations is the fact that the bullet is placed at the head. That means that the far end of the shaft doesn't receive vibrations but the tip does. I myself prefer to crank up the vibrations all the way and rest the tip on my clit. It's one of the best clit stimulators I have so far.

As I mentioned above, the unit is controlled by a twist dial at the base. Now, I had a little trouble adjusting the vibration speed while the toy was inserted but I was able to easily adjust the speed while the toy was not inserted. This might be a turn off for some women, but I am a very easy going person and really don't mind slipping it out to adjust speeds.

Now, this toy is quite noisy. I will only be able to use it when no one is around (at least no one who should not know what I am doing). This is a little disheartening but I can work around it but this means that some women (women who live in dorms for example) may not be able to use this toy frequently. Now, what about if you have something running in the background, say a shower? Well, in that case the noise level shouldn't be a problem. The toy is waterproof and works wonderfully in the shower or tub and the sound of the running water drowns most of the noise out. If it's still a problem, bring in a little portable, waterproof, battery operated shaver, that way no one will suspect.

Functions:

Vibrating

Special Features:

Control type:

Dial-base

Powered By:

Aa-1

Care and Maintenance:

Since this toy is made of plastic and waterproof all it really takes is a wash in soap and water before and after each use. You can also use rubbing alcohol to clean it, which is how I clean mine. That's it. Since plastic is not easy to sterilize, I recommend covering the toy with a condom if you intend to share.

I store my toys in a toy box or drawer. Since this toy is durable, it really doesn't take any type of special treatment. This toy is compatible with all lubes.

Packaging:

Within the package are directions for battery installation. Brilliant!