California Exotic Sassy Swirl wiggle - Traditional vibrator from California Exotic

Sassy Swirl wiggle videos
Product Details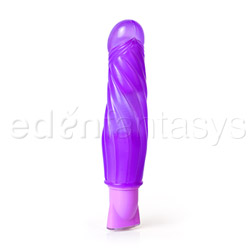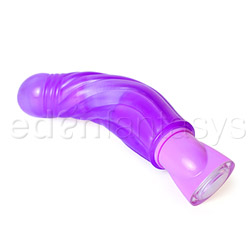 Summary:
Who doesn't want a bendable toy that you can bend to any position you wish. You can bend it to give it a nice curve to hit your g-spot. It has many patterns and speeds that will surely send you into the OMG MY HEAD IS SPINNING state. The only downfall is that towards the base it's rather girthy and may be to big for some to insert fully. But this didn't bother me as I enjoyed the part I was able to insert.
Pros:
Bendable, multifunction.
Cons:
May be too girthy for some.
Best use:
The Wiggle is a wonderful clit, g-spot, and nipple stimulator. You can use this alone for when you want that quiet time to yourself for a nice little orgasm, or you can use this during foreplay with your partner. Honestly I found it rather enjoyable using the Wiggle while watching my husband use one of his toys.
Material / Texture:

The Wiggle is made from Polyvinyl Chloride also known as PVC. I got it in the mail and opened it later that night and I noticed it actually smelted like a plastic pool in a box, you know the soft sided pools you buy for the kiddos but wasn't as strong had to hold it close to my nose to smell it. It had little to no taste to it at all. It has nice little ripples that swirl down the shaft that adds a little extra stimulation around the g-spot. It is smooth with a small drag like feel to it and is also kinda squishy. I would say this toy would be more for the some what advanced users only because of the size of it, but we will get to more on that in a second.

Material:

Plastic

/

Pvc

Material safety

Texture:

Swirled

Safety features:

Food-grade material / Hypo-allergenic / Latex free / Phthalates free

Design / Shape / Size:

I loved the awesome design of the Wiggle. My favorite thing was how I could bend it to hit my g-spot just right, you and bend it any way you choose. The shape of it is awesome as well, it looks like a real penis head then just below it you have 3 rippled lines then it goes around the base of the head, and then into the rippling swirl down the shaft. None of the ripple are too pronounced to cause pain. It's a fairly thick toy so if you are looking for something to give you a nice full feel this is surely the one for you. Even though I could not insert it all the way cause of it being so girthy I still really enjoyed this toy. The over all size of the Wiggle is as follows: Length 8 1/2 inches, Insertable 6 1/2 inches, Circumference 5 3/4 inches, Diameter 1 3/4 inches, and weighing 9.7 oz. Like I mentioned this is a very girthy toy, it's right at 6 inch around, to give that nice full feeling.

Color:

Purple

Length:

8 1/2"

Insertable length:

6 3/4"

Circumference:

5 3/4"

Diameter:

1 3/4"

Weight:

9.7 oz

Functions / Performance / Controls:

The Wiggle has 10 nice functions to give you plenty of variations and is waterproof for safe water play. It has a lighted push button control that is located at the bottom of the Wiggle that is removable to insert 3 AAA batteries. If you have the Wiggle inserted like a man is on top, you will find the on/off button to the right and the left button goes though the patterns as well as cutting it on. I will tell you the speeds and patterns in 1-10 as to how many clicks is to which speed and function.

1- High steady vibration.
2- Medium steady vibration.
3- Low steady vibration.
4- Low to high pulsating vibration.
5- Slow on/off vibration.
6- Medium on/off pulsating vibration.
7- Fast on/off pulsating vibration.
8- Is almost like 7 but a little stronger on the vibration like a low deep pulsating.
9- Like is like 7 but with longer pulsation vibrations.
10- Low deep on/off pulsating vibration.

With that being said you can feel the vibrations though out the entire vibrator. Even on the highest setting I wouldn't say that the neighbors could hear it but it's pretty loud. So I recommend using it under covers and behind closed doors if you are worried of someone hearing you.

Functions:

Escalating / Pulsating / Vibrating

Special Features:

Bendable
Light indicators
Multifunction
Multispeed
Powerful
Waterproof

Control type:

Push button

Powered By:

Aaa-3

Care and Maintenance:

Since PVC material is a porous plastic, it harbors bacteria, fungus, and mold. I recommend using a condom. It should always be cleaned before and after each use using antibacterial soap or your favorite antibacterial toy cleaner. When using lube if you are not using a condom please use only water and silicone based lubes as others may cause damage to your toy. I also recommend storing the Wiggle in a cool dry place in a store bag of some kind without the batteries.

Care and cleaning:

Soap and water

Packaging:

It comes in a plastic molded flip open case, it has different information written on the package. Inside there is a folded piece of paper that states how to insert the batteries in many different languages.

Experience:

Although I could not fully insert this toy from it being so girthy, I really enjoyed what I could insert. I love how flexible it is, just bend it in way you would like to give you that little extra OH MY! It took me a little bit to get use to the controls on it but it's not extremely hard, I just had to remember which side was for cutting it on and off and the other for the patterns.