Shots media Touche Opis - Traditional vibrator from Shots media

Product Details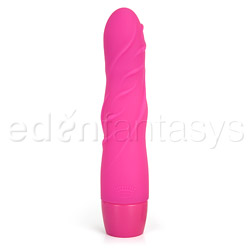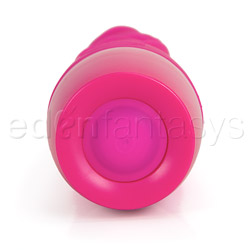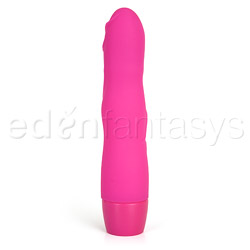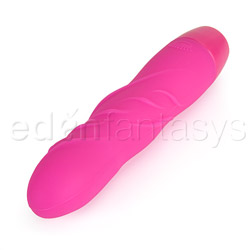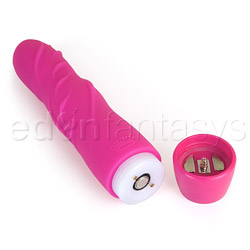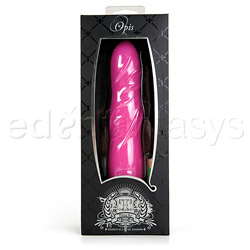 Summary:
Touche Opis...even the name sounds luxurious and regal. Imported from the Netherlands and made of the highest quality medical silicone, this is a unique and filling vibrator. The large size and definitive texture is very stimulating, and the new ultra sonic motor will surprise you with its power. Whisper quiet, 10 vibration patterns, and a memory function only add to the luxury and satisfaction you will get from this bit of luxury....
Pros:
Strong vibrations, whisper quiet, high quality materials.
Cons:
Large girth, not waterproof, prominent texture.
Best use:
The Touche Opis is a girthy silicone vibrator. Made in the Netherlands by Shots Media, the Opis is guaranteed to be tested and approved for use in America and other individual countries. Shots Media tests each vibrator for each individual country, making sure they meet all specifications and safety laws. The company also has the test results from an independent lab on site, and has a one year warranty on the motor and silicone.

The Opis can be used by anyone who prefers a large girth, deep and powerful vibrations, and texture on their vibrator. It works very well for sensory play, clitoral stimulation, penetration (anal not recommended due to the lack of flared base or handle), perineum and external anal vibrations, and for deep tissue massages on aching and knotted muscles.
Material / Texture:

Only medical grade silicone is used for the Opis, and the test results do confirm that it is phthalate free. This silicone has a smooth, sleek feeling rather than being velvety and soft. The feeling is luxurious and adds to the stimulation from this vibrator. It does not collect as much lint as many other silicone products.

Silicone is a body safe material that is hypoallergenic, anti-bacterial, non-porous, water and bacteria repellant, and is 100% body safe. True silicone has no odor or taste, is heat and flame resistant, and is extremely durable if cared for properly. It rates a 10 on the material safety scale. This vibrator is a little flexible on the tip, but not enough to affect specific targeting.

There is a sleek drag to the material; however, the texture really adds a lot of sensory stimulation. This can irritate the sensitive skin of the genitals unless a water based lube is used in conjunction with the vibrator. The upraised texture is very noticeable and can be a bit too much for some people.

Material:

Silicone

Material safety

Texture:

Ribbed / Velvety

Safety features:

Food-grade material / Hypo-allergenic / Latex free / Non-porous / Phthalates free

Design / Shape / Size:

Opis is a lengthy 8", with 6 1/2" allowed for insertion. The girth is large and filling, but at 1 1/2" to 2", it may not be for everyone. It has a rounded tip, and three bulges that gradually get a bit larger as they get closer to the base. The texture is a 1 1/4" strip that runs diagonally for the first 3/4 of the vibrator and sticks out about 1/8". The texture can be painful when inserted and the Opis is used in an in-and-out motion, but can feel pretty stimulating when twirled in and out of the vagina.

The large size feels extremely filling, and is too much for me to tolerate unless I am seriously warmed up and almost ready to orgasm. I am unable to orgasm with this in me; it stretches me too much and causes a slight bit of pain when I tighten up. For those who enjoy a full feeling from a larger girth--this is perfect!

The vibrations are very deep and rumbly, but strangely not as penetrating as I had hoped. I can orgasm clitorally by using this vibrator, but I need to set it beside the clitoris instead of directly over it. There is almost no noise, even on the highest setting.

You could take this with you when you travel but, due to the size, you will have to be creative when tucking it out of sight. It is an obvious and imposing vibrator that will leave no doubt in anyone's mind what it is used for. The length does help in positioning the vibrator in the proper sweet spot.

Length:

8"

Insertable length:

6 1/2"

Circumference:

5"

Diameter:

1 1/2"

Weight:

0.4 lb

Functions / Performance / Controls:

To access the battery compartment, you must twist the base off. Insert 2 AA batteries, replace the base, and the Opis is ready to go. This has a newly designed, whisper quiet, ultra sonic motor which is very powerful and is located in the tip. This is where the vibrations are the strongest, but they do travel throughout the length of the shaft.

To turn on the first of 10 vibration patterns, push in on the inset button located in the center of the base. The Opis has a memory chip and can only be reset by removing the batteries. This can be a bit frustrating due to the necessity of cycling through the vibrations if you miss the one you want, but is great for picking back up where you left off. To turn the vibrations off, hold the cycle button in until the Opis is silent.

The vibration patterns are: 1.Slow vibration - 2. - Medium vibration - 3.Fast vibration - 4.Long pulsing - 5.Medium pulsing - 6.Three short pulses then low to high - 7.Long to short pulses - 8.Two long then two short pulses - 9.Two long then four short pulses - 10.Escalating vibration then two short pulses.

This vibrator is not waterproof, but is splash-proof. You may play in the shower if you are very careful, but make sure to check the battery compartment for water when you are finished. Do not submerge the Opis in water.

Functions:

Escalating / Pulsating / Vibrating

Special Features:

Batteries included
Multifunction
Multispeed
Splashproof

Control type:

Push button

Powered By:

Aa-2

Care and Maintenance:

Clean thoroughly with warm water and soap. I use a soft bristled toothbrush to gently clean the areas around the texture, but be careful not to scrub too hard. I have found that a gentle rubbing will remove all residues if done shortly after use.

Let this air dry to prohibit lint adhering to the silicone. Even though this is not much of a lint magnet, it still does manage to grab a few pieces. I always go over my toys with a sanitizing toy cleaner. Make sure it is alcohol free: this silicone will react to alcohol, and the finish will get damaged. You may also hold this in boiling water for 15 minutes or soak the silicone shaft in a solution of 10 bleach and water. Do NOT submerge this in water (it is only splashproof), microwave it (due to the metal components), or clean it in the dishwasher (also due to the metal components and motor).

Use only water based lube to protect the silicone from structural damage. When storing the Opis, keep it either in its original box, a lined toy pouch, or other safe container. It cannot be stored with other toys, and a dark, cool area is also recommended. Silicone will react to other silicone, UR3, TPR, Rubber and many other materials. The reaction causes the silicone to chemically break down and become unsafe for further use.

Personal comments:

Material Test Pages: [link|http://www.touchyourpassion.com/downloads/touche_testreport.pdf]