California Exotic L'amour probe beginner - Probe from California Exotic

L'amour probe beginner videos
Product Details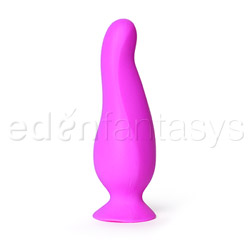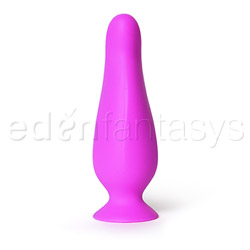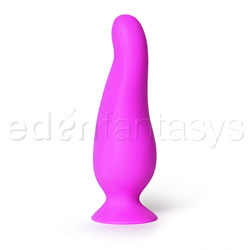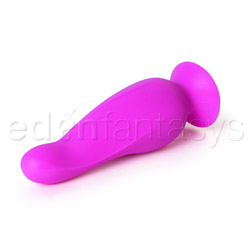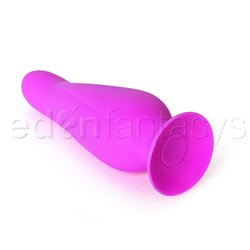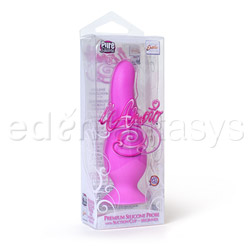 Summary:
The L'Amour is the perfect toy for a beginner in the anal department. It's small, easy to care for, soft and flexible. It gives great sensations during sex, and is perfect to spice things up. If you are looking for a new toy, and are a "newbie" to toyland, try L'Amour out! I gave it 4 stars because of the size and base being too small.

Not great for advanced users.
Pros:
Silicone, easy to care for, great for beginners, nice shape
Cons:
Small size and base, not for advanced users
Material / Texture:

The L'Amour is phthalate free and 100% silicone, which make this toy very safe and flexible. It has no smell or taste that can be detected with the human sense of smell. It is non-porous and has a velvety feel as well. This is a great toy for beginners, it's small, soft, flexible and smooth. Advanced users may find the 4 inch, 1 1/4 wide probe a little small, and may want to try a larger size. The shape is nice though, and the pink color is very cute. I love the texture it's not rubbery, sticky or smelly. Which makes this silicone toy a happy addition to our collection. The smooth, velvet feel and smaller size make this a nice toy during sex, and does give an extra umph to sex with out getting too kinky.

Material:

Silicone

Material safety

Texture:

Velvety

Safety features:

Food-grade material / Hypo-allergenic / Latex free / Non-porous / Phthalates free

Design / Shape / Size:

I really like the design of the L'Amour. It has a unique shape, and the color (hot pink) is so cute as well. It is an anal probe, so it is for anal sex. It would be a little small for anything else. The shape is great; I really like it. It is not a realistic, but rather a futuristic, butt plug. The size is 4 inches long, and 1 1/4 wide at the widest spot. It is small, and for some it will not do anything for them. It was not too small for me, but I am not a huge fan of anal... yet. I do have to say the L'Amour did change that attitude for me. It's smaller size and smoothness was a nice fit. Average users may find this a little small. It really depends on experience. This is a great toy for travel, it's small and I think discreet. The unusual shape makes you think twice. My little one wanted to unwrap it and use it as a teether, I had to hide the box until Daddy came home.

Length:

4"

Insertable length:

3 1/2"

Circumference:

4"

Diameter:

1 1/4"

Weight:

1.7 oz

Performance:

I love this little gem. The small, sexy shape, and silicone make it great for beginners and middle of the road users. It is really easy to insert with lube (water based of course). It is not uncomfortable and felt good once inserted. Unfortunately, once you get going, it tends to pop out. That does not help when you are in the middle of things. My husband really liked this toy as well (for me).

Who doesn't like pure silicone? It's soft, malleable, and easy to clean. This is a top priority in toys for me. If it takes forever to clean and store then it doesn't get used as much here. It gives a lot of sensation during sex, and enhances orgasms as well for me. Why wouldn't you like that? There is a suction cup, but other than drying it on the counter, I am not sure of the use. The L'Amour is a little small for vaginal play, so I think the suction cup is invalid for this toy.

Care and Maintenance:

I love that the L'Amour is silicone, Which means it is really easy to clean.
Silicone has a tight molecular structure and retains heat. Try to soak a silicone toy (make sure it's waterproof) in the warm water before using it to get nice warm feeling. Silicone also repels dirt and bacteria, and doesn't fall apart with extended friction. I did heat ours up before we tried it out, and it was great.

Hygiene And Maintenance:
Silicone is smooth and not porous. Silicone can be fully disinfected by boiling it for 3 minutes, or by throwing it into the top rack of your dishwasher. I am not sure what the suction cup is good for except for after cleaning I popped it on to the counter to dry.

I love the fact that if I want I can totally disinfect the toy in the dishwasher! So easy, I may not put it in there with all the dishes, but you get the picture.

Make sure you use a water based lube too, it is not compatible with a silicone one.

Care and cleaning:

Bleachable / Boilable / Dishwasher safe / Soap and water

Packaging:

The L'Amour came in a small, clear plastic, rectangle package. It did not have any vulgar pictures on it, and looked very nice in the packaging. You could use the packing to store the toy. It is a small toy, so you don't really need to store it in the box. There were no instructions, but the box did say anal probe, and I think that is explanation enough. It did have care instructions on it as well. I would not reuse the box as a gift, but for storage it's fine.