Cake Beauty Glistening dry shampoo and body powder - Shampoo from Cake Beauty

Product Details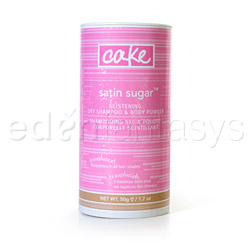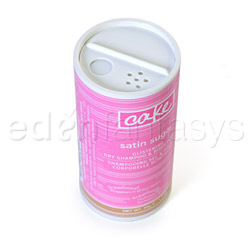 Summary:
This is a great product for people who are constantly on the go and find themselves in situations where their hair could use a little sprucing up in a hurry. It's easy to pour, it smells fantastic - like lemon pound cake - and is a great addition to the Cake line of products. This is a sexy version of a lesser-known tip to use baby powder when your hair gets a little too oily for your liking.
Pros:
Great scent, light formula, easy to apply, easy to get out of hair.
Cons:
Container could be bigger.
Best use:
If you ask ten people what is the best way to cleanse and care for your hair, you're going to get ten different answers with at least twenty different product suggestions to go with those opinions. There are deep cleansers, light moisturizers, no shampoo methods, sulfate-free shampoos...the list is practically endless.

Until recently, the only way to deal with oily hair and no time to wash it was to throw it up in a ponytail, and hope that no one noticed the sheen glistening off the crown of your head. A beauty magazine once recommended that a very light dusting of baby powder combed through the hair would help control the issue. But, what if you don't like the smell of baby powder all that much?

Enter Cake with an ingenious solution - dry shampoo! Satin Sugar Glistening Dry Shampoo is made for those occasions where you have to run out of the house, but haven't had time to properly shower. It's a simple concoction of corn starch and fragrance. It is translucent and disappears in all hair shades, according the packaging.

It's not just a dry shampoo, however. It's also a glistening body powder. If you use this as a body powder, it should be used on well moisturized and hydrated skin that is completely dry to the touch. A little bit goes a long way, and it would be best applied with a kabuki brush or other large makeup brush so that it is applied lightly and evenly. The result is a light, glittery finish with a slightly gold tint to it. The darker your skin, the less noticeable the gold will be. It's barely noticeable on pale skin, but there is a very slight golden glow.
Texture / Consistency / Thickness / Viscosity:

Satin Sugar has the exact same consistency as baby powder but does not include ingredients like talc (known carcinogen), petrolatum, phthalates, or gluten. Yep, it's gluten-free!

It comes out of the container quite quickly, so be very careful when shaking this into the palm of your hand. You'll end up with a lot more than you could ever possibly need. It feels soft and powdery on the skin and is easy to apply to the hair. Just rub a small amount between your palms, and comb your hands through your hair. Bending over and letting the strands dangle would probably the best way to get to the roots, where the oil is, for most people.

Ingredients:

Zea Mays (Corn) Starch, Silica, Parfum (Fragrance), Caprylyl Glycol, Proylene Glycol, Aqua (Water), Chamomilla Recutita (Matricaria) Flower Extract, Calendula Officinalis Flower Extract

Taste / Aroma:

Satin Sugar smells like a lemon pound cake, but the official scent is chamomile. It has a pleasantly relaxing effect and is not overwhelming in any way. It's almost understated. It's very feminine and delicate. The scent lasts for a few hours and then fades away. This is not a product that should be ingested, so there is no taste to speak of, but it does smell like "candy" and should be kept out of the reach of children.

Performance:

This product is best used on hair that has not been shampooed in the last 24-48 hours, that is lightly or moderately oily, and will carry you through until your next shower. For hair that is naturally oily, this is a quick fix, but it is not a permanent solution. If the hair is too oily, the powder will just sit on top and create a very light paste of sorts. Remember - brushing your hair frequently increases the production of natural oils.

Packaging:

Satin Sugar comes in a cardboard cylinder that is pink and white, and gives you all of the product information. It's in English and French. The top of the container has a slide wheel to open and close, and is affixed to the top in the center by a single button. There is are two options to control the amount that comes out when you shake the container - the standard sprinkle option with five small holes punched into the top, and an option to free-pour. The top isn't difficult to slide around, but punching out the hole to get to the product took some patience. The plastic piece that was sealing it fell inside the container once it was removed.

Volume:

1.7 fl.oz.

Weight:

0.1 lb

Personal comments:

If I don't wash my hair for a couple of days it tends to get a little oily, so I was really excited to try it out. It really does live up to its claims of being a temporary solution to the problem. I wasn't self-conscious and worrying if people thought I was dirty. When I shampooed my hair later that evening, it was just as easy to wash out as it was to put in, and that is always a plus for me. It's really light and I just love the way it smells!

Other

Safety features:

Gluten free / No GMOs / No Petrochemicals / No Phthalates / No Triclosan / Parabens free