I Knew I Wasn't a Fan of Bakery Goods In The First Place...
If you're just looking for a cute bottle to put on your shelf, I suppose you've found one. Otherwise, this just wasn't worth the money. The only thing it really did was soak up oils in my hair, but you can get that with a regular baby power, or dry shampoos, for much cheaper.
Published:
Pros:
- Works as a Dry Shampoo
Cons:
- Pricey & Small Container
- Didn't Work For Me As a Powder
- Uncivilized Lid
- No Shimmer
Cake's Satin Sugar Glistening Dry Shampoo & Body Power has a great name, but it failed me. Where did my money go? The price for this was NOT worth it! Let's start off with the overall details, before I get into my experience...
PACKAGING
4" High Wrapped Cardboard Bottle
Almost 2" in Diameter
NET WT: 50g - 1.7oz
The lid turns around to open with one round cut out, and one sprinkle cut out. To open to get the powder out, you will need a pair of scissors, or a screwdriver, to pop the bottom circle cut out.
BOTTLE DIRECTIONS
HAIR: Sprinkle into your hands and run through your hair to refresh between washing's. Concentrate on root areas. Excess oil is absorbed, leaving your tresses feeling clean and fabulous. Dull hair will become bright and fresh.
BODY: Sprinkle into hands and rub onto body. This blend will leave you smelling fresh and feeling clean with the perfect amount of sophisticated sheen.
INGREDIENTS
Zea Mays(corn)Starch, Silica, Caprylyl Glycol, Fragrance(parfum), Water/aqua/eau, Propylene Glycol, Calendula Officinalis Flower Extract, Chamomile Recutita Flower Extract
May Contain: Mica, Iron Oxides, Titanium Dioxide, Tin Oxide
Made in Canada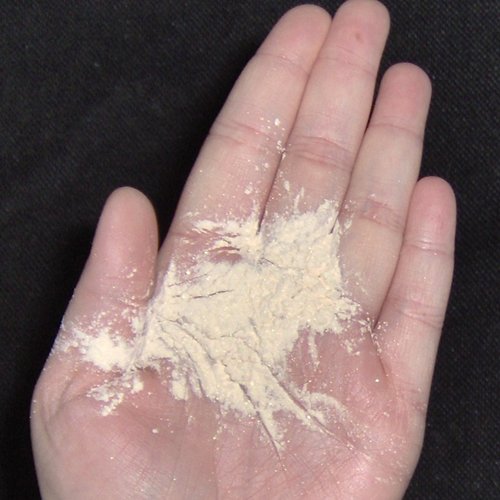 My Impressions
My first thought when I opened my shipping box was, "That's it?". Right there I should have figured the rest of my experience wouldn't be great, but I still had hopes. This didn't come packaged in any other boxes. It was just the bottle, small as it was, winking up at me. I suppose I really need to stop getting so excited when I see something and read more details about it. At the price, I was expecting a bottle five times bigger! The bottle still tempted me, with its pink and shiny wrapper, so I proceeded.
Opening this was a PAIN. Under the turning cap is a circle as big as the pouring hole (about 1/5"). You need a tool to break it open, such as a pen, scissors head, or a screwdriver. I took my scissors and pounded on it till it finally busted open. When it did, pieces of the plastic just cracked and fell down into the powder. I found no way to pluck them out! Therefore, there are little pieces of plastic inside the bottle. I took a tweezers to try and get the rest of the broken plastic out, but alas, it just didn't cooperate and there are still broken pieces in the bottle.
Once it was open, I turned the head (which was a little sticky) and poured some into my hands. The powder itself looks very nice! It's a soft yellow with tiny, shiny pieces, and it felt very soft and smooth. According to the ingredients, there is Chamomile & Calendula Flower Extract in there. For those that don't know, Calendula is also known as Marigold and has been used for thousands of years to treat sensitive and irritated skin. As I have a bit of a fetish for herbs, as well as having sensitive skin, I was excited about this.
HAIR:
My first attempt was with my hair. I had made sure not to wash it yet that day. I've been using dry shampoos for a couple of years now, but never an actual powder. For those of you who don't know, a typical dry shampoo comes in a bottle and sprays a powdery substance into your hair like hairspray. With this, you have to pour a little in your hands and then rub it through. You should always start at your scalp and work your way down. I actually just parted my hair a few ways and tapped the powder directly on my head, then ran my fingers through my hair until the powder disappeared. Here are my before and after results: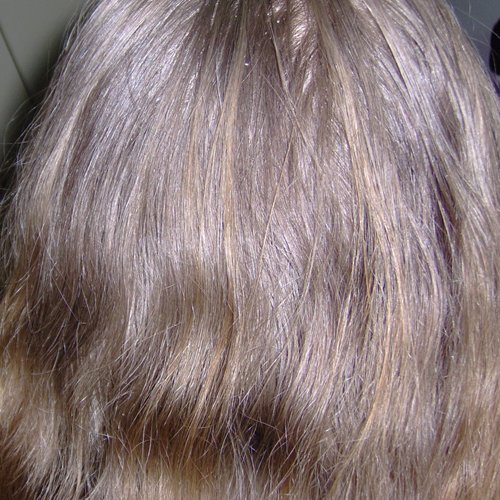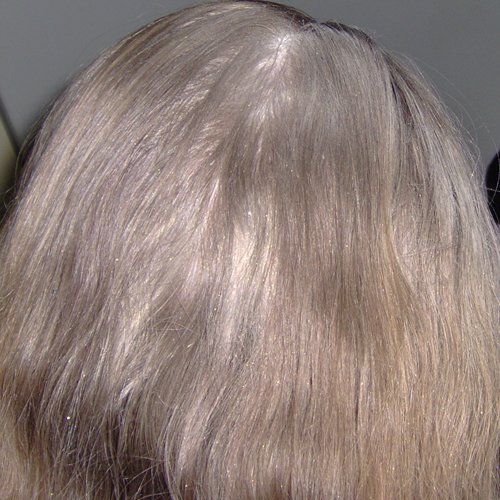 The darker spots of color in my hair are from an old dye wearing off as I am letting my natural dark blonde grow back out, so pay no mind to that. As you can see, it DID soak up the oils and lighten my hair. However, I noticed no shimmer to it whatsoever. As a regular dry shampoo it does work, though.
SKIN:
Due to sensitive skin, I was too afraid to use this on my vagina. I did rub it all over the rest of me, though. Honestly? I have no idea what it did. My skin felt the same as it did before, and I didn't notice any glistening. I took pictures, but there was no difference in those either so I won't bother posting them. I have no idea if this would work for someone else, but I'm thinking perhaps it would be good for your socks before exercising. Perhaps in your bra?
Experience
OVERALL:
It was messy. Really really messy! Even though I stood on a towel and was very careful not to overdo it, there was powder everywhere afterwards. As a body powder, I don't think this is worth it at all! As a dry shampoo, it works, but it does so just as well as the spray bottles that contain more of the product for a fourth of the price! After using it on my hair and body once, my bottle is already half gone.

I'm overall disappointed, and not sure if I want to bother trying anymore products from this brand. I have absolutely no idea why this would cost so much in the first place, or if maybe I'm just missing something? I will definitely read more about a product before purchasing next time!
Follow-up commentary
2 months after original review
Although this has gotten some use, I just can't see ever spending the price tag for how tiny this container is. When I put it in my hair, it takes at least 30 minutes to get it so where nothing is drizzling down on my clothes. By then,\ there isn't any effect except for my hair is fluffier. As for on my body, I won't use this anywhere where powder is nice because of the glitter. If you rub it elsewhere, your skin will be slightly softer and shimmery, but not for very long. Definitely not worth buying for more than $5.
This content is the opinion of the submitting contributor and is not endorsed by EdenFantasys.com

Thank you for viewing
Glistening dry shampoo and body powder
review page!