Pipedream Metal Worx Curve - Double ended dildo from Pipedream

Product Details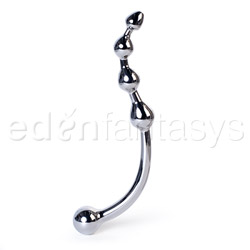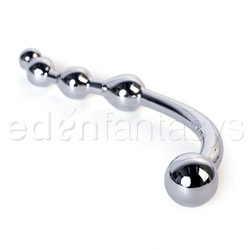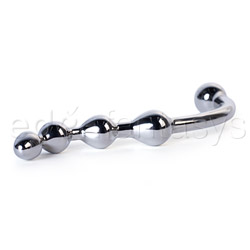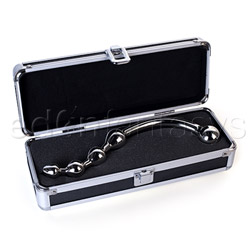 Summary:
The Metal Work Curve is a lovely metal toy that can be used by someone of any experience level either alone or with a partner. The beaded end feels fabulous moving slowly in and out of the ass, and the ball end is perfectly designed for targeted spot massage. And hey - they toy comes in a fabulous box!
Pros:
A solid steel toy that is built to stimulate anal or vaginal hot spots with ease.
Cons:
It's not stainless steel.
Material / Texture:

This toy is made of polished steel, which is, if you're splitting hairs, not stainless steel. The materials description lists the toy as stainless steel, but the packaging and all the information on Pipedream's website carefully states that it is polished steel. There is no suggestion that the shiny finish is simply plating onto a cheaper metal, but yet the weight just doesn't seem correct for pure, sweet, stainless steel, and other reviews of the Metal Worx line have discussed toys having flakes missing from their finish. Stainless steel is a special subcatagory of steel, and 'steel' is actually a broad description that covers many grades of the alloy.

Steel alloy composition aside, this toy is still made of solid, non porous metal that offers significant weight and beautiful temperature play properties. The surface is smooth and cool to the touch, but the toy warms quickly to body temperature during use. Its smoothness allows the user to get away with just the tiniest amount of lubricant, and the metal is of course compatible with oil, water and silicone based lube.

Material:

Polished steel

Material safety

Texture:

Smooth

Safety features:

Food-grade material / Latex free / Non-porous / Phthalates free

Design / Shape / Size:

The bead end of the Curve features four beads which are shaped like teardrops - elongated for insertion and more rounded on the removal side. Size wise they start at a mere 3/4" diameter and step up 1/8" at a time to a final size of 1 1/8" diameter. The Curve is sharpest between the second and third bead, and this comes through during anal insertion. The first two beads slip in with ease, but an extra degree of relaxation needs to be achieved before moving to the third and finally fourth bead. This makes the Curve's beaded side slightly (and unexpectedly) challenging, simply because it will not bend to meet the contours of an individual's body.

The other side of the Curve - the ball end - features a ball that is 1 1/4" in diameter perched atop a 9/16" diameter stem. The curve of the toy is perfect for solo g-spotting use (and I assume as well solo p-spotting use), with the beaded side acting as a great handle. The ball works well for spot massage, and the toy is of course firm and unyielding, so it works great if that sort of stimulation is something that is desired.

Color:

Steel

Length:

10"

Insertable length:

5 1/4"

Circumference:

3 1/2"

Diameter:

1 1/4"

Weight:

18 oz

Performance:

The Curve performs well during play, having been modeled after the long standing fan favorite Njoy Fun Wand. The Curves of the Curve allow it to work well for solo play, letting the user hit those hard to reach spots with ease. Curve's shape is also quite conducive to use in the hands of a partner, being not *too* curved and not *too* heavy for direct penetration on a partner lying on his or her back. The steel is amazing, as steel is, at conducting temperature. It can be cold when first used at room temperature, but it warms wonderfully to body temperature within a few smooth strokes.

Care and Maintenance:

Metal toys, no matter what alloy they are made of, are very, very easy to care for and store. The Curve can be washed with warm soap and water, or a toy cleaner, for everyday cleanup. To effectively sanitize, they toy may be boiled for 10 minutes or soaked in a 10% bleach solution for 10 minutes. It's probably best to soak in bleach rather than boil, simply because metal conducts heat so well that the toy may be a burn hazard fresh from a pot of boiling water and because the toy is not stainless so may start to dull over time if it's regularly boiled. Make sure to dry the toy well before storage, and feel free to store it wherever you see fit, or keep it simple and use the included storage case.

Care and cleaning:

Soap and water

Packaging:

The major thing that sets the Metal Worx series apart from all other toys is the storage case. The Curve (like all Metal Worx toys) comes in a perfectly sized box that is filled with foam that has an insert that is perfectly Curve shaped in it. The foam lifts from the box easily (exposing a few packs of silica dessicant) leaving a lovely fabric covered interior that can accommodate a few other toys if you wish to use the box for more extensive storage. The storage box has stickers describing the contents across the lid (and along the bottom) but if you'd like to remove them, they peel off to reveal a simple "Metal Worx" logo on the faux leather exterior of the box. This is some of the best toy storage I have ever seen.