Pipedream Fetish Fantasy Elite 6" dildo - Dildo from Pipedream

Fetish Fantasy Elite 6" dildo videos
Product Details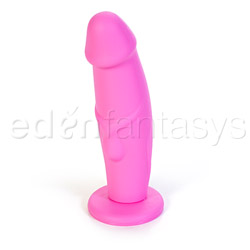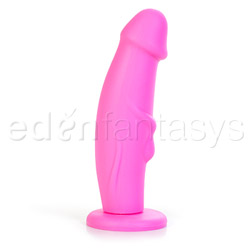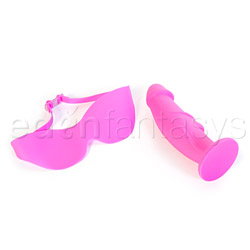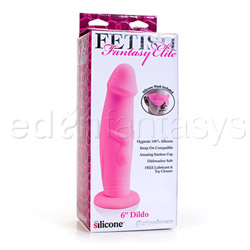 Summary:
Overall, the Elite is a nice dildo for many users. The thick girth and hard design might make this toy uncomfortable for new or tight users. The eye mask that comes with it is fine, but seemed like an afterthought.
Pros:
Body safe, latex-free, harness compatible
Cons:
Too hard for some users
Material / Texture:

The Elite dildo is made of, as far as I can tell, pure silicone, which is a very safe material. This makes the whole toy hypo-allergenic, latex-free, non-porous, pthalates-free, body safe, and super easy to clean! The toy feels almost rubbery, but is smooth to touch and doesn't have any small bumps or ridges. It is pretty hard when squeezed and doesn't give much. The soft texture is nice for any user; it's the design that may be for more advanced toy users.

Material:

Silicone

Material safety

Texture:

Veined

Safety features:

Food-grade material / Hypo-allergenic / Latex free / Non-porous / Phthalates free

Design / Shape / Size:

Most of the Elite dildo is shaped like a basic penis - shaft and a mushroom-like head. However, there is an interesting bump on the dildo; it is seamless with the rest of the silicone, so there is no change in texture, it's just a shape that almost looks like a necklace with a drop-shaped gem on it stuck to the toy. This bump may help some users feel g/p-spot stimulation, but I'm not sure. Between the pink color and the odd drop, I'd say this toy is whimsically designed. Unfortunately, it did not come with any carry case, so traveling with the toy depends on how you transport it.

Because the lip under the head of the dildo is so hard to the touch and doesn't give at all, I wasn't particularly pleased with this toy. I had been expecting just a good sturdy dildo, but that lip and the very wide 1.75 inch girth made inserting the toy uncomfortable for me.

Color:

Pink

Length:

7"

Insertable length:

6 1/2"

Circumference:

5 3/4"

Diameter:

1 3/4"

Harness compatibility:

O-ring compatible

Weight:

0.75 lb

Performance:

This toy is alright. I think in a harness it would be... well, like any other harness toy. It is a bit heavy, though, so that's something to think about if you want a lightweight harness dildo. The suction cup on this toy isn't very strong so it works best to hold the toy on the floor. Because the toy is a bit stiff, it doesn't bend or wiggle at all when inserting or when stuck to a wall with the suction cup.

Special Features:

Free samples
Premium
Waterproof

Care and Maintenance:

The Elite is very easy to clean - it can be tossed in the dishwasher or boiled, or just cleaned with a toy cleaner or soap and warm water. If you plan on sharing the toy, though, please sterilize it! It is compatible with all lubes except silicone-based lubes. It doesn't seem to attract too much dust or hair, but I always recommend getting a toy bag for storing all toys.

Care and cleaning:

Bleachable / Boilable / Dishwasher safe / Soap and water

Personal comments:

Just to note, this toy also comes with a silicone and plastic eye mask. I thought this was a little odd, as this isn't a bondage toy. The eye mask really seemed like an afterthought. It's soft, the whole thing being silicone, but it doesn't give a whole lot. The band is also part of the silicone mask, it's just one seamless piece with 2 little plastic adjusters. On me, it fit a little awkwardly, it was a tiny bit too tight, and all the force of the silicone band was felt on my smushed eyes. In that same sense, though, it did work to block out all the light because opening my eyes was very uncomfortable. It's a little adjustable, but it seems like it can only be made smaller than it comes - I see it as being a little annoying for most people.