Hard and Girthy
As much as I wanted to enjoy this toy, and having loved other toys from this range I have to say that this is it's let down, Far too hard for its size and awkward in design.
Published:
Pros:
High quality material, harness compatible, suction cup.
Cons:
Very girthy and hard, badly designed, uncomfortable to insert.
Having already tried a few other Toys from the Fetish Fantasy Elite range (The Fetish Fantasy Elite 8" dildo, Fetish Fantasy Elite 6" hollow strap-on and Fetish Fantasy Elite 4.5" dildo) I was curious to see if the Fetish Fantasy Elite 6" strap-on would live up to the high expectations that I now have of toys from this range.
Packaging-
The Fetish Fantasy Elite 6 Inch Dildo arrived packaged in a very stylish looking pink and white box. The front and back of the box are white backgrounds with photos and details of the toy within. The sides and top of the box are a beautiful deep pink mock croc design which is raised in texture and adds a feeling of luxury to the product. Once opened the box contains the hallow strap-on itself (contained in a foam type bag) a pink silicone eye mask which is a lovely and very feminine shade of pink. As with all the Elite range products I have, there are also two small bottles included, one of toy cleaner and one of water-based lubricant. These are 29ml each (bigger than a sample would usually be and a great size for travel)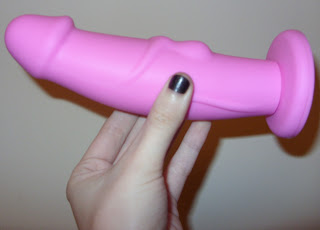 Use-
When I first removed the Fetish Fantasy Elite 6 Inch Dildo from it's packaging I was surprised by just how solid and sturdy it seems. It was about as large as I had expected but I had thought that a toy of its size might have a bit more give to it in order to make it more comfortable to insert. To squeeze, it is as firm as silicone gets, with very little bend to it. I mean it is incredibly difficult to bend this even the slightest bit. Despite it being so hard it does seem to have a hollow in the middle, when squeezed I could feel the two sides of the hollow middle meeting and sticking together, the dildo has alot of resistance and quickly springs back into shape though. To the touch, the material has a velvety texture and can attract dust but does not have any sticky feel to it.
The look of the toy is semi-realistic and it features several raised designs along its shaft. I was apprehensive about these ridges as at least one of them seems as if it would get in the way rather than add to the experience of using the toy. Seeing as this is so girthy and solid, for my first experience with this dildo, I waited for a time when I felt I would be well warmed up and hopefully ready for it. One evening after a good session with one of my favourite vibrators I decided to give it a try. Having had two orgasms and used two smaller dildos beforehand, I felt that this was as warmed up as I get.
The result of this attempt was a failure to insert even the head of the Fetish Fantasy Elite 6 Inch Dildo. Despite being lubricated and having managed most of the length of the Tentacle Jr dildo moments earlier, I couldn't comfortably take the very hard head of this.
Several attempts at later dates with this were about as unsuccessful as the first. I will admit that I am generally a lover of slimmer or average sized toys but with this being of a very similar size to another Fetish Fantasy dildo that I own and often enjoy, I feel that this toy is uncomfortable because of its bad design and overly solid material.
A few specifications of the toy:
Included within Kit- 7" dildo (including base) eye mask, lubricant and toy cleaner (29ml each)
Material: Silicone
Harness: O-ring compatible
Color: Pink
Insertable length of Dildo: 6 1/2 "
Circumference: 5 3/4" at its thickest
Diameter: 1 3/4
Material-
Being made of silicone The Fetish Fantasy Elite 6 Inch Dildo is Food-grade material, Hypo-allergenic, Latex and Phthalates free and Non-porous!
Cleaning/Storage-
When it comes to cleaning, The Fetish Fantasy Elite 6 Inch Dildo can be bleached or boiled, it can be washed with soap and warm water or can even be placed in the dishwasher safely. I would recommend using a water based lube with this (like the one provided) Never use a silicone based lubricant with a silicone toy! This toy can be a dust and lint magnet so to store, I recommend either keeping it in the foam bag it arrives in or storing it in a zip-sealed sandwich bag, this also protects it from being stained from contact with other toy materials.
-Compared to The Fetish Fantasy Elite 4.5 Inch G-spot Dildo-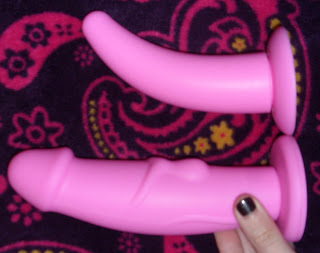 This product was provided free of charge to the reviewer. This review is in compliance with the FTC guidelines.

Thank you for viewing
Fetish Fantasy Elite 6" dildo
review page!