Pipedream Fetish Fantasy wartenberg wheel - BDSM kit from Pipedream

Fetish Fantasy wartenberg wheel videos
Product Details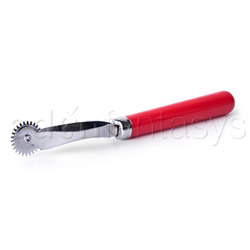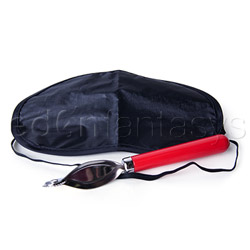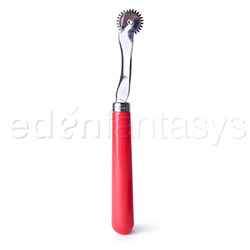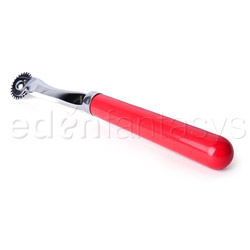 Summary:
For those looking to try something new in the sensory play department, the Fetish Fantasy Series Wartenberg Wheel is a great tool to try. It does not have needles so there is little chance of puncturing skin and its small size and light weight makes it easy to manipulate. Add in the included blindfold and your journey to a new fetish will be well on its way.
Pros:
Stimulating, easy to use, price.
Cons:
Wheel can stick, hollow handle.
Best use:
The Wartenberg Pin Wheel, or Neuro-wheel, was originally designed by Dr Robert Wartenberg. It was designed to test nerve reactions as it glides across the skin. You can use it for a new dimension in sensory play in the bedroom.

Simply roll it across the skin to tickle your partner or add a new feel to a massage. The Fetish Fantasy Series Wartenberg Wheel is slightly different than others you may see in that it does not have 'pins', rather the wheel is a stamped piece of stainless steel. It will be very hard to puncture the skin. This makes it a non-intimidating and easy to use.

You can roll it very lightly to tease and tickle or push down hard to provide a bit of pain. Either way this is something that most will find enjoyable to use.
Design / Craftsmanship / Material / Size / Fit:

The Fetish Fantasy Series Wartenberg Wheel has a handle made from red plastic. The shaft and wheel are made from stamped medical grade stainless steel. The construction should hold up to all but the heaviest of play. The included blindfold is made from vinyl and has a elastic band to hold it on.

The handle is 3 1/2" long and tapers from 5/8" down to 1/2" diameter. This makes it comfortable to hold and will give you plenty of control. From the handle, the shaft/wheel extends 2 1/2" and is formed as sort of an oval cup before narrowing back in to the wheel. The wheel is 3/4" diameter from point to point and riveted to the shaft. Each 'tooth' or pin is 1/16" tall.

The weight comes in at 8 oz. so it is light and easy to control.

The included blindfold is made from vinyl and has a elastic band to hold it on.

Material:

Plastic

/

Stainless steel

Material safety

Color:

Red / Steel

Length:

6"

Weight:

8 oz

Performance:

When I first tried to use this the wheel it did not like to move freely if I applied any significant amount of pressure. There was no obvious reason for this, it just seemed to be binding on the axle (rivet) and wheel. Well, metal to metal contact never works good without some kind of lube. I put two drops of silicone lube on the wheel and now it works wonderfully. Whether the pressure is light or heavy the wheel spins freely.

With a light touch it will feel like a ladybug crawling on your skin. Push down hard and it feels like a blunt knife sliding across the skin. Put a blindfold on your partner and you can have an even more fun time.

You may need to reapply a lubricant if you are using it for extended periods of time. Although, if used with a massage oil or lotion, you should not have to.

Care and Maintenance:

Due to the plastic, the Wartenberg Wheel can not be boiled, although if you have a heavy leather glove or tongs you could hold the wheel portion in boiling water for 5-10 minutes. You can use a 10% bleach solution if needed for sanitizing. If you do use bleach, do not let it soak for very long as it may etch the stainless. A good anti-bacterial soap and water will do nicely for general cleaning. The hardest part will be cleaning the wheel/axle area. The best way to do this will be to apply the soap or bleach solution and roll the wheel a few times. Do the same while rinsing.

Dry it off before storing. The handle is hollow so you may want to prop it up on the wheel so the handle can drain.

Packaging:

The Fetish Fantasy Series Wartenberg Wheel comes in a small box with a picture of it on the front. Aside from "Fetish Fantasy Series" printed on it it is pretty discreet. The box is the size of a small tube of toothpaste so it could be stored fairly easily. Inside is the pin wheel and a blind fold to help with the fun.

It does say that "Colors may vary" and I have seen it pictured in black.

Personal comments:

I'll admit that I am not into pain so when I saw this in my assignment cart I was a bit leery to accept it. After talking with a couple of contributors about it, I took the plunge. Glad I did. It is something that I think everyone should at least try out once.

I did not like it around my genital area but it was nice everywhere else. Stomach, nipples, back and neck were all great places to roll it across. With light pressure it really felt like a small bug crawling across my skin. Firmer pressure felt like a pin-point massage.

The only problem is when the wheel stops rolling, it then 'bites' into the skin. I think that is why I did not like it around my manly bits.

Other

Texture:

Studded

Safety features:

Food-grade material / Hypo-allergenic / Latex free / Non-porous / Phthalates free