Prickle or Tickle
If you are interested in light BDSM play, try this Wartenberg Wheel. The slightly rounded spikes are better for teasing than producing pain. It is not likely to break the skin. It's perfect for those just exploring BDSM or those who know they just like light play. This particular wartenberg wheel is more of a tickler than prickler.
Published:
Pros:
Light Sensory Play
Inexpensive
Cons:
Wobbles a little
Not for extreme play
Wartenberg wheels were designed for doctors to test the nerve reactions as it is slowly rolled on the skin. BDSM enthusiasts have long used the wheel to add a bit of pain to sensory play. Sharp spikes can produce anywhere from mild to wild sensations. The intensity depends on the design of the wheel and how it is implemented.
I have been curious about the Wartenberg wheel for a long time. I like to include sensory play and massage in our sexytime. However, I thought it might be too painful. We are into interesting sensations and light spankings not the usual trappings of even moderate BDSM. Finally my curiosity got the better of me, and I bought both Fetish Fantasy Wartenberg Wheel and Kinklab's Wartenberg Pinwheel. This review is the Fetish Fantasy Wheel.
The Fetish Fantasy is a beginner pinwheel. My camera is not the best, but you can get the general idea with these pictures. Here is a picture of both the Fetish Fantasy(left) and Kinklab Wartenberg Wheel (right.)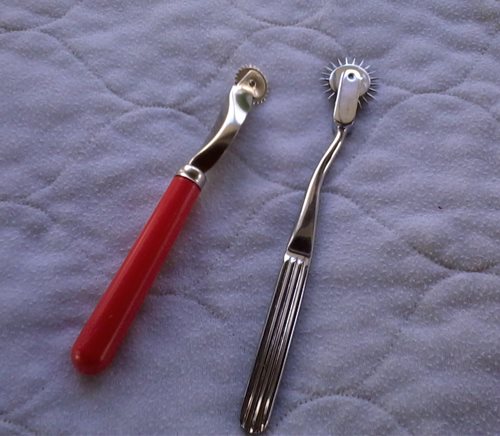 The main difference that changes the intensity is that the Fetish Fantasy's wheel is smaller and the the spikes are rounded. Notice in the next two pictures that the spikes are rounded slightly on the end instead of a sharp point. The rounded spikes means it is not as prickly. It's gentle on the skin and produces more of a tickle than a prick.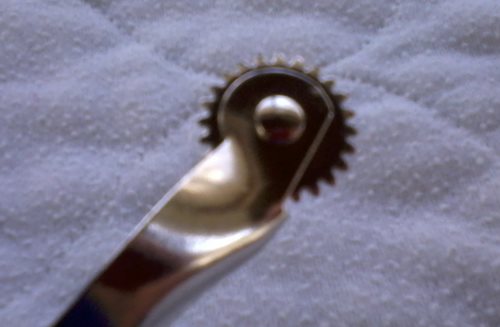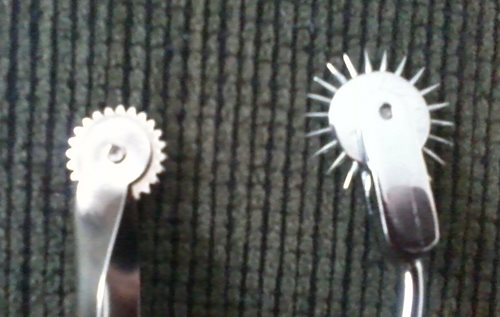 Fetish Fantasy's Wheel is also smaller than the other one. The entire wheel including spikes is the same size as just the inner circle without the spikes. That also makes a difference in the intensity.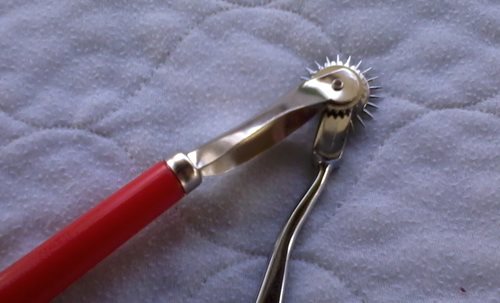 As you can see the Fetish Fantasy is a less intense toy. It's a great little tool for beginners or those who just like light sensations. To use just roll it on the skin. Pressing down will increase the sensation. Since the spikes are rounded, this pinwheel won't produce a lot of pain. It's not likely to break the skin no matter how hard it's used. It can be used anywhere. We like it on back, legs, arms, stomach, and chest/breast.
The wheel is a bit wobbly. It feels like it just isn't as secured as tightly as it could be. Other reviews have mentioned the same so I don't think it is just mine. Because of the wobble, it doesn't always want to go straight. It's kind of like a car that needs an alignment. Instead of rolling straight, it tends to curve a bit. It's fine for our purposes. We don't mind the wobble.
The handle of the wheel is red plastic. It is lightweight and easy to hold. I like the looks of the red. It makes it look more like a cheery toy than a medical device. Beyond the wheel is a metal piece that resembles an oblong miniature pan. It reminds me of a metal pan we use for grilling. I'm not sure what the purpose of that is. The small wheel is at the bottom. I stated earlier that the wheel wobbles due to its attachment. I did not mean that it would fall apart easily. I don't think it will. It is designed to wobble, but it's not going to fall apart on you.
Again, this is for beginners to BDSM or those who like light sensation play. This is not the toy for dedicated BDSM people. If you want something with a bit more oomph, buy the wheel from Kinklab. That's a more serious toy.
However, if you enjoy light sensations this might be the wartenberg wheel for you.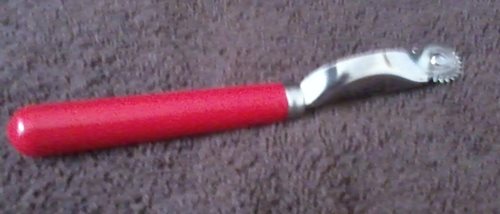 Experience
My skin is very ticklish. Light hands and fingers often have me squirming in a bad way. Although human touch does this, most objects do not. I can handle feathers and massagers of all types. I figured this would be fine especially since it is designed more for pain stimulation. I was wrong. I just can't handle the wheel on most parts of my body. It is just too ticklish. It's not painful at all, but I'm calling Uncle almost immediately. My husband, on the other hand, loves the wheel. He likes long strokes, short strokes, up and down, and across. He even likes it in zig zag motions. It's very relaxing for him like a simple light massage.

I was disappointed that I couldn't handle the wheel. Of course, I was surprised it set off my tickle alarm I really expected it to be more on the pain spectrum than tickle. My hubby is glad I bought it.
This content is the opinion of the submitting contributor and is not endorsed by EdenFantasys.com

Thank you for viewing
Fetish Fantasy wartenberg wheel
– sex toy review page!