All Tingle, Little Pain
I can take some hair pulling, some paddling, even a smack, but I'm not into bleeding. That is why this Wartenberg Wheel is my best friend. It's just intense enough to appeal to me without scaring the crap out of me if a novice partner got ahold of it. In the end, even if you aren't into pain at all, this little wheel can be used for some tingling/teasing fun.
Published:
Pros:
Can Cause Pain or Pleasure.
Inexpensive.
Low-Maintenance.
Cons:
Squeaky.
Wobbles a Bit.
Upon originally viewing the Wartenberg Wheel, I was slightly concerned that there would be all pain and no pleasure with this item. I had looked at another version on Eden though (for $16.99), and this was the less intimidating and less pricey of the two. Being the type to be attracted to anything slightly eccentric, I decided it was worth the $5.99 to experiment.
I am whole-heartedly glad that I purchased this item. On the back of the box, I immediately noticed that the idea of the wheel was not to stab the crap out of you, but rather, it is meant to "tickle, tease, and please." They even suggest you try it blindfolded and restrained. There is even a cheap little black blindfold included in the box. Indeed, this Wartenberg Wheel does not hurt, even with mild pressure. However, I'm sure if you pressed it with all of your power that it has the capability, as would any metal object. This wheel tingles, and every once in awhile, I find myself shivering (like when your partner runs their fingers VERY lightly over your skin).
I did notice that when pressing very firmly, little tiny dots will stay on your skin for some time, but it is not easy to accidentally hurt yourself (as in draw blood) with this item. My only suggestion would be that you let your partner know if he/she is applying too much pressure for you to be comfortable (some people don't know their own strength). Then again, I find that a lot of partners are scared of hurting their significant other, and therefore you may actually have to tell him/her to apply more pressure.
This Wartenberg Wheel does have a bright red handle, which I find to be a good addition just as I find
brightly colored handles on knives to be good additions. Basically, the red handle makes it stick out in a drawer full of toys and boxes, so I don't grab it unknowingly. The spurs on this item are just a 16th of an inch making this wheel unlikely to inflict any significant harm. They are also rounded versus the other Wartenberg Wheel style that is offered on EF that are pointed. The only safety concern that I do have is that the wheel is slightly wobbly (also squeaky for this reason), and I'd imagine if you are applying a lot of pressure that the wobble wouldn't give you the control that you would want.
I'd suggest using this item all over the body, but I cannot suggest using it inside of the body. I read another review where the handle was inserted, which might appeal to some. However, if I wasn't paying attention (was blindfolded, was turned over, etc.), it would probably freak me out rather than turn me on. On the chance that you do want to insert the handle, I'd compare the size of the handle to that of a spoon with a handle or to a single finger's size.
This item consists of a stainless steal wheel and a plastic handle. Cleaning is really not necessary in most cases, but if you do need to clean this item, the wheel can be soaked in a bleach solution. Stainless steal won't rust easily either, so no worries there!
A couple of pics: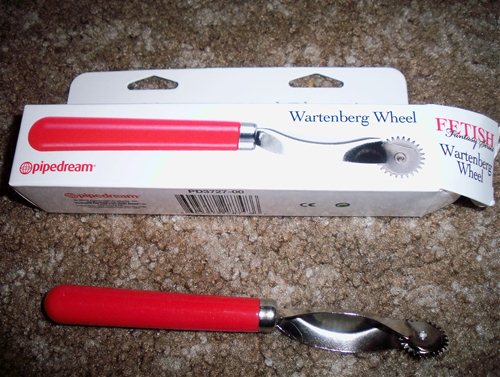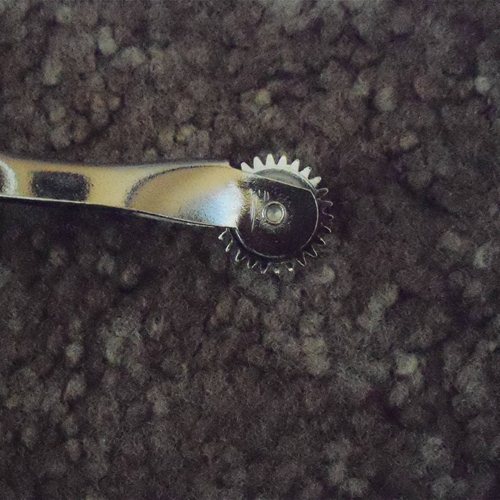 Follow-up commentary
2 months after original review
I still like this version of the wartenberg wheel. It just looks intimidating enough to be fun, but it's not painful enough to be scary. I don't want to feel like I'm being spurred like a horse...I just want to be teased in a little bit of a different way. The one thing that I haven't figured out is how to minimize the squeaking of this toy. It's not a huge bother, but it would be an improvement.
This content is the opinion of the submitting contributor and is not endorsed by EdenFantasys.com

Thank you for viewing
Fetish Fantasy wartenberg wheel
– bdsm kit review page!