California Exotic First time love balls duo lover - Vaginal balls from California Exotic

First time love balls duo lover videos
Product Details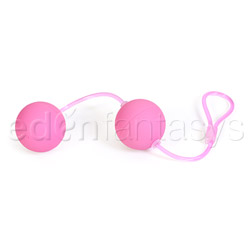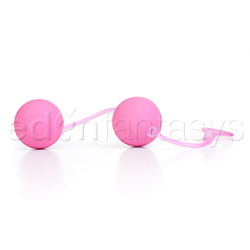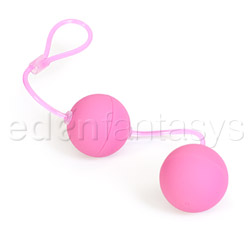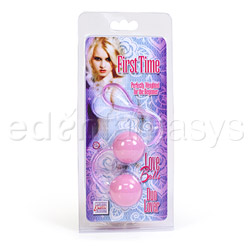 Summary:
The First Time Love Balls from California Exotic Novelties are a fantastic choice for any beginner looking to exercise their kegel muscles. The soft material and light rattling weights are very appealing and they function exactly as they're supposed to so I can overlook any slight flaws in the design. I would definitely recommend the Love Balls to any beginners looking for a great kegel workout.
Pros:
Soft material, weighted for beginners, rattling weights, affordable.
Cons:
Not the greatest construction, long cord.
Best use:
The First Time Love Balls from California Exotic Novelties are intended for use as a kegel exerciser. To use them, simply slide the balls inside of your vagina after applying some lubrication if needed. You hold them inside of you by squeezing your kegel muscles and there is a retrieval cord for easy removal when you're finished using them. The Love Balls are entirely comfortable and unnoticeable so you can use them anywhere!

The Love Balls can safely be used anally as long as you keep a hold of the retrieval cord, but the TPE material of the cord cannot be sterilized so I would suggest using a condom if you plan on using your Love Balls for both anal and vaginal use. The ridges are also a little rough and might be felt anally so I would use some caution.

If the Love Balls don't work out for you, they would probably make a pretty fantastic cat toy! My cat is stalking them while I write this...The noise the inner balls makes is VERY interesting to cats, apparently!
Material / Texture:

The material of the Love Balls is very velvety and I don't detect any smell or taste. The cord is made of PTE which is slightly porous so you should always use a condom if you intend on sharing your love balls or using them both anally and vaginally. The balls themselves are made of PU coated plastic and are quite firm with a velvety soft coating that is quite nice. The texture would be great for beginners or advanced users I would imagine.

Material:

PU coated plastic

/

TPE

Material safety

Texture:

Velvety

Safety features:

Hypo-allergenic / Latex free / Phthalates free

Design / Shape / Size:

The Love Balls consist of two weighted balls connected by a cord. On the end of the cord is a loop for easy retrieval so you don't need to worry about digging around trying to find them when you're ready to take them out. The balls do have a seam running along the middle of them with a pretty noticeable ridge. There are also little rubbery pieces connecting the balls to the cord. I only slightly noticed while inserting them, but you definitely need to clean the ridges and rubbery pieces extra well.


The loop of the retrieval cord is connected by a hard plastic piece. Be careful of this plastic piece because it's pretty sharp!


The design of the Love Balls is nice, but I do wish there weren't so many ridges and edges to clean around. They can only be felt very very slightly when inserting or removing if you aren't gentle, but this is a little bit of a set back for me and I'm knocking off one star for this reason only.



The Love balls fit quite nicely inside of me, but I wish they weighed a little more. They are for beginners and the weight is very nice for someone just starting out with kegel exercises. I weighed these myself and the entire thing weighs approximately 1.6 ounces, but the listing says they weigh 0.2 pounds which comes out to 3.2 ounces. I just figured I should point out the difference that I found. The balls are 1 1/4 inches in diameter. The cord between the two balls is 2 inches long and the retrieval cord is 3 3/4 inches long.


The Love Balls are pretty discreet and small. They would be incredibly nice for travel because of the small size, you could fit them in an inner pocket in your purse or in your luggage with no problems.

Color:

Pink

Length:

8 1/2"

Insertable length:

6 1/2"

Circumference:

4"

Diameter:

1 1/4"

Weight:

1.5 oz

Performance:

The Love Balls are a fantastic weight for beginners! They're also very velvety and I love the way the balls rattle inside of you when you move. The rattling of the balls almost makes your muscles contract when you feel them move and it's a very nice feature. I love the velvety feel of the balls and how firm they are. The only downside is the construction. The rubbery pieces connecting the cord to the balls and the plastic piece holding the loop for the retrieval cord are the only downsides to the Love Balls, but they are nicely constructed for the price.

Special Features:

Beginners
Travel
Waterproof

Care and Maintenance:

After using your Love Balls you should always wash them with warm water and an antibacterial soap, or spray them with your favorite toy cleaner. Since the cord is made of TPE you cannot sterilize your love balls by boiling them in water. There are many ridges that need to be cleaned on the Love Balls so you should take extra time and carefully clean these ridges.

I store my Love Balls in a little satin pouch that I purchased but you could easily keep them in the clamshell package they come in.

PU coated plastic and TPE are both compatible with silicone based and water based lubes. Please do not use oil based lubes with your Love Balls or you'll damage the material.

Care and cleaning:

Soap and water

Packaging:

The packaging for the Love Balls is a clear plastic clamshell container. Inside the package is a piece of paper that tells you the name of the product and that they're "Perfectly Weighted for the Beginner, Easy-to-Use, and Velvety Soft." Since the plastic is pretty sturdy you could definitely use the packaging for a storage case, but I would use something nicer for gift giving. The packaging is not discreet at all since it's clear and says the name of the product.