Fleshlight Fleshlight Girls Jenna Haze mouth - Blow job imitator from Fleshlight

Product Details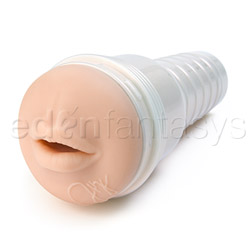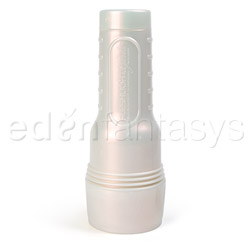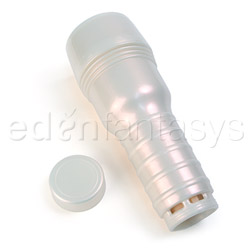 Summary:
Fleshlight continues to enhance their lineup with the Jenna Haze Mouth. The exterior is modeled after porn star Jenna Haze's own mouth. The interior is the unique Swallow texture which is a combination of textures intended to simulate a blowjob. The sleeve material is Superskin which is very soft, stretchy and realistic. Jenna's Mouth is always open and ready to please. Since there are no teeth and no body attached, you can throw caution to the wind and pound away to your heart's content. Enjoy!
Pros:
Soft and inviting material, awesome internal texture.
Cons:
Care and maintenance can be difficult, disembodied mouth may be disconcerting.
Best use:
What? You've never heard of a Fleshlight before? Well, it's only the #1 selling male sex toy in the world, that's all. What puts them on top? In a word, innovation. They are always updating and enhancing their products so that those of us that can't get enough are constantly being tempted to buy the newest interior or exterior from their latest porn star models. Now, you are probably thinking that there can only be so many ways that a male masturbation sleeve can be enhanced. Well, I used to think that as well, but Fleshlight has proven me wrong time and time again.

The Jenna Haze Mouth is part of the Fleshlight Girls line all of which are molded from the body parts of actual porn stars, in this case, Jenna Haze's mouth. The exterior lips are actually molded from Jenna's mouth in a slightly open position. It also has Jenna's signature molded into the surface. You just slide your lubed cock past the open lips and pound away without any worry about choking or discomfort on her part and there are no teeth to worry about on your end either.
Material / Texture:

As with every Fleshlight, the Jenna Haze Mouth is molded using Fleshlight's patented material, SuperSkin. The actual composition of Superskin is pretty mysterious, but it has been formulated to simulate a realistic skin like texture and resistance. From the Fleshlight website, we know it isn't just latex, plastic, or silicone but it is probably some blend of those materials. It doesn't have any phthalates, so if that is a concern, consider yourself safe.

Now the entire Fleshlight is not made of Superskin, just the sleeve. Fleshlight houses the Superskin sleeve in a plastic case that resembles a large flashlight, hence the name.
The Jenna Haze Mouth and the Stoya Mouth introduce the unique "swallow" internal texture. It starts with about an inch of straight canal, then four inches of Fleshlight's Super Ribbed texture, then one circle of large bumps to represent the back of the throat, and finally finishes with a tight straight canal. All of this texture adds up to one awesome Fleshlight experience.

Material:

Superskin®

Material safety

Safety features:

Latex free / Phthalates free

Texture:

Nubbed / Ribbed / Velvety

Shape / Design / Size / Fit:

The exterior shape of the Jenna Haze Mouth is essentially just like any other Fleshlight. There is a removable cap at both ends for storage. The smaller end is meant to stay on during use and is threaded so it can be used to adjust the Fleshlight's suction. The entry opening for the Jenna Haze Mouth is of a good size and is stretchy enough that any guy should be able to get inside without much issue. All Fleshlights are long, so bottoming out shouldn't be a problem for any but the longest men. Deep throating is not a problem here, so if you have the length, enjoy the ride and rub your head across whatever textures feel the best.

Color:

Beige / Pearl white

Length:

10"

Fits up to:

2"

Vaginal depth:

7 3/4"

Weight:

1.5 lb

Functions / Performance / Controls:

Special Features:

Hypoallergenic
Internal nubs and ribs
Pornstar mold
Realistic design

Care and Maintenance:

Any one familiar with Fleshlights knows that care and maintenance are tricky. Superskin is very porous, so soap is not supposed to be used to clean the Fleshlight. Only water based lubes are safe for use with Fleshlights as other lubes may damage the material and usually require soap to remove. They include a sample of Fleshlube which is a water based lube suitable for use with any Fleshlight.

After rinsing the Fleshlight sleeve, allow it to dry adequately (with both caps off) prior to storage or you may begin to get mold growing on it. Isopropyl (rubbing) alcohol can be used to remove the mold or for a deeper cleaning. If the material ever gets sticky, corn starch can be applied to restore the sleeve to its original feel.

As with all porous materials, Fleshlight sleeves should not be shared with any one you are not fluid bonded with, and if you are fluid bonded with another guy, the Fleshjack line might be more up your alley. Suffice it to say that you shouldn't let your friends borrow your Jenna Haze Mouth and don't look for a used one online at a discount (ewww).

Packaging:

The Jenna Haze Mouth packaging is similar to other Fleshlight Girls products. It come in an attractive tin which, in addition to the Fleshlight, houses the sample of Fleshlube and a postcard of Jenna Haze as well as a brochure with care and use instructions. There is a removable sticker on the outside of the tin that gives some product details.

The tin is definitely suitable for storage if you don't mind the extra space it takes up. It appears as though Fleshlight may have stopped shipping their products with the plastic tube inside the sleeve, but it is best to make sure your access is unrestricted with a finger before sending in the whole army.

Experience:

Fleshlight never ceases to amaze me. Who ever is coming up with all these new interiors deserves a raise. I guess if you aren't building a planned obsolescence into your products you have to continue to introduce new ones or else consumers will stop buying. The swallow texture is a blend of their normal, ultra tight, and super ribbed textures with a bit of speed bump thrown in for good measure. All that texture adds up to a truly unique and thrilling masturbatory experience.

My only problem with the Jenna Haze Mouth is probably psychological. For some reason, I have very little problem with a disembodied pussy or ass hole, but a disembodied mouth just seems a little more odd to me. It's nothing I couldn't get past and enjoy the ride, but it may not be the first Fleshlight I reach for just because of that. As for whether Jenna spits or swallows, I guess it all depends on how you clean out her mouth sleeve.