Big Teaze Toys Man Eaters - Masturbator from Big Teaze Toys

Product Details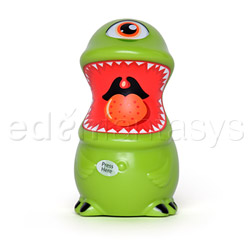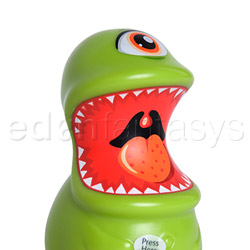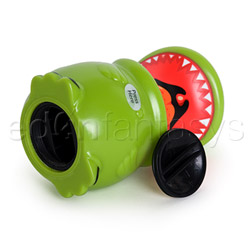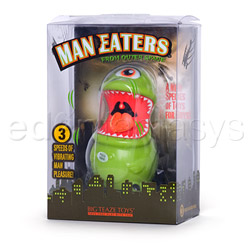 Summary:
The Man Eater is a unique new product with a revolutionary design - and is beautifully packaged and marketed. While some men might prefer more traditional masturbation sleeves, those willing to experiment might find this product is exactly what they wanted to add to their collection; or even find it becoming their "go to" toy when they want some quick, casual please.
Pros:
A very cool looking toy with an innovative and effective design.
Cons:
This is a different type of toy, and some men might prefer more traditional sleeves.
Best use:
Promising sensual thrills that are truly "out of this world", the Man Eaters is a new generation of sex toys for men; eschewing the traditional sleeve format of male masturbators and instead arriving in the form of rigid plastic vibrator. It's a totally new and revolutionary idea and surprisingly effective.

The Man Eater resembles a giant alien with a gaping red maw. The open mouth is perfectly shaped to rub up and down your erection, or press against your glans - transmitting vibrations throughout. The alien's tubby tummy contains a hidden switch that adjusts the vibrations from mild to massive - and that's about the limit of the technology involved.

Because there's no sleeve involved, many men might be wary of this masturbatory machine - but it actually works very well at coaxing a rock-hard erection and slowly, painstakingly, tipping you over the edge to orgasm. All you have to do is press the open mouth against your cock and adjust the speed and position depending on what feels best.
Material / Texture:

The Man Eater is made from a rigid plastic, with a slightly pliable tummy that houses the on/off/speed switch. A bottle stopper at the bottom accesses the battery compartment. Because it's rigid, the Man Eater has no smell and a smooth texture - with the most striking thing about it being the bright green and red design that makes the toy resemble an alien beastie hungry for your sperm.

Material:

Phthalate Free PVC

Material safety

Safety features:

Latex free / Phthalates free

Texture:

Smooth

Shape / Design / Size / Fit:

The benefit of the Man Eater is that the open mouth design fits you whether you're hung like a horse or on the smaller side. The design and coloring makes it resemble a toy - so much so that you could probably leave it on the coffee table and 99% of the population would have no idea what the toy was intended for. As a result of that, it's perfect for traveling with - just sling it in your bag when you leave and even TSA agents will probably think it's just some weird, sci-fi collectable.

Color:

Green

Length:

6 1/2"

Fits up to:

2"

Circumference:

8 1/4"

Width:

2 1/2"

Height:

6 1/2"

Weight:

8 oz

Functions / Performance / Controls:

Simplicity is the name of the game here. The Man Eater has a hidden switch in its pliable tummy, which you hit once to turn on, twice more to cycle through the speed settings and one last time to switch off. The battery compartment is accessed at the bottom. You unscrew it, making me suspect that the toy is waterproof (at least enough to use safely in the shower.) Putting the batteries in was a bit of a palaver - but that might be simply because I'm dim, rather than a design flaw.

Functions:

Vibrating

Special Features:

Powered By:

Aa-2

Control type:

Push button

Care and Maintenance:

Like all good pets, the Man Eater requires very little care and maintenance. Unlike a sleeve, you don't need to wash it out after each use - you can simply wipe it clean with a wet wipe or damp cloth. As far as lube goes, the experience is definitely helped by a smidge of lotion or water-based gel. Because the toy is plastic, I'd avoid silicone lube or mineral oil, but other substances work fine.

Care and maintenance is probably the Man Eater's biggest plus - because it literally takes seconds to clean up (rather than 10 minutes, like with a Fleshlight.) That makes it perfect for casual use, and much easier to manage than more traditional male toys.

Packaging:

The Man Eater comes in an awesome clear plastic box decorated with 50s-inspired sci-fi artwork. The toy itself is proudly on display, and looks like a comic-store collectible rather than a sex toy. Just keep it out of reach of curious kids. The Man Eater looks so much like a toy that they're likely to unpack it and play with it oblivious to the intended purpose.

Personal comments:

It took me about half an hour to put the batteries in. This mostly indicates my lack of brains - but might also suggest that they need better instructions (or smarter customers.)

Experience:

I've often pressed a vibe against the head of my cock when masturbating, and like that feeling and technique. Those who are used to sleeves - or their own right hand - might find the whole experience a little slow and frustrating. The vibrations painstakingly and slowly ratchet up the pleasure until you detonate; and while the resultant orgasm is incredibly intense, might not be a process some men have the patience for.