Naughty Little Martian Muncher
This is one of the cutest male toys around. While it does offer vibrations and is a hilarious visual aid, you may need additional stimulation to reach an orgasm.
Published:
Pros:
Adorable, 3 speeds of vibrations
Cons:
No suction or tightness
The Man Eaters Masturbator by Big Tease Toys is a naughty little fellow. He has had me running around for days. For such a little fellow he sure does cause a lot of mischief. I had to have him as soon as I saw his picture on here.
He stands 6 1/2" tall and has a diameter of 2 1/2". He is made to accomodate a penis size of 2" in diameter. You simple lay the penis in his mouth and push his belly button to get 3 speeds of vibration: Low, Medium and High. The vibrations are nice and not too buzzy.
When he arrived, he came in a cheap plastic see-thru case, but he doesn't look like a sex toy. Enclosed in the package is him, a small instruction booklet and a pamphlet of other Big Tease Toys products. As soon as I opened the package he ran off. I searched high and low for him and was shocked to find him sitting on the banister outside soaking up some rays.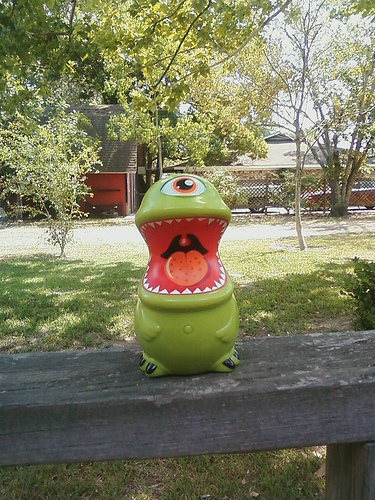 I rushed him back inside so that I could put 2-AA batteries in the compartment located on the bottom of the base. He has a screw on battery cover to keep him waterproof for use in the shower. You can use a coin to unscrew this cap and to tighten it back up. I guess playing with his bottom really got him riled up because as soon as I turned around again, he was gone.
I searched and searched before finally hearing my dog raising a ruckus in the living room. I was startled to see him taunting my poor dog and vibrating on his highest speed.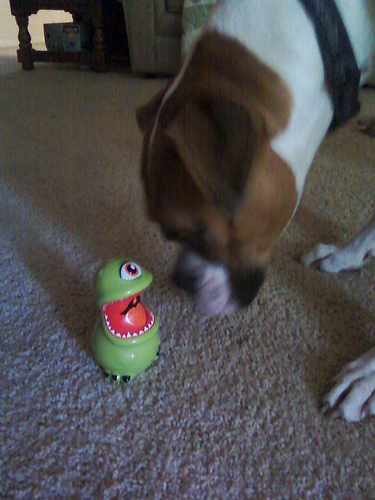 I snatched him up and took him to the bathroom to give him a bath with a warm soapy washrag before towel drying him. He is really easy to bathe and he can live just about anywhere without fear of things sticking to him and hurting him because he is rubber.
Once the Mr got home, I grabbed some lube and rubbed it all over his penis before turning this little guy on. His mouth is always wide open so it is easy to slide him up and down the shaft. My husband liked him best on medium because the vibrations weren't too subtle or too strong that way. While he did add a new twist to things a little extra work on my part was required to achieve an orgasm, but hey I'm a team player so why not?
After giving him another quick bath and taking the batteries out, I put him back in his plastic container so that he could get some rest. Imagine my surprise the next morning when I woke up to find that he was gone again. I walked into my bathroom to find him trying to pick up my favorite dildo David Anthony...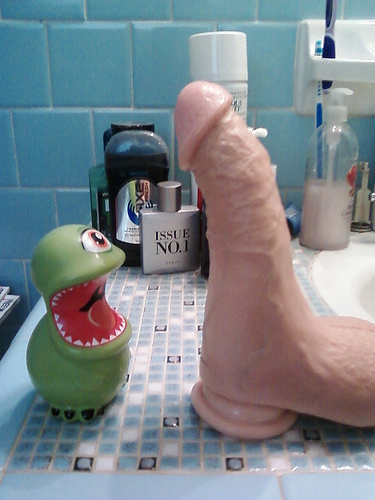 Me and this little man are going to have some issues....
This product was provided at a discounted price in exchange for an unbiased review. This review is in compliance with the FTC guidelines.

Thank you for viewing
Man Eaters
– hands free masturbator review page!