Evolved Anal lube medium density - Lubricant from Evolved

Product Details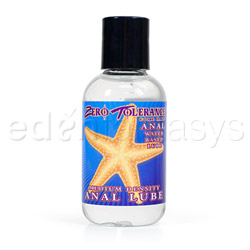 Summary:
Looking for a great anal lube? Why not try Anal Lube? The use is in the name! This is a water-based lube that has the silky, long lasting feel of a silicone lube. It's easy to clean up, easy to store, and doesn't stain. It's also odor free and comes in a leak free bottle.
Pros:
Slick, not sticky, feels like silicone, no smell, great for anal.
Cons:
Non-discreet bottle, no flavor.
Best use:
This is water-based lube that feels like silicone lube. As the name implies, it's great lube for anal sex or using toys anally. It's also great for any kind of vaginal penetration as well. I can't find anything concerning with this product, but it does contain glycerin, which some people aren't fond of.

This lube washes off well, and so far hasn't stained anything it's been dripped on.
Texture / Consistency / Thickness / Viscosity:

This is a medium density lube. It's not too thick, and it's not too watery. It's a nice, happy medium. It's got a nice silky feel to it too, much like a silicone-based lube would. Usually with water-based lubes, they soak into the skin fairly quickly. I poured this onto my hand and was able to rub it in for quite a while without it absorbing at all.

It's pretty slippery, and not very sticky or tacky. It comes out of the bottle easily, and slowly too, so you don't have to worry about any unwanted messes unless you really give the bottle a squeeze.

When I poured it on my hand, the little bubble of lube stayed in place pretty well until I spread it out with my fingers. I could turn my hand over and it wasn't extremely drippy.






Base:

Water

Ingredients:

Glycerin, Purified Water (Aqua), Sodium Carboxymethyl Cellulose, Propyl Paraben, Methyl Paraben

Color:

Clear

Taste / Aroma:

This lube has no smell at all. It's like sniffing a glass of water.

It's not meant to be a flavored lube, so I don't recommend tasting it. I did lick it, and it tastes horrible. I strongly suggest not eating this.

Performance:

I'm very pleased with the performance of this lube. When I read that it said 'feels like silicone', I was a little skeptical. However, after feeling it and using it, I can tell you the package is right. It's not sticky or unpleasant at all, which I've had a hard time finding in lube. My husband and I used this anally and didn't have to stop and reapply more lube. It stayed nice and wet the entire time. It does eventually absorb into your skin, but it's not extremely fast absorption like some water-based lube I've tried.

If you have marathon sex, though, this may have to be reapplied. It lasted for me in a shorter session of about 15-25 minutes.

It also washes off easily. Just use a wipe, or a washcloth with warm water and soap, and it cleans right off. You can also jump into the shower. I didn't have any problems with it, and it hasn't stained anything yet either.

Safety features:

Glycerin free / L-Arginine free

Special features:

Packaging:

This comes in a small, clear bottle with a black snapping cap. The bottle only holds 2 fluid ounces, though there is a bigger version that holds 4 fluid ounces. The top can be easily opened with one hand and so far is not leaky. I've had the bottle on its side, upside-down, and all over the place. So far it's been leak free.

The bottle has "Anal Lube" written in fairly large letters across the front, with a picture of a starfish in the background.

The side has some information about the lube, ingredients, and a warning to go to a doctor if any redness or irritation occurs.