BioFilm Astroglide X silicone lubricant - Lubricant from BioFilm

Product Details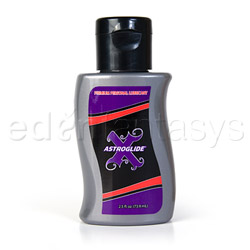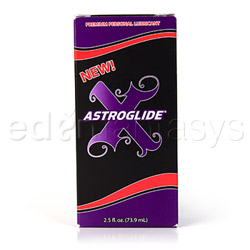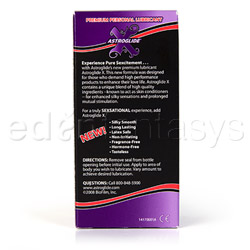 Summary:
This is a multi-purpose product. I recommend it for everyone from first timers trying anal to those men who want a more satisfying masturbation experience. It is amazing.
Pros:
Smooth, long lasting.
Best use:
This product was great! It will work for everyone no matter what orientation or need. I used it with my vibrator, I used it for a hand job, we used it for both vaginal and anal sex. Really, the only difference my partner and I noticed was that it seemed to be almost warming. We re-read the box after our experimenting to see if we missed that part. It didn't really warm my vibrator but it wasn't cold. Definitely a pleasant effect.
Texture / Consistency / Thickness / Viscosity:

I prefer Astroglide X to any other lubricant because of its physical properties. It is smooth and not messy. I put some on my hand and rubbed it in to see what type of clean up we would need. It felt rather greasy but it's actually quite smooth and rubs in almost completely. I washed my hands because of the slight greasy residue. It pours well and is pretty manageable. The best part about it is that there is NO stickiness. With most lubricants, there is an uncomfortable stick after it wears off and may need to be reapplied. This was smooth and almost left no trace it had been used. A little bit of greasy residue but extremely easily to clean up and didn't seem to leave a mark on the sheets. It made a hand job seem like my hands were as soft as they can get; my partner was very pleased.

Base:

Silicone

Ingredients:

Cyclomethicone, Cyclopentasiloxane

Color:

Clear

Taste / Aroma:

There is no scent at all. I did not taste it and do not recommend it as this is for sex, not kissable or flavored lube.

Performance:

My boyfriend says you can get an elephant into a refrigerator with this stuff. As far as I am concerned it is the best product made. It does not need to be reapplied if you use enough to start with and lasts for the duration of your session; however, you will definitely need to use more if you applied it for vaginal sex and are switching to anal. Soap and water removes what little residue there is and really the only downfall is the slightly greasy feel.

Packaging:

The product comes in a small black box labeled very clearly Astroglide X. The back of the box has vague instructions, "apply desired amount to body part". No instructions are really needed though. The bottle itself has a no mess cap and you can put the bottle back in the box if you wanted to.

Special Features:

As far as I know, there are no advertised special effects. My partner and I thought it had a warming sensation which was very nice.

Personal comments:

I have bought Astroglide in the past and consider it a great product. I didn't think it could be improved but Astroglide X did the trick. I love it.

Experience:

My partner and I loved it. I tried it with my vibrator and on him to aid in a hand job and for both vaginal and anal sex. Worked like a charm.