Sliquid LLC Ride H2O lubricant - Lubricant from Sliquid LLC

Product Details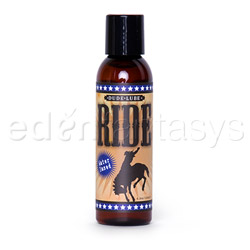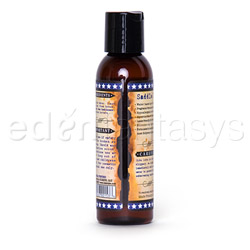 Summary:
Ride H2O may be the best water based lubricant in Sliquid's arsenal. It uses the same effective ingredients as other Sliquid water based lubes, but the formula is thicker and seems to last longer. There is neither glycerin nor parabens in the ingredient list, which makes it one of the safest water based lubes on the market. It is vegan friendly, and safe to use with condoms and silicone toys. The thick formula may not be what some people are looking for, but it works great for anal sex.
Pros:
Water based, thick, glycerin free, paraben free, long lasting.
Cons:
Not good in the shower.
Best use:
Ahhh, the joys of water based lubricant. There are so many different ways to use it. For most people, their 'go to' lubes are water based because of their safety and versatility. There is generally no problem with using them vaginally (unless one is prone to yeast infections or has allergies to the ingredients). They are also generally condom safe and can be used with any toy. They don't do well in wet environs (tubs and showers) because they just wash away. Ride H2O by Sliquid is no exception to these water based 'rules'. In fact, it abides by them very well.

The ingredient list for Ride H2O lubricant is: purified water, plant cellulose, polyquat 007, and DMDM hydantoin. Notice the lack of glycerin and parabens. Glycerin can cause yeast infections in some women, and parabens can be a source of irritation for those with allergies to it. Avoiding these ingredients makes the product safe to use for a wider variety of people.

Some of you may be wondering about polyquat 007, and other than being the ingredient of choice for James Bond, it seems that this is an additive that is used to improve the slickness of the lubricant (another reason James Bond likes it so much). Possibly the most questionable ingredient is DMDM hydantoin which Sliquid includes as a preservative. DMDM hydantoin can cause skin irritation in some people, so discontinue use if this is your experience. Since plant cellulose is used, it makes this lube acceptable for vegan consumption if that is a concern. This list of ingredients is really excellent when compared with many other water based lubricants that are available on the market.
Texture / Consistency / Thickness / Viscosity:

Ride H2O is a special formula of Sliquid ingredients that is designed to be thick. Sliquid makes a Sassy Booty Formula that is supposed to be thick as well, but Ride H2O seems thicker. This thickness means that it doesn't emulate the body's natural lubrication all that well, but it makes Ride H2O well suited for anal activities. It stays where you put it and seems to last quite a while. In terms of slickness, this is probably the most important attribute of a lubricant, and Ride H2O has it down pat. It reduces friction no matter what the activity.

Base:

Water

Ingredients:

Purified Water, Plant Cellulose, Polyquat 007, DMDM Hydantoin

Color:

Clear

Taste / Aroma:

There really isn't a lot to say about Ride H2O in the taste and odor category. It has no added flavors or sweeteners of any kind. The taste and aroma are inherent to the ingredients with nothing to mask or hide a bad taste or odor. Ride H2O has essentially no odor and very little taste. It definitely does not have a bad flavor like some other non-flavored lubricants.

Performance:

Ride H2O works very well. It doesn't require much to get the process started and it lasts quite a while. Some of it seems to go from clear to white as it is being used, but it isn't really distracting or problematic. It was not necessary to reapply the lubricant too frequently. Also, the bottle says to re-activate simply re-apply or add water. It is probably easiest to just re-apply as one would with any lube, but if a little water is readily available it can be sprinkled on the already lubed area and the slickness will return. Too much water will wash the lube away, but a little bit seems to work. It works either solo or with a partner, it works for vaginal or anal sex, and it works with toys both internally and externally. Ride H2O is a good all around lubricant that performs very well.

Safety features:

Glycerin free / Hypoallergenic / L-Arginine free / Paraben free

Special features:

Packaging:

The Ride H2O packaging is relatively simple. It has the regular flip top that is very common in lubricants and lotion bottles. A pump dispenser would make one-handed delivery in the heat of the moment a better option, but the bottle is of standard functionality. The bottle is prominently decorated with a lizard. Something has to fill space on the bottle, might as well be a lizard, right? At least that's what Geico keeps trying to tell everyone.

Experience:

My luck with water based lubricants lately has not been that good. I won't go into too much detail here, but I have tried a couple of new ones recently and haven't been very impressed. I wasn't all that enthusiastic about trying out Ride H2O, because one of the two I had disliked had exactly the same ingredient list. I set all that aside and gave Ride H2O a go. I was very surprised about some of the attributes of Ride H2O. I enjoy the thickness of the lube very much as it seems to last longer than some of the others. In my experience it does not last as long as Maximus, but the Ride H2O ingredient list is more body friendly than Maximus', so a little re-activation or re-application is worth it. I may have found my new favorite water based lubricant!