Neo vibe - g-spot vibrator by Toy's heart - reviews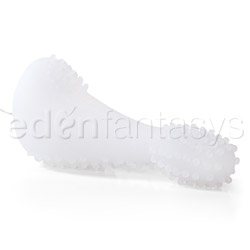 Neo vibe
G-spot rabbit vibrator by Toy's heart
Please, let me know via email when the new review on this product is available.
Neo vibe reviews
I felt sorry for this little toy because all it had was 3 stars and one review. Unfortunately I can't give it any better credit. The Neo Vibe has nothing going for it. When I first opened the box, all I could think was that I had requested an assignment to screw some freaky sea creature from 20,000 Leagues Under the Sea. I was hopeful its performance would erase that thought. The Neo Vibe failed to perform in its intended use.
This toy was my first big disappointment in the land of sex toys. I must have lucked out because so far everything I have selected on my own and as a contributor on EF.com has been great! So, I will hope that I am doing you all a favor by saying that this one doesn't have a good rep. I'm sorry, manufacturers, but you need to rethink this one because your consumers are discerning folk who don't need to waste their hard earned money.
Low quality and poor design get in the way of this being an enjoyable toy. The little nubs really are quite stimulating, the power is good, but it just can't make up for the curved spine that spins willy-nilly, the noise level to rival a Hitachi, a super cheap looking battery pack, and an open hole to collect moisture inside of the motors. This toy is poorly made in every way beside material.