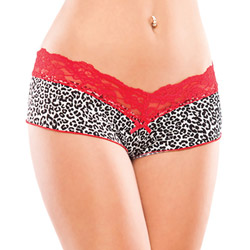 Leopard booty short
Shorts
by Coquette
Need more opinions?
Please, let me know via email when the new review on this product is available.
Leopard booty short reviews
They are soft, stretchy and comfortable (made of cotton and lace). So, put it on your wish list because I think these are a must buy... I found them to be great for regular wear or for sex games. I think these should be on anyone's list, holiday or not.
The Holiday Booty Short by Coquette is cute but it just didn't work for me. The waistband is not elastic. The lace waistband is fairly lengthy so it rolled a bit as I moved around. The bottom front rolls as well. I have, what I would consider, a fairly large bum. With the "V" dip at the centre back, I really had to give myself an intense wedgie so that the top back of the panty covered my bum crack. Important: The XL panty is actually OS/XL. I explain the differences in my review.
Cotton was also one of the fabrics used so I was almost certain that these would be soft. I'm not a huge fan of wearing red except on Christmas and Valentines day but I wanted to try something new and I ended up liking them. I tried them on for the review photo and left them on because I forgot about them because they were so comfortable and very lightweight.