Coquette does it again! (XL)
Cotton was also one of the fabrics used so I was almost certain that these would be soft. I'm not a huge fan of wearing red except on Christmas and Valentines day but I wanted to try something new and I ended up liking them. I tried them on for the review photo and left them on because I forgot about them because they were so comfortable and very lightweight.
Published:
Pros:
Comfortable, nice leopard print, Alluring
Cons:
No actual crotch lining
I bought 5 pairs of the new holiday panties and these are my favorite out of all 5 because these fit exactly like one of those pairs of panties that are in our drawer, and look like crap but feel like a million bucks. Ladies, you know what I'm talking about. The only difference is that these panties look sexy AND feel sexy! Yes, we can have it both with these sexy Holiday booty shorts. One reason is that these panties are cotton.
These Holiday booty shorts in size XL arrived in a small, clear, plastic bag. They had a card attached to the panty with a small safety pin.
It displayed photos of the booty short panty on a topless model and stated the size.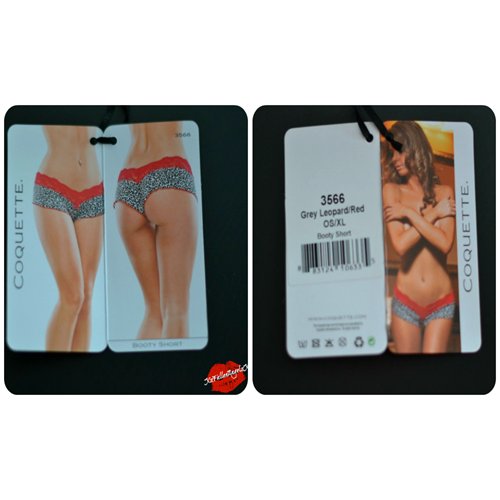 These have a deep "V" cut look, while wearing. They really show off the cheeks and give meaning to the word cheeky.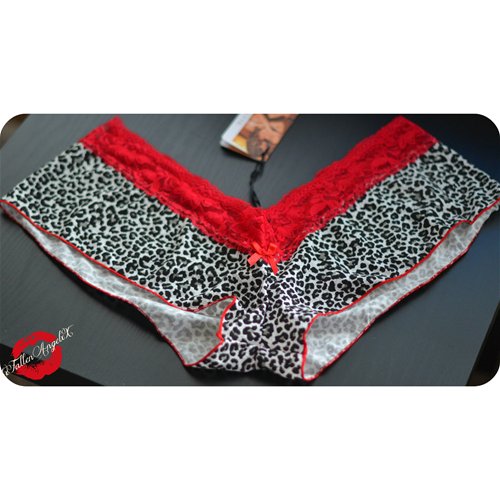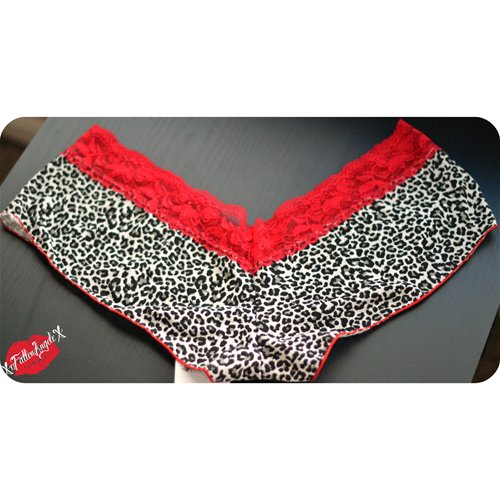 Sizing
Per Coquette's size chart, these fit true to size. I have compared these with the other Coquette panties and these fit within the same size for my waist, hips and legs.
My sizes are:
Breast/Bra Size- 38F
Waist- 37.5"
Hips- 42"
Height- 5'2"
Torso length from collar bone to top of pubic bone- 25"
Coquette size chart:
Cup Bust (in) Waist (in) Hip (in)
Small 4 - 6 B 34 - 36 26 - 28 36 - 38
Sm/Med 6 - 10 B 34 - 38 26 - 30 36 - 40
Medium 8 - 10 B 36 - 38 26 - 30 38 - 40
Med/Lg 10 - 12 C 36 - 40 28 - 32 38 - 42
Large 14 - 12 C 38 - 40 30 - 32 40 - 42
X Lg. 14 - 16 D 42 - 44 34 - 36 44 - 46
O/S 4 - 14 B 34 - 40 26 - 32 36 - 42
1X/2X 18 - 22 D 46 - 50 38 - 42 46 - 52
3X/4X 24 - 28 D 52 - 56 44 - 48 54 - 58
Q/OS 18 - 26 D 46 - 54 38 - 46 48 - 56
Material
These panties are made from 50% cotton and 50% polyester.
The body of the panties are a soft cotton feel. Absolutely soft to say the least. The lace isn't far behind. I wore these for an extended amount and I had no problems with itching, digging in, or other irritations except the lace on the top wanting to roll down a bit. I believe this was caused by my wider hips. The back portion doesn't provide a ton of coverage but even with that issue, I was still able to put on a pair of PJ's and they felt fine under them. They didn't ride up and they still felt comfortable.
Even though this part didn't bother me, it may bother you. The panty doesn't have a lining. The raw seams are exposed and the criss cross seam seemed to hit right at my crotch area. Surprisingly, it did not bug me. After all of the work that went into these, it would have been nice for them to add in a cotton crotch lining. Even if it was just a small one. Some women may become irritated by the seams.
As you can see below, it is directly where the crotch area is.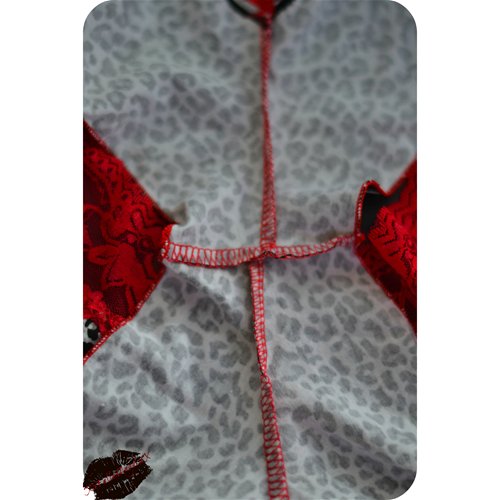 These booty shorts (panties) are multi colored. The colors include: Grey, leopard print, red, and black.
The lace is red and the small trim running along the leg openings are also red. The thread used on the inside is also red.
Everything on this booty short is stretchy. From the lace, the trim, to the leg openings.
There is one small, red satin bow directly in the middle on the front of the panties. The bow is made from 1/8" ribbon and is a little over 1" in width.
The leopard fabric is not sheer in the least. The only sheer part on the panty is the lace.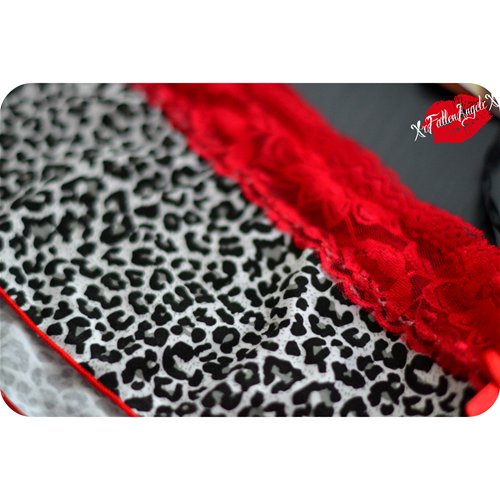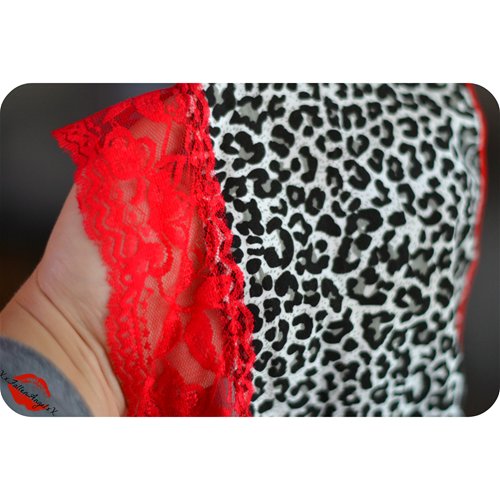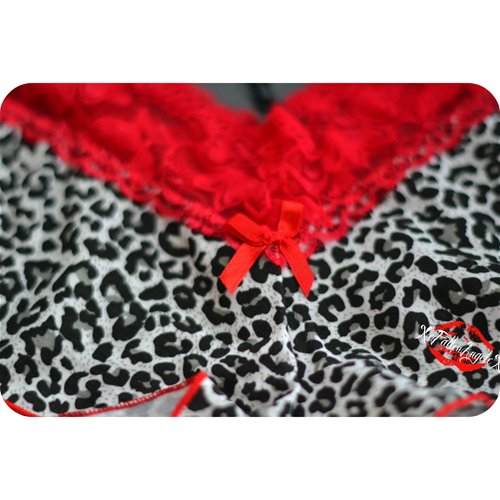 Measurements
Waist measured across unstretched: 18"
Waist measured across stretched: 22"
Top front to top back unstretched: 15.5"
Top front to top back stretched: 18"
Satin Bow Size: Bow was made using 1/8" ribbon and bow is a little over 1"
Side panel(Hip) Measurements from top to bottom: 6.5"
Leg opening unstretched: 14"
Leg opening stretched: 8"
Length of total crotch area: 5"
Crotch Width at middle: 3"
These booty/boy short panties stretch both vertically and horizontally.
Experience
I ordered the Extra large size (XL) to fit my wider hips and fuller behind. These fit my behind but were a little snug. I knew this would be the case as usual so I wasn't surprised. I tried to take a photo by myself but it turned out a little blurry. I added a picture below to try and give you an idea of how they fit on wider bottoms. They sort of fit like my bathing suit, but just a little smaller. I don't usually post revealing photos of my behind but these were sort of like me wearing my bathing suit, so I figured it would be alright to do so.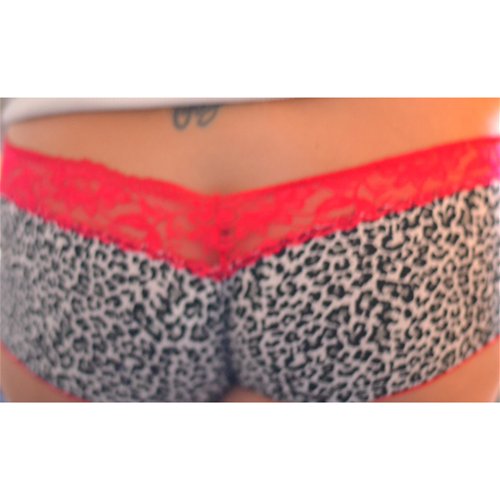 I know that g-strings and thongs are cute and super sexy at the right time but with winter coming, I like to look into lingerie and panties that give a little more coverage and warmth. I do not need my tail freezing off while trying to be cute. This holiday line from Coquette seems to be great for the fall and winter.
I like having these panties for the fit and the print. I'm not into leopard as much as I used to be but these work for me because of the contrasting red fabrics. These together make for an interesting ensemble.
If you are bothered by the seam near the crotch area, you could add something in between or you could sew in a cotton lining. I have a sewing machine and I sew by hand as well so I am thinking about adding this on my list of things to sew.
These panties would actually match this other holiday set perfectly found here [https://www.edenfantasys.com/sexy-lingerie/babydolls-and-chemises/holiday-leopard-babydoll-and-panty]
By the way it looks, it seems to be the same exact material. I'm looking into buying that next, once a review goes up.
I have added a photo of the inside of the panty just in case anyone wanted to see the seams and threads. These appear to be well made and they look like a commercial serger or an overlock sewing machine was used to sew these. When a serger is used, the seams hold up better and longer. Thus making the money you spent on these, worth it.
These panties are smooth and can't be seen under the tightest of pants. I put on my pj's which are similar to leggings and they looked like I was wearing a normal cotton panty.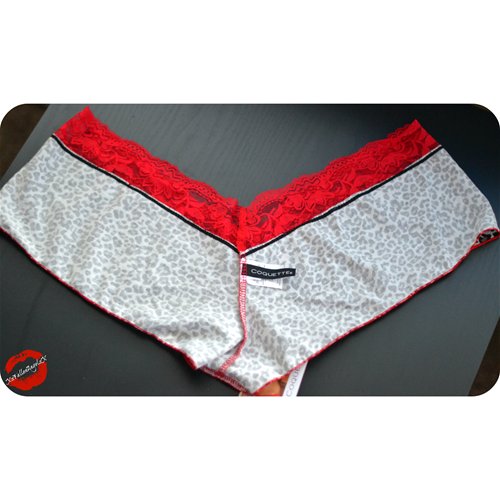 Care
The care tag inside the back of the panty states to hand wash and hang to dry. I only washed by hand with Woolite and I hung them in my bathroom on the shower rod to dry. When I squeezed the water out, I was careful not to twist or tug on them because I didn't want these to become misshapen or stretched out because they have cotton as one of the materials. I would imagine that if these do get to be out of shape, I would toss in the dryer on a cool air cycle with a few other panties just enough to get it dried up a bit.
These will work for both genders and will provide sufficient support for either sexes.
Follow-up commentary
27 days after original review
These are an all around great pair of panties! I wear them under my clothes, to sleep in and to play in. They are wonderful and I really like them. I wear them often.
This content is the opinion of the submitting contributor and is not endorsed by EdenFantasys.com

Thank you for viewing
Leopard booty short
– sexy panties review page!