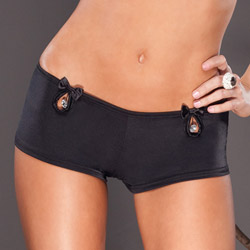 Lycra booty short with rhinestones
Shorts
by Coquette
Need more opinions?
Please, let me know via email when the new review on this product is available.
Lycra booty short with rhinestones reviews
Honestly? These booty shorts are nothing special. The quality is absolutely terrible, as the rhinestone detailing fell off almost immediately, and there were tons of loose threads everywhere on these. Also, the material feels kind of gross. On the plus side, though, they are really stretchy. Still, I can't recommend these with a good conscience.
These are cute from a distance, bad quality up close. I'm simply not impressed by the quality, and especially for the price -- not when my huge stash of $3 panties are far better quality and have a better fit. However, if you want something with style & glam just to sleep or walk around the house in, these aren't a bad choice. I feel they won't stand up to wear and tear, but they're not downright awful.
The Lycra Booty Short with Rhinestones by Coquette is cute. I love the keyhole cut outs, the little black bows, and the dangling rhinestones! Just be aware that the rhinestones are attached to the shorts with a single thread. You will need to sew a few more threads to make sure the rhinestones do not fall off and/or get lost.