Cute rhinestones, crappy quality.
These are cute from a distance, bad quality up close. I'm simply not impressed by the quality, and especially for the price -- not when my huge stash of $3 panties are far better quality and have a better fit. However, if you want something with style & glam just to sleep or walk around the house in, these aren't a bad choice. I feel they won't stand up to wear and tear, but they're not downright awful.
Published:
Pros:
Cute rhinestones.
Comfortable.
Perfect fit on my sister.
No digging in.
Cons:
Rhinestones hang by a thread.
Price for cheap material.
Loose butt = uncomfortable under jeans.
Design
The Lycra Booty Shorts are your basic, solid black booty short with two tear-drop cut outs at either hip, a silky black bow above the cut outs and a rhinestone with a silver bead dangling in the cut out.
These have a diamond shaped crotch-liner, as shown in my photo below. There are two tags located on the inside of the shorts -- one says "Coquette" and the other larger one has care instructions. They can be bothersome, and can also be cut out.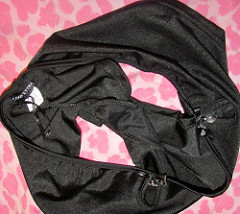 Keep in mind the rhinestones snag when you pull up your jeans, and I don't like wearing these with jeans, only under dresses/skirts because the loose legs roll up. However, if the legs are a tighter fit on you, they'll lie against your thighs and not roll up with your jeans.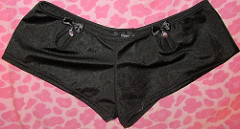 Above is the front, below is the back and the 3rd photo is up-close of the rhinestone/cutout detail.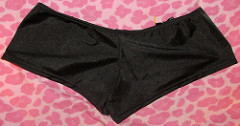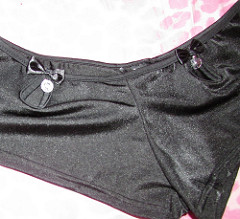 Panties' Measurements & Fit
*Back measurements are same as front*
Waist: 14"
Thigh: 10 1/2" wide
Length from middle of top to bottom of crotch: 6"
Length from top of hip to bottom of leg: little over 5"
Straight across crotch (from hip-hip): 15"
Crotch area is a little over 2" wide.
Cut out: 1 1/2" long & 1/8" of an inch wide, showing just a bit of skin.
Rhinestone: little smaller than a dime.
Bows measure 1" wide/across
According to the size chart, this OSFM will fit a size 4-14 and 26-32 waist and 36-42 hip. Let me warn you -- a size 14 would be pushing it! I highly doubt the OSFM will fit past a 6 and 8 or past a 35-37" hip at the very most. There isn't much room for stretching without the fabric acting like it will run -- like panty hose. So I would say they
may
fit up to a 7 comfortably, and that's still risky. Perhaps a size higher than 6 or 7 would feel safer going up a size.
These are a nice, but loose-ish fit for me. The butt cheeks were slightly baggy and didn't fully lay flat on my tiny butt cheeks. However, they fit my medium-sized twin sister very well! They really accentuate her curvy behind. The waist was perfect since it wasn't tight at all on either of us, and same goes for the legs. The size OSFM didn't dig in, but larger than a size 5-6 may find them tight. Thighs have a double hem, if that matters to you.
My Measurements
Jean/shorts/size: Zero
Weight: 93lbs
Height: 5 2"
Waist: 26" Lower waist. Where I'm a bit wider, the love handle area: 29"
Made in China.
My sister's measurements are approximately the same as mine, only she's a few inches thicker in the hip/butt area. Sorry, no exact measurements on her.
Packaging
These come packaged in a cellophane plastic bag. If you plan on gifting these, it's not a bad idea to remove the large tag showing a person wearing them and place them in something besides the bag. You can easily remove the tag since it's attached via a black ribbon and safety pin.
Material & Care
80% Nylon, 20% Spandex, exclusive of trim (rhinestone and silky bows.)
Handwash only, hang to dry. On this item, I do recommend only handwashing because I fear they'd fall apart if put in the machine! The rhinestones are only hanging by a thread and a tiny knot. The silver bead above the rhinestone is also on that thread. Both the silver beads and the back of the rhinestones have silver wearing away -- these haven't even been washed yet. The cute silky bows are sewn on with loose and unfinished threads. Warning: Not a good idea to wash these with other items as all of my Coquette products have bled, turning the water black as night, so you wouldn't want to risk staining other colored items!
The material is light weight and the slinky feel comfortable, but the fabric looks and feels really cheap. Holding them in the light, I can see through them and the fabric feels like it'll run and tear easily, so that's a downside considering the price. Another downside would be that the trim running around the waist (same material as the shorts) isn't lined up properly in the back, and upon further inspection, there are loose threads on the inside. Where it was sewed on and meets the other end of the trim, it's sort of overlapped causing the longer trim to stick up. Not a huge deal and it's not noticeable from a distance, but this is a $12 pair of undies here and my $3 panties are much better quality, so a downside indeed.
Experience
I would say these are low-rise since I'm very short, and have a short crotch so most standard undies sag or ride high up on me. These fit perfectly. They lay about an inch above my bikini line and fall less than an inch above my butt cheeks, which means a lot of my other booty shorts leave more booty showing, but these are comfortable to wear to bed or around the home.

As for traveling, I see no reason you couldn't travel with these. They're no different really from your other under garments and only weigh 0.2 pounds, so it ain't like those rhinestones are going to weigh down your luggage.

Now for gifting, I'm on the fence. That's up to you. I'd gift them to sisters, but knowing the quality now, I'd just as soon go for a better pair.

Experience
Unfortunately, I can't help but feel like there's nothing these have going for them compared to your cheaper boyshort. Unless you just adore the cut outs and rhinestones, I wouldn't necessarily recommend them. They are high-maintenance considering the price and what they are. My other panties all are perfectly capable of withstanding my washing machine, but these aren't even going to withstand much wear! For wearing to sleep in and around the house, they're good, but they don't quite measure up to my other, spandexy neon colored boyshorts. Also, I'm a little disappointed that the leg rolls up under my jeans. So adding everything up (the bad sewing job, the fall-apart-any-second rhinestones and really low-quality material, etc) make it extremely hard to give these any more than 2 stars and especially hard to recommend them. I didn't even love the fit! They don't hug to my little butt cheeks like my spandexy ones so comfortably do. However, my sister's thicker booty is perfect in these, so perhaps those of us with narrow hips and tiny cheeks aren't the best fit for these. My sister also found better quality boyshorts in her undie drawer, so it's likely most of you will.
This content is the opinion of the submitting contributor and is not endorsed by EdenFantasys.com

Thank you for viewing
Lycra booty short with rhinestones
– shorts review page!