Jopen Ego e4 - Prostate massager from Jopen

Product Details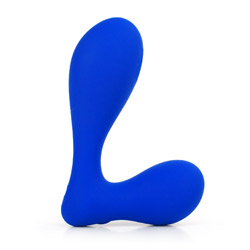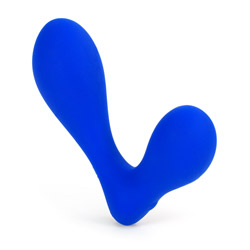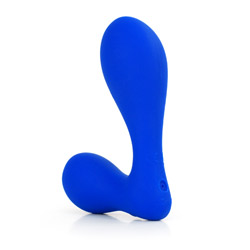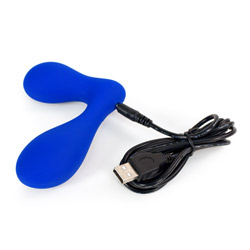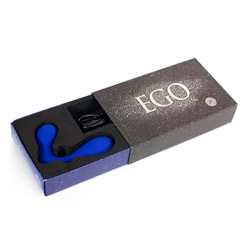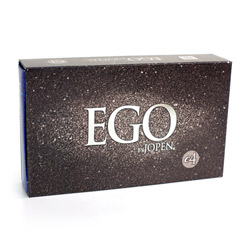 Summary:
The Ego E4 is a wonderful, waterproof, rechargeable prostate massager that will send shivers into your genitals. Its whole body vibrates, making it pleasurable no matter which end you use. It is powerful, but not so powerful that the average user won't be able to handle it. It will reach all the right places and provide the right sensations, while remaining mostly quiet. A battery indicator of how much life is left would be great in a rechargeable toy like this, but that is a minor annoyance.
Pros:
Rechargeable, waterproof, powerful, quiet.
Cons:
USB charger only, lack of a battery indicator.
Best use:
The Ego E4 prostate massager is a nifty little devil, designed to milk a man's prostate to send him over the edge. Personally, there are two methods that I liked. One - I inserted the E4 into myself and then just sat and rocked back and forth on it. It was really quite the intense orgasm. But my favorite way that I tried was using it during sex with the boy. I inserted the E4 into myself and turned it on. While he and I were fucking, I found that the slower I went in and out of my guy, the more I could really feel the vibration on the E4, and the faster I went, the more it jumped around inside me, making it quite the experience.

The E4 is clearly for men, since they are the only ones with prostates, but ladies - if you want to try it, go for it. The E4 is travel friendly, rechargeable, and waterproof, all of which I will go into more depth about further down.
Material / Texture:

The E4 is made of 100 % silicone. It has no odor when taking it out of the package, and it has a very appealing satin finish. The E4 is hypoallergenic and is non-porous. I personally like having silicone toys. They are extremely easy to clean because of the nature of which they repel dirt and bacteria. All you have to do is clean them with some warm water and a mild soap.

The E4 is quite firm, but soft. I have a glass dildo that is so hard that, when you insert it, it just pops inside without warning, but this gradually slides inside without causing pain, and giving you a more pleasurable pop as it goes inside. I would recommend this texture to anyone and everyone. I see no reason to say this material is too basic or too advanced, and the material's finish, I would say, adds an extra little bit of pleasure.

Make sure you only use water based lubricant.

Material:

Silicone

Material safety

Texture:

Smooth

Safety features:

Food-grade material / Hypo-allergenic / Latex free / Non-porous / Phthalates free

Design / Shape / Size:

I LOVED the design of the Ego E4. The bulbs on the end of either end of the E4 both were the perfect size for me and my preferences. I would say that I am between an average and an advanced anal user. If you are a complete beginner, this will still be extremely pleasurable for you, just warm up to the size before you just assume you can throw yourself on it. The whole thing vibrates, so every part of your body that the E4 touches will be on the receiving end of this little gem. It definitely sent shivers through me.

It is designed to be waterproof. It is. I used it in the shower, and I enjoyed it. There was no loss in vibration or sensation.

The E4 is also rechargeable. There is a required 3 hour charging once you open it, before you can use it. I do not know how long it actually lasts on that battery, but since I received it, about a week and a half ago, I have only charged it that one time and have used it about a half dozen times. I would like to see a battery life indicator somewhere on the E4 to let me know how much time I have left, because nothing would bum me out more than thinking that it's charged and ready for use, only to find it's dead and I'll have to wait a few hours.

There is a travel lock on the power button. If you triple click it, it either locks or unlocks the toy for use to keep it from turning on when you want it off.

The rechargeable aspect of this is interesting. It comes with only a USB cable to charge. If you have a modern day cell phone charger from the last few months, then more than likely this isn't a big issue, since you could use the adapter on that, but if you don't have one, you will need to plug it into your computer to charge it or get a wall charger for it.

Its dimensions are a little hard to describe, and my description would just confuse you, so please take a look at the dimensions on the product page.

Color:

Blue

Length:

3" / 4 1/2"

Insertable length:

1 1/2" / 3 1/2"

Circumference:

4 1/2" / 4"

Diameter:

1 1/2"

The set includes:

Massager
USB charging cord

Weight:

0.3 lb

Performance:

My favorite thing about this prostate massager is that its whole body vibrates, and really sends the pleasure everywhere inside you that it touches. The feeling of it inside, combined with the vibration it sends into you, creates the best orgasms I've had in a few years. The vibration was quiet and powerful.

The battery performance is great so far; I haven't had to recharge yet.

The vibration never faltered when using it in the shower or for a longer, extended period of time. I did not have to worry about it falling out if I wasn't holding it in place.

Control type:

Push button

Powered By:

Rechargeable / USB

Care and Maintenance:

Maintenance for the Ego E4 is quite easy. Just wash it in warm water with a mild soap to clean it off and help disinfect it. Silicone can usually be fully disinfected by placing in boiling water for 3 minutes. I would not suggest that in this case, with there being a battery and what not right inside the toy. I do not know for certain, and there were no warnings in the directions about this practice, but my common sense says do not boil something with a motor in it.

To store it, I just put it back in its packaging and place it in my drawer. This keeps the power cord together with the E4, while keeping it from coming into contact with other toys that may be harmful to it.

ONLY use WATER based lubricants.

Care and cleaning:

Soap and water

Other

Neck diameter:

1"

Special features:

Batteries included
Waterproof

Functions:

Multispeed