Zini Janus anti shock - Prostate massager from Zini

Product Details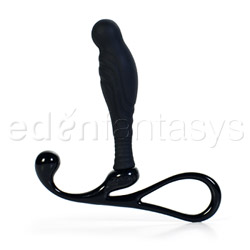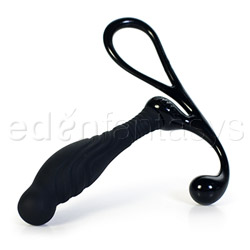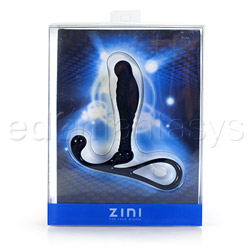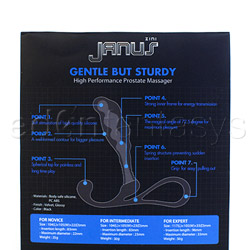 Summary:
This toy's small size makes it deceptive. It's very stimulating yet super easy to insert with virtually no warm-up required for all, except the most uptight anus. More experienced users will enjoy the comfort of this toy for long term wear and the amount of stimulation it provides for its small size. Overall a well deserving five stars.
Pros:
No warm-up required, stimulating, comfortable
Cons:
Handle prevents sitting, design makes it a little harder to clean
Best use:
The Janus Anti-Shock is made by Zini, one of the newest companies to enter the prostate massager market. Aneros and LB Trading Ltd have been around longer and have quite a few other prostate massagers already available.

In a lot of respects the Janus Anti-Shock has the same uses as all the other existing products. Unlike most other massagers though, the Janus Anti-Shock is available in three different sizes while still maintaining a very similar design. This review will focus on the smallest in the group which is labeled as being for "Novice". While this is a great group for this toy, those more experienced should not discount this toy due to its small size. Its small size makes it great for long term wear and no warm-up is needed before inserting. This makes it good for times where you can't or don't want to stop what you're doing to properly warm-up for a larger sized toy. For example, you're getting ready to have intercourse, give or receive oral sex, or something similar and you or your partner decide you want to include some anal stimulation but don't want to have to stop to warm-up. More experienced users will likely want something larger for times such as masturbation where anal stimulation is more the focus than an extra thing. Those just starting out may find this toy to be enough though and may also serve as a warm-up to larger toys as they progress. Its small size and material choices also make it a great choice for those travelling and as with almost all prostate massagers, it makes a great kegel exerciser because of the positive feedback loop created by the toy rubbing against the prostate.
Material / Texture:

The Janus Anti-Shock is made of plastic covered by silicone on all of the insertable portion. The silicone is a velvety black with a nice smooth feel to it. It does tend to attract lint quite a bit so keeping it in its packaging and washing before use are advisable. It does have a seam; although, it can barely be seen and cannot be felt by one's fingers. The silicone has no smell nor does it hold onto smells after cleaning with soap and water.

Material:

Silicone

Material safety

Texture:

Ribbed

Safety features:

Food-grade material / Hypo-allergenic / Latex free / Non-porous / Phthalates free

Design / Shape / Size:

The Janus Anti-Shock has an excellent design. The rounded ball at the top gives a little warm-up before the biggest part of the toy is inserted (which really isn't too big either). The rounded perineum tab is also a very good choice and something that is sorely missed on most Anero's massagers.

The design of this toy causes a bit of spring when the base hits something. The packaging also notes it helps prevent someone from inserting the toy too quickly, which is great for those with partners who have a tendency to jam something in versus a nice slow insertion.

Its small size makes it excellent for beginners yet its large amount of stimulation compared to its size makes it a good choice for more experienced users as well. The only negatives about the design are that is uncomfortable to sit with this toy in because it sticks out too far. Also, the ridges in the silicone make cleaning a little more difficult. These ridges may be why this toy provides so much stimulation though so they are still a welcome addition.

Color:

Black

Length:

4 3/4"

Insertable length:

3 1/4"

Circumference:

2 1/2"

Weight:

0.2 lb

Performance:

This toy is surprisingly stimulating considering its small size. It targets the prostate very well and produces a very interesting feeling since it's so small that it really doesn't touch anything else except the area near the prostate. This is in contrast to others that are large enough to be felt on the anal wall. The toy can still be felt around the anal entrance; the perineum tab provides a good, but not uncomfortable, amount of pressure on the perineum. The teaser ball on the end helps make the toy even easier to put in. The toy remains comfortable for long periods of time as long as adequate lubricant is used thanks to its small size and rounded perineum tab.

Care and Maintenance:

The Janus Anti-Shock is partially silicone and partially plastic. This means you can't fully sanitize it, meaning it should not be shared between partners. It is still easy to clean with soap and water though. The one spot that may prove a little trouble while cleaning is where the insertable portion of the toy meets the base. There is a small space below the words Zini that lubricant tends to collect at. A hand towel or something similar can easily be threaded in to clean this area though.

Since it's partially made of silicone, silicone based lubes should not be used. Also, be careful to not store it resting against another silicone toy as this could also cause a reaction.

Care and cleaning:

Soap and water

Packaging:

The Janus Anti-Shock comes in fairly basic packaging. The packaging is clear plastic with a cardboard insert behind the toy.

From the front the toy is showcased. The back has a list of the features of the toy as well as measurements of the three different sizes available. Also of note is it says that toy was designed in Tokyo and made in China. The fact that the packaging is clear and that it's labeled as a prostate massager make this packaging not discreet.

One positive note is the quality control seal that lets you know the toy hasn't been tampered with. The only directions for the toy are found on this seal (use with lubricant and clean before using). While the toy can be put back in the packaging after use, the packaging will probably not hold up over time. The toy could easily be stored in less space with other alternatives like a plastic bag.

Personal comments:

I'm quite happy with this toy. I didn't get to choose the size I got for this assignment. If I had I probably would of chosen a larger size. I'm honestly very glad I didn't get to decide as I would of missed out on this great little toy. This toy requires virtually no warm-up at all and means it'll see a lot more use than some of my larger toys. I still want to try out at least one of the others in the set, but I'm undecided on whether to get the 1" or 1.25" version.

I was also surprised how good this toy felt when put in backwards. It's obviously designed to point forward however if you're looking to mix it up sometime try it backwards. For this reason it might be able to be used by woman as well. The handle maybe a little long and partially cover up the vaginal opening; but, if you're female and you and your male partner are both interested in investigating anal stimulation, this would be a great toy with multiple uses.

Here is a size comparison versus most of my other prostate massagers. Close up size compared to Aneros Peridise, Aneros MGX and Aneros Helix.

Other