California Exotic Risque probe - Vibrating anal plug from California Exotic

Product Details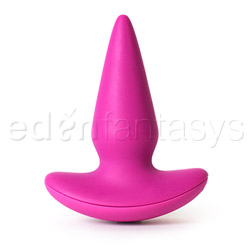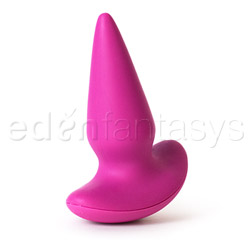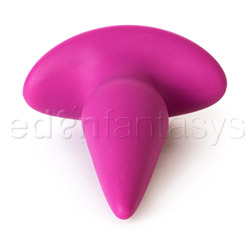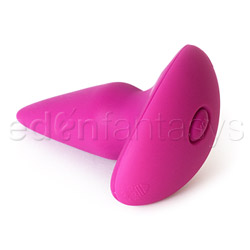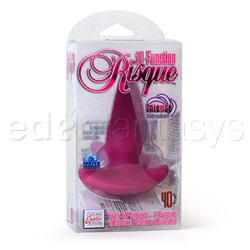 Summary:
This toy is for everyone! From beginners to the most advanced, or should I say the most adventurous. You can take this wherever and use it whenever. You would not believe how quiet it is. You will be the only thing that is making noises, so that might matter if you are a screamer…….
Pros:
Vibrations, smoothness, easiness to clean.
Best use:
This wonderfully pretty pink plug arrived at my door the other day. I am just now starting to use toys for anal play. Since I am new to anal play, I can say that this toy is for anyone that is into anal play. If you are not comfortable with strong vibrations in that area, this may not be for you. However, I loved the strong vibrations from the very start. This toy is perfect for anyone that does like vibrations. It is quiet enough that you may go out in public and no one would know your little secret, or you can use it anywhere you would like to have some fun. This toy is for anal use, so I would not suggest using it on other parts of the body.
Material / Texture:

The texture of the plug is smooth and silky. As it is smooth it makes the entry for the toy easy and smooth to move inward. I believe this type of texture would be best for beginners like myself for anal play until we can get more comfortable with different textures. I love to just sit there and feel the silkiness before we start the real fun. This anal plug gives no odor off at all. The material is TPR which according to the EF materials guide, is a "rubber polymer blend or a compound that exhibits a thermoplastic character. Because this plug is made of TPR it has an excellent flexural fatigue resistance and high impact strength." In other words, it will last longer than some other materials.

Material:

TPR

Material safety

Texture:

Smooth

Safety features:

Food-grade material / Hypo-allergenic / Latex free / Phthalates free

Design / Shape / Size:

I love the design of this cute plug. The actual plug goes the right depth for a beginner, and the handles eased my fear that it may slip all the way in and not be able to be retrieved easily. The risqué plug is a total of four inches long and insert able length is at three inches. The biggest diameter that is insertable is 1 1/8 inches and is very not threatening. You can easily put this in a pouch and store it anywhere, or travel with it. I believe this is the most perfect plug for beginners to the most advanced. Everyone that enjoys anal play should have it in their toy box.

Length:

4"

Insertable length:

3"

Circumference:

4 1/8"

Diameter:

1 1/8"

Weight:

2.8 oz

Functions / Performance / Controls:

Now, let us get right down to the good stuff. The performance of the risqué plug was phenomenal! The on/off/ function switch is on the very bottom of the device. Just insert when ready, and push the little button and you will be off and running to a very strong orgasm shortly. There are ten different selections of vibrations. You have the constant vibration, escalating from very soft to downright awesome vibrations or you can choose the pulsating vibrations. When you are ready to switch from each level all you need to do is push the function button on the bottom. When you think you have had enough and are ready to put this lovey away, just hold the function button down for three seconds and it will turn off. You are able to use this in water, in the shower, in the tub, pool or what have you. This toy works perfectly, does not stutter like some toys do in the water. And the only noise you will have to cover up is your screams of pleasure!

Functions:

Escalating / Pulsating / Vibrating

Special Features:

Beginners
Flared base
Multifunction
Powerful
Travel
Waterproof

Control type:

Push button

Powered By:

Aaa-2

Care and Maintenance:

Care and maintenance is required for all toys if you plan on keeping them in the best condition. Here is where I can let you know how to care for the risqué plug to keep it in tip top performing condition. Remember that this toy is made out of TPR and that while it is not as porous as cyberskin it is more porous than silicone. Since that is a fact the best way to play with this is with a condom when sharing. I use a condom on this toy just because it is an anal toy,although that can be up to you. All you need for the condom to fit over this toy is a large finger condom. You can usually find those in your local pharmacy near the band aids and such, they are not expensive at all. Even if you use a condom with the toy it is recommended to wash the toy in warm water with mild soap or toy cleaner before the first use and after every use after that. Because we all know that we need lube for anal play, use silicone or water based lubes.

Packaging:

This product came in plastic, clear clam shell packaging. There was no need to get the scissors out to cut the plastic to pieces. Which you know happens a lot, it was very accessible. Since it comes in a clear packaging I would not say that is the best place to store it.

Personal comments:

If you are not one for high powered vibrations, you can still use this toy because there are so many functions that have the lower vibrations or that escalate to the higher powered ones. I am absolutely thrilled with this product. But if you are one like me that loves those strong oh-feel-so good vibrations this will definitely be one of your favorites.

Experience:

I have told all of you that I am new to anal play; this is only my second anal toy. I am still learning about what the best toys are, but I have got to say this is the best! When I tried it the first time, it did not take long at all for me to have multi orgasms that is easy for me to do when I truly enjoy a toy. This toy will definitely get used a lot.