Orion Lust control - Egg from Orion

Product Details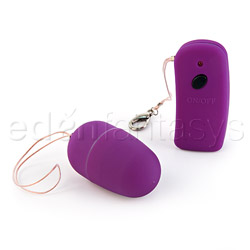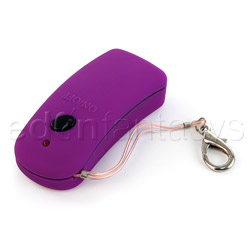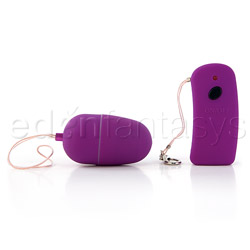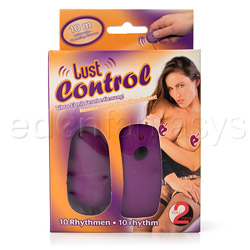 Summary:
A lovely and simple wireless remote controlled vibrating egg that offers a variety of vibration pattern and intensities, and works over an impressive distance.
Pros:
Waterproof, relatively strong, with ten functions. Also has a nice soft finish.
Cons:
The controls (for choosing a pattern) are too simplistic.
Best use:
This toy is a wireless, remote controlled egg. Thus, it is best used as a wireless internal vibrator, although it (of course) could be used as a clitoral vibrator or any sort of external vibrator, just like any egg would be used. Unless you're completely against wires in any form, however, one would imagine that the allure of this toy stems from its wirelessness, and the fact that it may be tucked in a clandestine way into an internal orifice of a willing partner, to be turned on at YOUR whim... or vice versa; the fact that it may be turned into one of your internal orifices and the remote passed to a willing partner.
Material / Texture:

This toy is made from smooth, velvety plastic. If you're unfamiliar with this type of material, it is a hard plastic that quite literally feels like velvet when you stroke it - which is a fantastic set of properties to have in a insertable vibrator. The egg feels soft and sensuous upon insertion, and upon being rubbed against sensitive areas.

Material:

PU coated plastic

Material safety

Texture:

Smooth

Safety features:

Phthalates free

Design / Shape / Size:

The egg is 1.75" in diameter, and 2.5" long - a standard size for a vibrating egg. The remote had the same dimensions, but is flat and about a quarter of an inch wide. The insertable egg portion is a nice size for casual insertion - no significant challenge with insertion or keeping it held inside. Furthermore, as an external vibrator, the size of the egg is very appealing for rolling around over sensitive centers, diffusing vibrations somewhat and avoiding uncomfortable pin-point stimulation.

Color:

Purple

Length:

2 1/2"

Circumference:

4 1/4"

Diameter:

1 3/8"

Weight:

0.3 lb

Functions / Performance / Controls:

The lust control features ten vibration settings, all of which play with a low, medium and high that are fairly consistent with standard low/medium/high vibrator settings. This is a bit of a disappointment, given that the batteries required are hefty (two N's and one 12V). Additionally, the controls are extremely basic - a single button on the remote swaps the egg systematically, into the ten different settings.

To turn off, one simply needs to cycle back through everything to get back to off. Simplicity can be fabulous, but this is sadly insufficient. Really, there should be a way to turn the vibrator off with a click of a button - as if you are on setting one, you must cycle through all other settings to get back to 'off'. The egg is of course, remote control. There seems to be an approximate 25 foot range on the remote - battery dependent of course. The batteries seem to be pretty long lasting - working strong with no signs of reduction in power; even after five full hours of use.

Functions:

Escalating / Pulsating / Vibrating

Special Features:

Control type:

Remote control

Powered By:

N-2

Care and Maintenance:

Being made of velvet cote means that this toy can be treated as other hard plastics - which are essentially non-porous. A good soak in a 10% bleach solution will sanitize the egg quite effectively, and is possible because the egg is waterproof. The remote however, is not waterproof, and thus may only be cleaned by careful wipe down. Do be sure and store this toy without batteries in place - the egg and the remote will constantly lose battery power juice by being 'in touch'.

Packaging:

The egg and remote come with two N batteries and one 12V battery, but with no storage. Thus, I recommend that the whole kit and kaboodle be kept in a Ziploc bag, so that the hard plastic doesn't come into contact with potentially-color-transferring bag liners or whatnot.

Personal comments:

The egg features a large loop of cord (which receives the radio signal from the remote) that is NOT to be used as a pull for the egg when retrieving it from the depths of an orifice. Instead, please do place it into a condom that is knotted off. If using anally, consider using two condoms.