ONO Pleasure Cleo massager - Discreet massager from ONO Pleasure

Product Details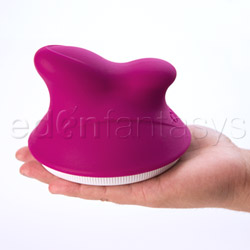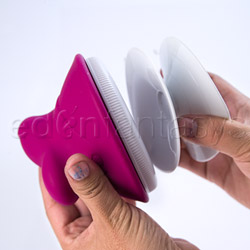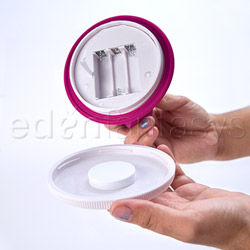 Summary:
Ono Pleasure is a brand new company coming onto the scene with a great big band courtesy of its very first vibrator, the Cleo. Made from beautiful, silky smooth silicone and available in a variety of vivid and sumptuous colors, it is a stunning pleasure object to be enjoyed by all the senses. Cleo's built-in LED-lit interface and whisper quiet motor bring the sophistication of cutting edge technology to your vibrator, and its cunning suction cup base make it a truly versatile and innovative toy.
Pros:
Silicone body, comes in beautiful colors, unique and refreshing design, variety of potential uses.
Cons:
May not be fully waterproof, learning curve, too firm for my personal tastes, not rechargeable.
Best use:
Ono Pleasure is a new company that's off to an ambitious start with the sleek and luxurious Cleo: a waterproof vibrator made expressly for use in the bath. Cleo is fitted with a removable suction cup base that allows for it to be fixed to a shower stall wall, the ledge of a bathtub or used in the bedroom sans the base. Its unique shape provides endless possibilities for creative users, so play with your Cleo can be as exciting and new as it was right out of the box! The powerful but quiet motor provides a wide range of intensities and pulses to the clitoris, labia and can even shallowly stimulate the vagina or anus.
Material / Texture:

Cleo is made from three different materials, each chosen for their efficiency in needed areas. The suction cup base is made from rubber, a porous material that can absorb microbes and scents. It is a wonderfully appropriate material for creating a vacuum between the toy and wall of your shower stall, but it can be a little tricky to keep as fresh smelling and clean as other parts of the toy. Keep this in mind if you are sharing or know that your play can get a bit messy!

The screw off battery cap at the base of the toy itself is made from hard plastic which is a very slightly porous material that is much easier to care for. You will not have to worry about it absorbing smells the way that rubber can, and its decisively grooved edges make it easy to grip and twist on and off. Finally, the body of Cleo is made from 100% medical grade, non-porous and phthalate-free silicone which is velvety soft to the touch and completely safe for your body. 100% silicone cannot absorb microbes, making this an easy to clean and very hygienic toy. Due to the presence of the motor beneath the silicone "skin," this is not the most plush silicone. It will not bend or yield to pressure, which makes it ideal for grinding against for firm and direct stimulation.

Material:

Silicone

Material safety

Texture:

Velvety

Safety features:

Food-grade material / Hypo-allergenic / Latex free / Non-porous / Phthalates free

Design / Shape / Size:

Perhaps one of the most intriguing aspects of this vibrator is its unique shape. When resting upright on its suction cup base it invokes the imagine of a vibrantly colored sorbet served on a pristine white platter, rising to bubbly, sloped peaks. These "peaks" can be straddled and used in a stationary manner either standing in front of or squatting over. The two distinct knobs and the broad valley between them and below them create a wide variety of potential positions so that you can find a comfortable way to grind and rub against Cleo to enjoy maximum pleasure. Off of its rubber base, Cleo can be held in hand and used out of the bath setting. A nodule can be inserted vaginally while the clitoris is stimulated by the flatter area below it, or even used on the perineum or outer anus.

The base of the toy, which is the widest portion, is five inches across making Cleo a bit large for an external vibrator. However, the silicone body tapers into a more narrow angle that should not crowd or irritate smaller anatomies. Its design may be a bit tricky for beginners to master and Cleo does come with a bit of a learning curve, but its intensity of stimulation is just as suited to novices as it is the experienced. This vibrator offers a wide range of settings and possible uses; it truly has a little something for all!

Length:

4 3/4"

Circumference:

15"

Diameter:

1 3/4"

Weight:

13 oz

Functions / Performance / Controls:

Ono's Cleo is outfitted with a light-up LED interface that is built directly into the toy, meaning no clunky buttons marring the silky surface of your toy. Beneath the smaller knob of the body the word ONO is embossed into the silicone, with a (-) and (+) sign inside of each letter O. By pressing down the (+) sign the Cleo's motor is started, and clicking the (+) sign will take the toy through a series of continuous vibration modes until reaching its maximum continuous vibration speed. At this mode, the toy may enter the first of its seven programmed stimulation modes by holding the (+) sign down for two seconds. Each of the successive modes can be accessed by holding the (+) down for another two seconds. The modes range from pulses, to rollercoaster and escalation modes to a kind of randomized "chaos" mode. To leave the pre-programmed stimulation modes, simply press the (-) sign once and your toy will return to the continuous vibration mode. The interface may also be locked for storage so that it will not turn on accidentally: simply hold the (-) and (+) signs down simultaneously until the LED light blinks once and fades. Your toy can be unlocked by performing the same action again.

The vibrations are of moderate strength and lean more toward rumbling and deeply penetrating than surface and buzzy. Those that favor intense and more shallow vibrations will likely find themselves dissatisfied with this vibrator, but those that enjoy deep vibrations that are more of a slow burn than a sudden explosion will fall in love with Cleo's prolonged, teasing modes. Cleo can be heard easily through a comforter but is quiet enough not to be heard through a closed door, and certainly cannot compete with the pitter-patter of a shower or running bath. If used in the bath without running water, users may wish to turn on a ceiling fan to drown out the hum, although its a very low one and masking it is not difficult to do.

In the bath, Cleo does a wonderful job of sticking to shower surfaces and staying put. It does have a tendency to slip when used vertically or standing; pressure from the user grinding against it can be trying for the tension of the toy's vacuum and it may come loose. However, with a little care this toy can be effectively used in this position. The battery compartment of Cleo does not have a rubber O-ring to keep out water, and while it has done well in the water in my experience, there is a greater chance of water entering the compartment than with O-ring toys or rechargeable toys. Always be sure to screw the cap on tightly and dry the toy completely before opening the compartment again after use.

Functions:

Pulsating / Vibrating

Special Features:

Multifunction
Multispeed
Quiet
Suction cup
Waterproof

Control type:

Built in control pad

Powered By:

Aa-3

Care and Maintenance:

Because Cleo is waterproof, it can be easily cleaned by removing the batteries, screwing the cap tightly on and washing with antibacterial soap and warm water. This will provide a good day to day cleaning for your toy, but more intensive and thorough sanitized can be achieved by wiping your vibrator down with a 10% bleach solution or a sanitizing toy wipe. As mentioned above, silicone cannot absorb bacteria so a thorough cleaning of its surface should leave your toy safe, sanitary and ready to play with.

Silicone is not compatible with silicone lubes, so you should stick to oil or water based lubricants when playing with your Cleo. Do not store it openly with non-100% silicone toys: jelly, rubber, TPR/TPE and other soft materials can be warped, misshapen or even melted by silicone stored at close range. Keep Cleo the Ono box, a plastic Ziploc bag or a lint-free storage pouch to prevent it from negatively affecting the toys around it! As mentioned above, the vibrator's interface can be locked by holding down the (-) and (+) keys simultaneously until the red light blinks.