What is That?
Cleo is an interesting innovative design. She was made to be used in water, but mine was not happy in water. On land she provides deep rumbly vibrations. This is a good choice for those who like unique vibrators.
Published:
Pros:
Strong Rumbly Vibrations
Cool Colors
Silicone
Cons:
Hard to position
Mine not waterproof
Discontinued
Cleo is an interesting vibrator that caught my eye a long time ago. She looked appealing because she could provide broad vibrations while being rode like a saddle. I kept putting off the purchase and finally gave in and bought one. I was glad I did because she was discontinued a few days later. That was good timing for me. It's probably not good news for you unless you can pick one up else where.
One of her supposed features is that she is waterproof. She even has a suction cup that can be placed in the shower. I took her with me on a weekend getaway. Excited, I used her for the first time in the shower. Unfortunately what I discovered was that she is not completely waterproof. Water got in the motor and she stopped working. I thought she might start working again after she dried out. I had no such luck. A power light would come on, but no vibrations. After leaving her out for a full 24 hours, I gave up on her. Once home again I tossed her in a corner and forgot about her. A week later I checked her once again. Surprisingly this time she worked. I guess she had dried out completely and no permanent damage was done. However, I will not risk getting her wet again. From now on she is strictly a land toy.
Cleo is an odd looking toy. She sits on a hard circular base that is about the size of my hand.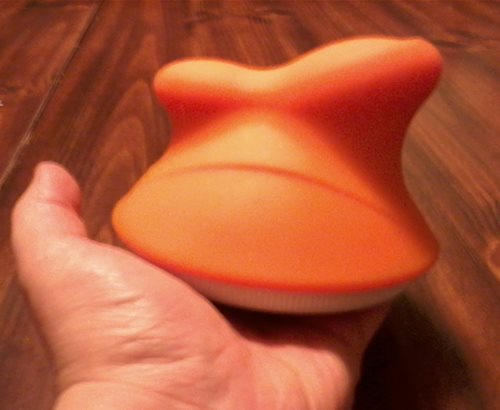 The product picture also shows the suction cup. I always thought she looked like a vibrator on a platter. It was like someone was saying, Voila, here's your vibrator. Enjoy!" The suction cup is removable. The body rises up from there. If you ignore the top, the middle portion looks like a UFO. It's just like a round circular orb. The top resembles a small saddle. I did say it was odd. How many other vibrators are described as a platter-UFO-saddle??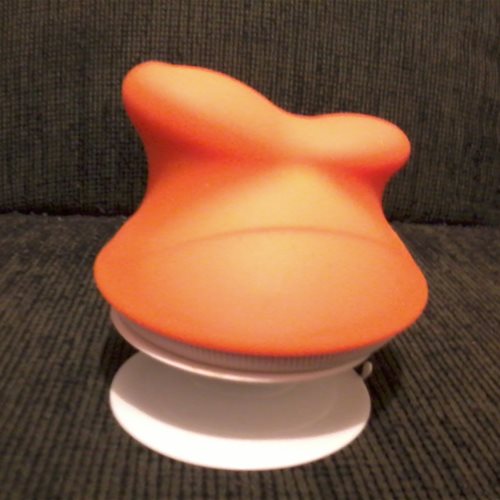 The top saddle portion is where the vibrations are centered. One end is higher and wider than the other. I use it by sitting on it and "riding" it. Please note- it is not a large toy. It's not going to be like sitting on a real saddle. The toy is small, but the saddle-like portion contours to my body nicely. Since the saddle area is wide, the vibrations are are broad. That's just the way I like them. It's not possible to get pinpoint stimulation with this toy.
She offers a wide range of vibrations. She has the typical three level of steady intensities. She also has a series of pulsating options. The vibrations are deep and rumbly not buzzy. The highest intensity is strong. I would rate it just barely a 4 out of 5. She is quiet enough not to be heard behind a closed door. Two buttons control her functions. A "+" button turns her on and cycles up through the vibration settings. A "-" button will cycle back down the settings and turn her off. She runs on 3 AA batteries which are placed in the base.
It took some time to figure out how to use this toy. I wanted to be able to sit on it and squeeze my legs
together. However the base just got in the way. The base is hard and was just uncomfortable. I wish it was a bit more squishy so that would be comfy. I finally realized I had to keep my legs apart. It takes a bit longer for Cleo to work her magic this way. My body likes pressure as well as broad vibrations. I can't get a lot of pressure without squeezing my legs shut. For me, Cleo works by creating a slow build up of pleasure. She's not a quick toy, but she is a satisfying toy. As long as I have the time, she delivers every time.
Overall, I am happy with the purchase. It was a bit disappointing to not be able to use her in the shower. Since I don't use toys in the shower often at all, I got over that very quickly. She is nice for a leisurely romp.
Just for fun here's a picture of her with another odd and discontinued vibe- the Cone. Aren't they cute together?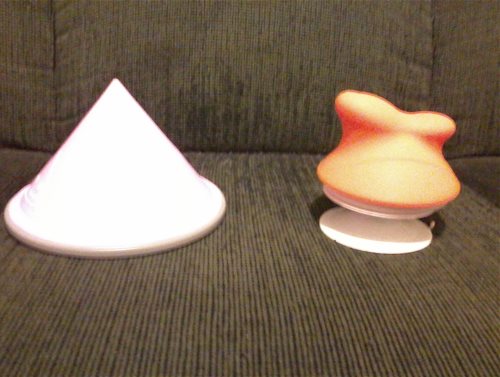 This content is the opinion of the submitting contributor and is not endorsed by EdenFantasys.com

Thank you for viewing
Cleo massager
– discreet vibrator review page!