Doc Johnson Black magic mystical squirmy - Rabbit vibrator from Doc Johnson

Black magic mystical squirmy videos
Product Details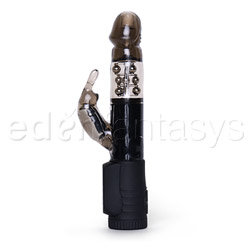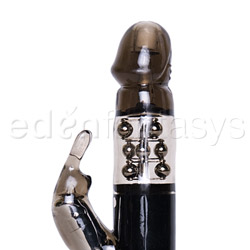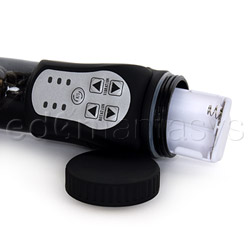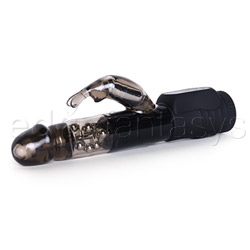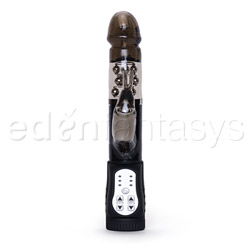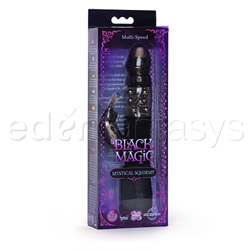 Summary:
The Mystical Squirmy is a traditional style rabbit vibrator but without all the pink, purple, or glitz and glam of many female toys. It has non-jamming, rotating beads that move within the shaft as well as a very powerful clitoral bunny attachment. With three level of intensity for each, you can amp up the pleasure to your liking.
Pros:
Good middle size, dual stimulation, powerful clit attachment, non-girly, waterproof, TPE.
Cons:
Weak shaft rotation, loud on highest levels.
Best use:
The Black Magic Mystical Squirmy is the anti-girly rabbit vibrator. You won't find any shades of pink or purple, sparkles, gems, or flower shapes. It has a traditional rabbit style design and is the middle range of sizes which makes this vibe great for plenty of women. It provides dual clitoral and vaginal stimulation or even anal stimulation depending on how you turn it. The shaft has internal rotating tiers of beads. The clitoral attachment has a separate control for its own vibration. Together, the Black Magic Mystical Squirmy will have you doing some squirming of your own.
Material / Texture:

The Mystical Squirmy is made of both phthalates free TPE and ABS plastic. It feels somewhat like jelly, but has much less of a smell. It kind of smells like a sweet Windex. It also is a lot stronger and safer than jelly. While this material is less porous, it cannot be sterilized, so a condom should be used if sharing and is still a smart idea for solo use. The plush TPE is on the shaft and attachment. It is not sticky, but it does have a lot of drag to it so lubrication is also recommended. It can pick up lint and such too. Washing before and after use is a good idea.

The name says that this is black. The TPE is more like a really dark gray because you can see through it. The plastic is black though. Speaking of the plastic, it has a very nice velvety feel to it. It also feels thick and durable.

Material:

TPE

Material safety

Texture:

Velvety

Safety features:

Hypo-allergenic / Latex free / Phthalates free

Design / Shape / Size:

As mentioned before, the size of this particular rabbit vibrator is in the mid range.

It is 9" long, but only 4 3/4" of that is insertable. This may not be enough for some women, especially those who like deep penetration. The shaft is 1 3/8" in diameter and about 4 1/2" in circumference. The bulbous head does have a spot where it is 1 1/2" in diameter making it the thickest part of the vibrator. It is not very noticeable, but the underside of the realistic head has a small smiley face on it. Some might find this cute or maybe creepy. The head is about 1 1/2" long.

The middle section is more see through than the rest of the vibrator. This is where three rows on non-jamming beads are stacked. The material is thinner here so that the beads can be felt while they are inserted. The clitoral attachment is about 5" down and is a traditional bunny with a pair of split ears. It has its own vibrating bullet inside of it. The ears are soft so that if they miss your clit, you can help guide them to the ride spot.

The control panel is simple enough. There are five buttons, two for the bunny and three for the shaft. Technically they are inverted when the vibrator is inserted. You press down for the vibration to go up and the same is for the shaft rotation. Although somewhat inconvenient to the user, this does make the vibrator easy to use on a partner. The fifth button reversed the rotation of the shaft. there are three levels of intensity for both the bunny and bead rotation. They correspond with LED lights. On either side of the base are deep ribs that help with gripping the vibrator. A nice thing about the size is that the weight is not too heavy to be burdened solo with. The bottom has a cap that screws off so three AA batteries can be inserted.

Color:

Black

Length:

9"

Insertable length:

4 3/4"

Circumference:

4 1/2"

Diameter:

1 3/8"

Clitoral attachment shape:

Rabbit

Weight:

9.7 oz

Functions / Performance / Controls:

Both features of the Mystical Squirmy can be controlled independently. The clitoral attachment vibrates for dual stimulation and has three levels.

1. The steady vibration starts off on a medium level, so does the sound. The ears move a lot so this level is probably capable of pleasing many women. It would likely not be heard through a door.

2. The vibration goes to a medium-high and the sounds get a bit louder. It still might not be able to be heard through a door.

3. This level is high, but there is much less of a jump from level 2 than from 1 to 2. A rattling sound starts at this level, making it less discreet. Overall, for a rabbit vibrator, the noise level is not too bad.

The rotating beads feature not only rotating the beads internally, but it causes the vibrators shaft to...squirm. It rotates in a small circle. It also has three levels, slow, medium, and slightly above medium speed. Again, there is a slight difference here. The noise level is low on all three speeds.

Due to a very thick o-ring seal around where the cap screws on, this vibrator is completely waterproof. You can take it to the shower!

Functions:

Rotating / Vibrating

Special Features:

Light indicators
Multifunction
Multispeed
Powerful
Waterproof

Control type:

Built in control pad

Powered By:

Aa-3

Care and Maintenance:

Being waterproof, this rabbit is pretty easy to take care of. Washing with a mild soap and warm water works well. Pay close attention to the head. Water based or silicone lubrication are fine to use. The package works well for storage or you can place the Mystical Squirmy is a plastic bag. Be careful to not store with toys of similar materials. They can melt together. For the same reason, make sure to store this out of direct sun light.

Packaging:

The Mystical Squirmy comes in attractive, black packaging. The plastic box it comes in is clear in the front showing the toy inside. It is not discreet, but the box is pretty informative. It also has nice designs on it. It works well for storage.

Experience:

While this rabbit vibrator is not my favorite, it is up there. I found that it is not as powerful as a very similar vibrator that I own, The Black Diamond. They are very similar. While I like the look of a bunny better than a beaver, the design of the beaver seems to actually work my clit better. The rotation of the shaft felt sort of weak, but I prefer that over a vibrator that needs a lasso to control. It still brought me to good orgasms and it was not difficult to do so. I think it will please a lot of women. However, it did not make me squirm as much as I had hoped.